This Herbed Ricotta and Roasted Tomato Focaccia makes a truly satisfying lunch with a side salad. It can also be enjoyed as a delicious appetizer before your main meal.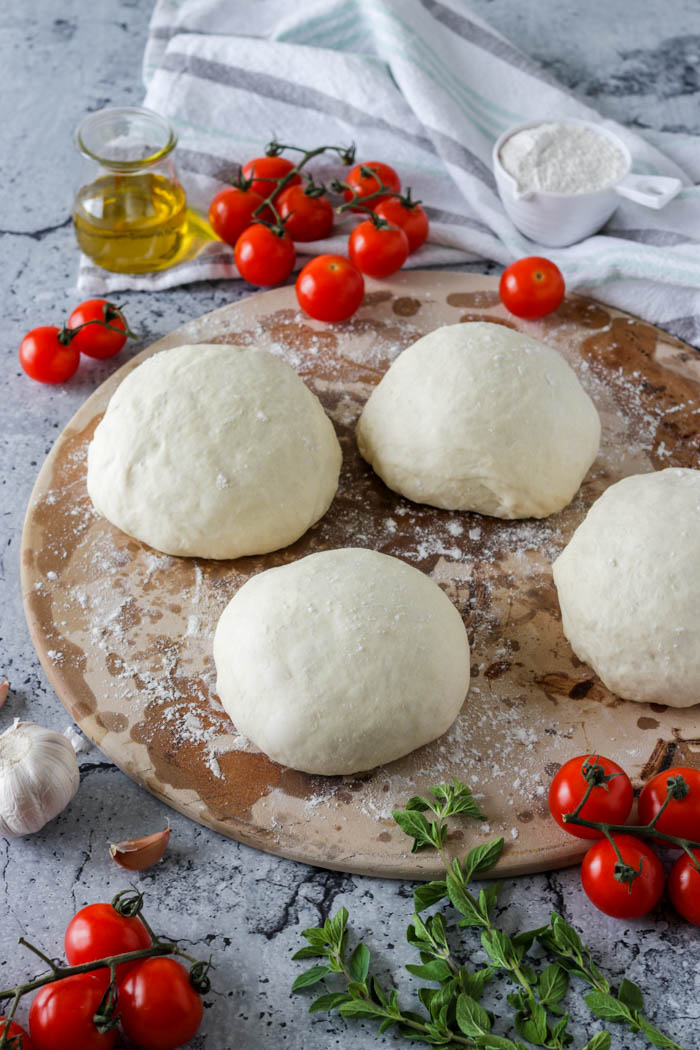 I've been loving lately these wonderfully sweet cherry tomatoes made even more so by oven roasting them till they're slightly charred and pop open. The roasted tomatoes ooze out the most sweetest concentrated juices with their wonderful aromas permeating the air.
There are so many ways to use these roasted jewels as some of my Instagram friends can attest! You can snack on them as they are with some crusty Italian bread or tossed with your favourite pasta.
Some suggested slow roasting the tomatoes, storing them in jars filled with oil and kept in the refrigerator up to a month.
Usually, I simply top the roasted cheery tomatoes over ciabatta bread which makes a crowd pleasing appetizer. As seen with this Roasted Cherry Tomato Ricotta Bruschetta.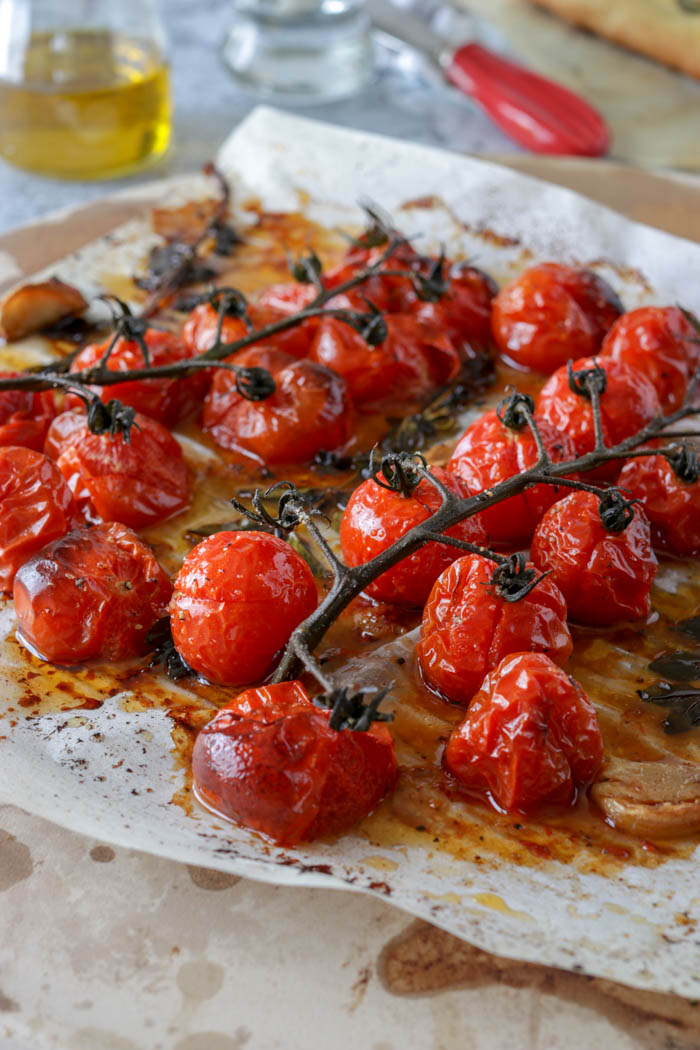 I've decided to switch it up today by baking some fresh focaccia bread which is essentially a flatbread and not difficult to put together.
The flatbread with its soft, airy textures and crusty outer layers is then slathered with a a creamy herbed ricotta mixture. I must say its truly mouthwatering on its own but we're going for the "swoon factor" here!
What better way to do so then topping the flatbread with some juicy oven roasted cherry tomatoes! Oozing out all their caramelized goodness and ready to be sopped up…yummy!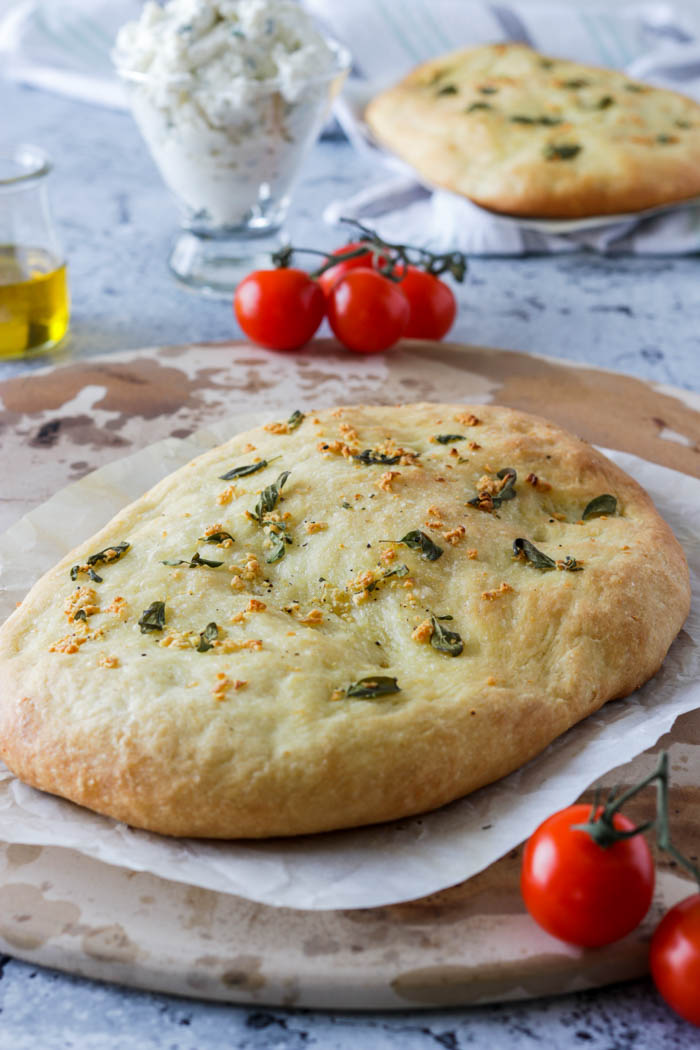 You can enjoy the flatbreads with a side salad and call it a meal. We especially love them sliced into wedges and served as appetizers.

You can also make and bake the flatbreads ahead and freeze them till ready to use. This way you'll have a yummy flatbread to enjoy at a moments notice!

Buon Appetito!
Herbed Ricotta and Roasted Tomato Focaccia
Soft and airy focaccia bread with crusty outer layers, slathered with a a creamy herbed ricotta mixture and topped with oven roasted cherry tomatoes.
Ingredients
Focaccia Dough
2

cups

water

4 + 4

tablespoons

extra virgin olive oil

4 to 5

cups

all purpose flour

8

grams

quick rise instant yeast

1

teaspoon

fine sea salt

2

tablespoons

granulated sugar

4

garlic

cloves

minced

2

tablespoons

fresh oregano
Oven Roasted Tomatoes
800

grams

cherry tomatoes

6

cloves

garlic

smashed

4

springs

oregano

fresh

sprinkle

salt and ground black pepper

to your taste

olive oil

for drizzling
Herbed Ricotta
600

grams

ricotta

2

tablespoons

oregano

fresh

2

tablespoons

thyme

fresh

sprinkle

of salt and pepper to your taste
Instructions
Focaccia Dough
Heat 2 cups of water with 4 tablespoons of olive oil in the microwave until lukewarm.

In a large bowl combine 3 cups of flour, yeast, salt, sugar and stir well.

Stir the warm liquids into the flour mixture with a wooden spoon, mixing well.

Stir in another cup of flour until combined.

Transfer the dough to a well floured work surface and knead for a few minutes while working in the remaining cup of flour a bit at a time, just until the dough is soft and smooth.

Grease a large bowl with oil and place your pizza dough in the greased bowl while turning the dough over to grease all over.

Cover the bowl with a dish towel and set aside to rise for 60 minutes or until doubled in size.

Line 2 baking sheets with parchment paper and brush lightly with olive oil

Once the dough has doubled in size, transfer to a floured work surface and divide into 4 equal portions.

Transfer the portions to the prepared baking sheets, placing 2 on each sheet allowing enough space between the 2 portions.

Using your hands, push the dough towards the edges of the baking sheet while shaping it roughly to a 6x8 rectangle.

Cover with a clean dishcloth and allow to rest for 30 minutes.

Preheat oven to 400 degrees F.

Uncover the focaccia dough and using your fingers press down to form indentations.

Stir together 4 tablespoons of olive oil with the minced garlic, oregano and brush over the surface of the focaccia.

Bake for 20 to 25 minutes or until golden brown.
Oven Roasted Tomatoes
Place the cherry tomatoes on a parchment lined baking sheet.

Scatter with the smashed garlic, tuck in the sprigs of oregano, a sprinkle of salt and pepper and drizzle with some olive oil.

Roast in preheated oven at 400 degrees F for about 30 minutes to 35 minutes.
Herbed Ricotta
Combine the ricotta, oregano, thyme wth salt and pepper in a bowl and stir well.
Assembling The Herbed Ricotta and Roasted Tomato Focaccia
Slather the herbed ricotta mixture over the baked focaccia with equal portions.

Equally top with the oven roasted tomatoes.

Garnish with extra oregano, a drizzle of extra virgin olive oil.