Ciambelle cookies are Italian ring shaped cookies. These lemon scented dainty morsels are dipped in a lemon glaze and topped with sprinkles!
I hope you are all baking lots of yummy cookies and if you haven't yet started, it's still not too late.
These are actually my third batch of ciambelle cookies and each batch yields 6 dozen cookies.
Yes, I know it's a lot of cookies! But it's simply not Christmas without these pillowy white cookies!
Besides, I really do gift a lot of my baked goods….the ones that I can pry away from my hubby that is!
They're just too cute and quite delicious!
Most Italian families have their own version of this ever popular ring cookie. From sweet to savoury or the tender to crunchy variety. There is definitely one to please every palate.
These however are not overly sweet and have a lemon kick with a tender, crumbly bite.
How to Store Ciambelle Cookies
Consequently if you're into baking ahead for the holidays, you'll be glad to know that these cookies freeze extremely well.
You can store them in an airtight container lined with wax paper in between the layers.
When you're ready to serve, simply remove them from the freezer and line them out in a single layer onto a cookie sheet.
The glaze will have a shiny glossy and somewhat wet appearance as they thaw. Leave them to dry out on the cookie sheet and you'll soon have them reverting back to its original appearance.

These ciambelle cookies have become part of my Christmas holiday baking every year and for other special occasions! They're a joy to make and totally irresistible!
Bake them, plate them and watch them disappear!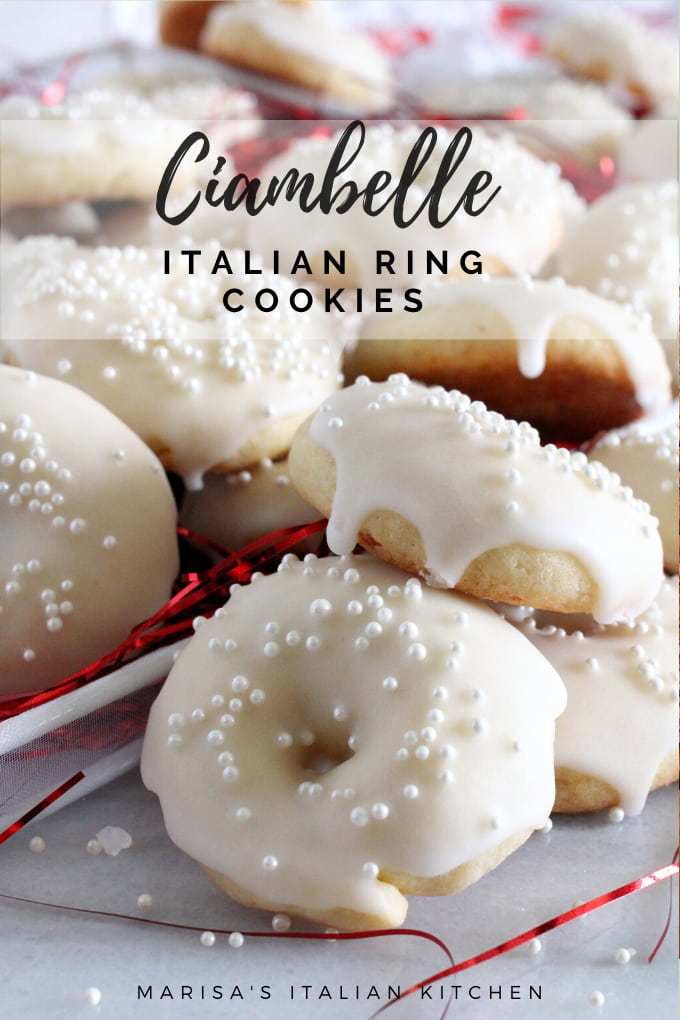 Other Lemon Cookies You'll Enjoy:
Ciambelle
Soft Italian ring cookies scented with lemon and dunked in a lemon glaze.
Ingredients
Ingredients; Cookies

3

cups

all purpose flour

1

tbs

baking powder

1 1/4

tsp

salt

2/3

cup

granulated sugar

1

tbs

+ 1 tsp grated lemon zest

1

cup

unsalted butter

softened

3

large eggs

1

tsp

pure vanilla extract

1

tsp

fresh lemon juice

Ingredients; Lemon Glaze

3

cups

icing sugar

4 to 6

tbs

fresh lemon juice

white nonpareils
Instructions
Preheat the oven to 350 degrees.

Line 3 cookie sheets with parchment paper and set aside.

In a medium bowl , stir together the flour, baking powder and salt and set aside.

Pulse together the sugar and lemon zest in a food processor for about 2 minutes.

In a stand mixer or hand held mixer, beat the sugar-lemon zest mixture with the butter on medium speed until it turns pale and fluffy. For about 2 minutes.

Add the eggs one at a time and beat well after each addition. If using a stand mixer, make sure to scrap down the bowl a couple of times. Beat in the vanilla and the lemon juice.

Reduce the speed to low and start adding the flour mixture a bit at a time until it is combined.

Using a small ice-cream scoop of about 1 1/4 inch in size, scoop out dough onto a lightly floured counter. If you don't have an ice-cream scoop, a tablespoon will do.

Roll the dough into a rope, not more than 4 inches. You can roll them on your counter but I found it easier to roll between the palm of my hands, lightly dusted with flour. Bring the ends together, slightly overlapping and pressing to form a ring.

Transfer to your prepared cookie sheet and repeat with the remaining dough leaving about 1 inch space between each cookie. These cookies do not spread while baking but will expand somewhat.

Bake one pan at a time in a preheated oven at 350* for about 15 to 18 minutes. The cookies should have a pale golden look when done. Transfer cookies on a cooling rack. Let cool completely before icing.

For the glaze;

In a small bowl, whisk together the icing sugar and lemon juice till smooth. Dunk the top part of the cookie into the icing and let any excess drip off. Place the cookie on a wire rack and sprinkle with the nonpareils of your choice. Let the cookies dry completely. These cookies keep well in an airtight container lined with wax paper between each layer and stored in a cool dry place and freeze very well.
Notes
Adapted from the wonderful, Martha Stewart Website