These Lemon Cornmeal S cookies are really quite tender with a lovely gritty texture from the addition of yellow corn meal. They carry an unmistakable lemon scent and are deliciously simple to make!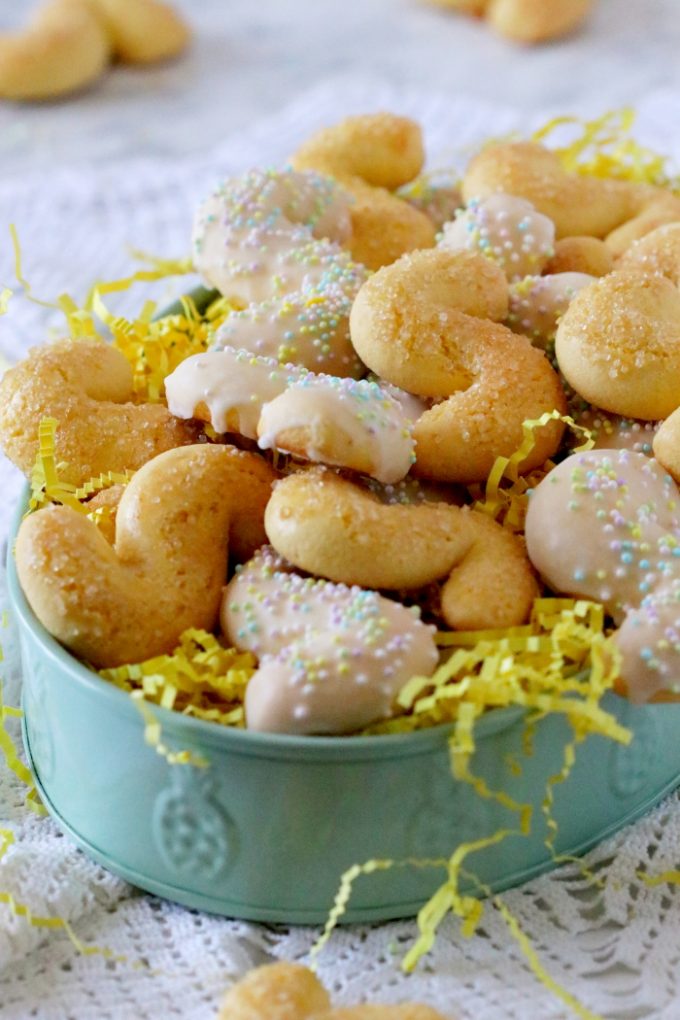 My love for any type of cookie is well documented in previous recipe posts. So much so that I rarely ever have store bought cookies around. Unless, they're Italian S shaped cookies which I usually buy from Italian specialty shops.
Both my children have fond memories of dipping their hands into their favourite cookie jar brimming with store bought S shaped cookies.
But really, I must say that we adults enjoyed them as much as they if not more!
What are Italian "S" Cookies?
Italian "S" cookies are just that! Bits of soft pliable cookie dough shaped to form the letter "S".
You can make the cookie dough with either butter or shortening. But I much prefer the buttery taste in mine!
They can be topped with coarse sugar or finished with a lemon glaze. Or, you can leave them plain which is equally yummy!
These "S" shaped cookies came about when my daughter suggested I try making some from scratch. This had me wondering why I hadn't thought of it before.
I knew at that moment that I needed a homemade version in my life…ASAP!
I aimed for a cookie with texture and knew cornmeal would work wonderfully and lend a pleasant gritty feel. But I also wanted them to be rich in taste and so I played around with egg ratios till my family members gave them a thumbs up.
Aside from being pleasantly gritty in texture they're also extremely airy and make a lovely alternative to a much sweeter cookie and simply beg to be dipped in a steaming cup of coffee or tea.
In fact these not too sweet cookies are perfect after an overindulgent meal and equally great as an anytime snack

Whisking vs Sifting:
Another area I experimented with was in baking a batch using whisked dry ingredients and another with dry sifted ingredients. I must say there was a remarkable difference in the two methods and both with wonderful results.
In whisking the dry ingredients together I achieved a soft workable dough and I needed a minimal amount of flour on my hands to shape the cookies. They baked to a lovely golden colour and they retained the S shape. In texture they were both airy and dry but still tender, with similar characteristics of the store bought variety but much tastier in my opinion.
While sifting the dry ingredients in my next batch, this yielded a notable difference. Sifting aerated the dough which necessitated in an extra 1/2 cup of flour to be workable in shaping the S cookies. The other is that the cookies spread out ever so slightly and were much softer, airier and lighter in texture.
Again both equally delicious and something to keep in mind when trying the recipe for yourselves!

While we enjoyed both variations of these adorable Lemon Cornmeal S Cookies, I love them sprinkled with turbinado sugar. My daughter less so!
A great compromise would be to bake half the batch of S cookies without the sprinkle of sugar. It's a win win in my opinion!

Whenever I bake these for the Easter holiday, I dip some in a lemon glaze and then top them with sprinkles.
If you plan to do the same, simply omit brushing the cookies with the egg wash and also omit the turbinado sugar.

Which ever way you dress them up they're sure to please!
Happy Baking!

If you make this recipe remember to tag @marisasitaliankitchen on Instagram so I can see your creation!
Lemon Cornmeal S Cookies
These Lemon Cornmeal S cookies are really quite tender with a lovely gritty texture from the addition of yellow corn meal and carry a subtle lemon scent, enough to perk up your taste buds.
Ingredients
1 1/2

cups

all purpose flour

1 1/2

cup

yellow corn meal

fine grind

2

teaspoons

baking powder

1/8

teaspoon

salt

1

cup

granulated sugar

lemon zest from 2 lemons

2

large eggs plus 4 egg yolks

reserve the remaining egg whites for brushing over the cookies before baking

1/2

cup

unsalted butter

melted

1

tablespoon

freshly squeezed lemon juice

1

teaspoon

pure vanilla extract

turbinado sugar to sprinkle over the cookies

optional
Instructions
Line 3 baking sheets with parchment paper and set aside while you prepare the cookie dough.

In a large bowl whisk together the flour, cornmeal, baking powder and salt then set aside.

Place the sugar and lemon zest in a food processor and pulse together for about 20 seconds to make a quick lemon sugar, then set aside.

In the bowl of a stand mixer or hand held mixer, beat together the 2 whole eggs, 4 egg yolks, and lemon sugar on medium high speed for 5 minutes till thickened.

Mix in the melted butter, lemon juice and vanilla extract until combined.

Stir in the flour mixture until thoroughly combined.

The dough will be soft but manageable to work with.

Preheat the oven to 350 degrees F while you start rolling and shaping the S cookies.

Scoop out a large ball of cookie dough using an ice-cream scoop.

Dust hands with a bit of flour and roll out to form a 12 inch long rope about a 1/2 inch in diameter.

Cut the rope into 3 equal pieces of 4 inches each.

Transfer each piece one at a time to the prepared cookie sheet and bend into an S shape while spacing the cookies about 2 inches apart.

Beat the reserved egg whites and brush lightly over the S shaped cookies.

Sprinkle the cookies with the turbinado sugar and bake for about 13 to 15 minutes.

When done the cookies should have a lovely golden color.

Transfer the cookies to a cooling rack.

Allow to cool and enjoy with a cup of coffee or tea.
Notes
If planning to dip some of the cookies in a lemon glaze, OMIT brushing the S cookies with beaten egg whites and the turbinado sugar, then bake as directed. Once cooled dip them in a lemon glaze to a ratio of 1 cup powdered sugar to 2 tablespoons lemon juice, approximately, depending on how thick you want the lemon glaze. Top with sprinkles of your choice before icing sets.