I've got a fun afternoon project involving cupcakes, frosting, popcorn and lots of sprinkles! Say hello to Chocolate Popcorn Halloween Cupcakes!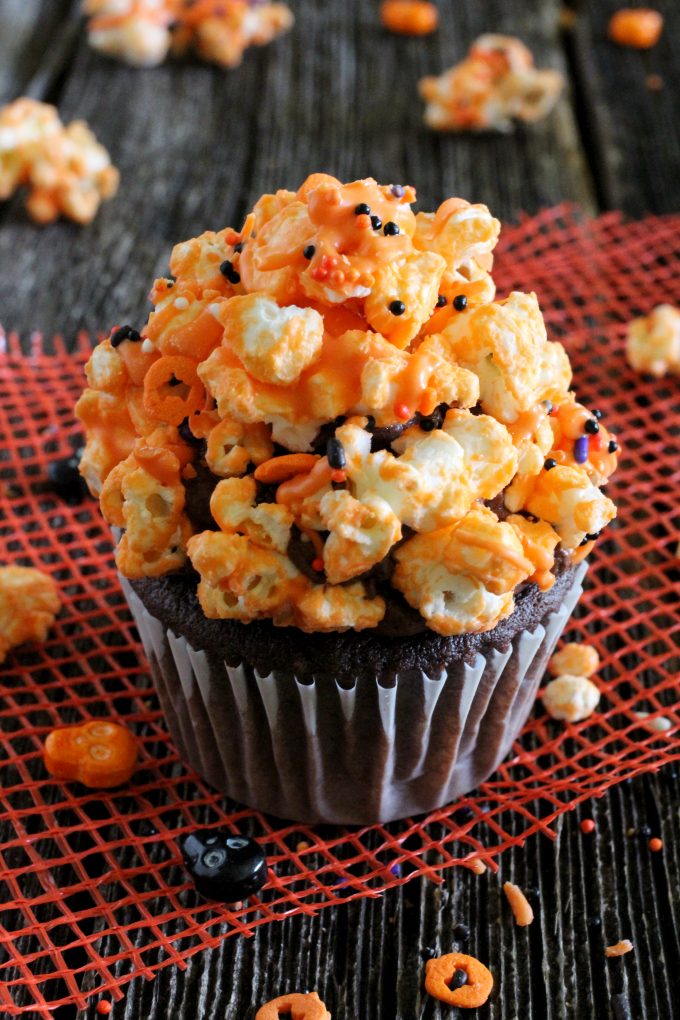 Who doesn't love sprinkles, right! You can get right down funky with some Halloween sprinkles here by using as many or as little as you like.
If you are pressed for time, store bought cupcakes with frosting and even ready popped popcorn can be substituted in a pinch.
However if you prefer to prepare everything from scratch, here is a go to, no fail chocolate cupcake recipe from The Hummingbird Bakery Cookbook…a wonderful cookbook allowing you a little peak into their irresistible bakery!
The cupcake itself is light, moist and gets a lovely dark color and chocolate kick from the cocoa powder. Also, I topped it with a fluffy chocolate frosting, simply because I believe one can never have enough chocolate!
I substituted the whole milk for almond milk in this recipe as I rarely have cow's milk on hand and used a large egg instead of a medium sized one as stipulated in the cookbook, (I always bake with large eggs) which did not compromise the recipe at all. Absolutely delicious!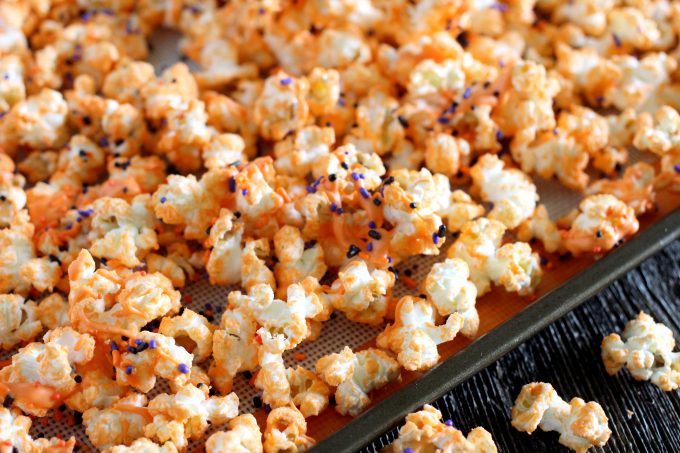 How to make Halloween popcorn
There is some serious sweet and salty happening here so let's begin!
I used 1/2 cup of kernels which yielded approximately 8 cups of popcorn.
Once popped, toss the popcorn with a dash of salt and few tablespoons of slightly cooled candy melts.
Divide the popcorn between 2 prepared cookie sheets lined with parchment paper and spread them out into a single layer.
Drizzle some more of the melted chocolate over the popcorn layers until you achieve the desired shade of orange.
Sprinkle the popcorn generously with Halloween sprinkles and then set aside till the candy melts harden.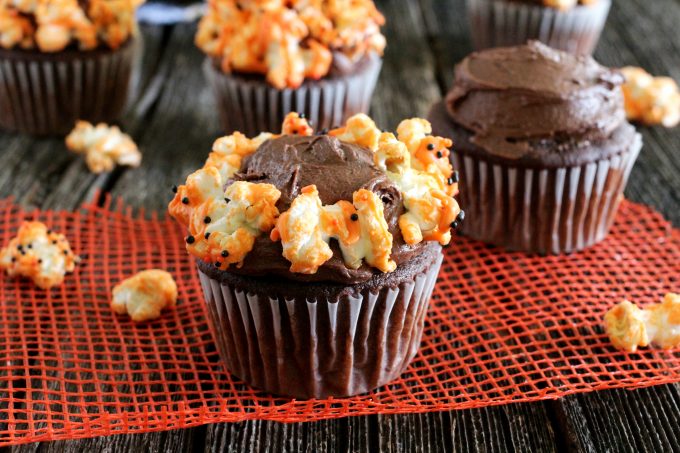 How to Decorate Popcorn Cupcakes
When the popcorn mixture set and dried, break off into small pieces and start topping the frosted cupcakes from the bottom outer layer while working your way up.
Any gaps are easily covered with smaller pieces of popcorn by dipping them first into a little of the melted candy. This acts as glue and easily fills the empty spaces.

Consequently, …you won't need all 8 cups of Halloween popcorn but I am leaving it in because, and trust me on this, as you are assembling these Chocolate Popcorn Halloween Cupcakes, you will also be greedily munching away on the sweet and salty popcorn.

Helpful tips for making Cupcakes with Popcorn
The chocolate cupcakes with the frosting can be made ahead of time, however I would prepare and assemble the popcorn as close to serving time as possible because the popcorn is at its crunchiest when freshly popped.
I have used many different brands of candy melts and realized that they do not all have the same consistency once melted. Therefore if you find that your melted candy is too thick for drizzling, simply stir in some vegetable oil to thin it out.
These cupcakes with chocolate popcorn are so much fun to make! I know you'll enjoy them!
Other Halloween treats you'll love:
Mini Brownie Bites with Cream Cheese Frosting.
Ossi Di Morto Bones of the Dead
Chocolate Popcorn Halloween Cupcakes
These moist and over the top delicious, Chocolate Popcorn Halloween Cupcakes are so incredibly fun and easy to put together. A perfect Halloween treat.
Ingredients
CHOCOLATE CUPCAKES

3/4

cup

plus 2 tablespoons all-purpose flour

2 1/2

tablespoons

unsweetened cocoa powder

3/4

cup

granulated sugar

1 1/2

teaspoons

baking powder

a pinch of salt

I used fine sea salt

3

tablespoons

unsalted butter

softened

1/2

cup

almond milk or whole milk

1

large egg

1/4

teaspoon

pure vanilla extract

CHOCOLATE ICING

2 1/3

cups

icing sugar

sifted

6 1/2

tablespoons

unsalted butter

softened

1/3

cup

unsweetened cocoa powder

sifted

2

tablespoons

almond milk or whole milk

HALLOWEEN POPCORN

8

cups

popped plain popcorn

Pink Himalayan Salt

for sprinkling on popcorn

Halloween sprinkles.

340

grams

or 12 oz of orange candy melts
Instructions
FOR THE CUPCAKES

Preheat the oven to 325 degrees F.

Combine the flour, cocoa, sugar, baking powder, salt and the softened butter in a large mixing bowl.

Start beating on low speed just until everything is combined. It will have the appearance of coarse sand.

In a small measuring bowl whisk together the milk, egg, and the vanilla together and then slowly pour half of this mixture into the flour mixture.

Beat on low speed till combined then increase the speed to high speed. This will get rid of any lumps.

Turn the mixer back down to slow speed and pour in the rest of the milk mixture.

Continue to mix for a couple of more minutes until the batter looks smooth. Do now over mix.

Scoop the batter in the prepared muffin pan, filling two thirds full.

Bake in the preheated oven for about 20-25 minutes or until the cupcake bounces back when lightly touched. You can also test to see if it's done by inserting a toothpick in the center and if it comes back clean then they are ready.

Let the cupcakes cool slightly in the pan then transfer them to a wire rack to cool completely, before icing.

FOR THE CHOCOLATE ICING

In a large bowl, beat together the icing sugar, softened butter and cocoa powder on low speed, just until it comes together.

Add the milk, a couple of teaspoons at a time, while on low speed.

Once the milk is fully mixed in, switch to high speed and continue to mix until the icing is light and fluffy. This should take about 5 minutes.

The longer you mix the icing, you will note that the lighter and fluffier it becomes. YUMMY!

When ready spoon the icing over the cupcakes or simply use a piping bag if you prefer.

HALLOWEEN POPCORN

Prepare 2 cookie baking sheets with silpat baking mats or parchment paper and set aside.

Place the candy melts in a small microwaveable bowl or container.

Melt on 50% power for 1 minute and then stir the candy melts very well.

Return the candy melts to the microwave and continue to melt and stir at 15 to 20 second intervals.

Sprinkle a few pinches of salt over the popcorn. (you can use any salt you prefer)

Toss together the salted popcorn with a few tablespoons at a time of melted chocolate until you get the desired color. Make sure to toss very well.

Divide the popcorn between the 2 prepared cookie baking sheets and spread them out evenly in one single layer.

Drizzle more melted chocolate over the layers of popcorn and quickly sprinkle generously with your choice of Halloween sprinkles so that the sprinkles have a chance to adhere to the melted chocolate. (make sure to set aside a little of the melted chocolate to assemble the popcorn over the cupcakes)

Let set till the chocolate hardens.

Special note: You can thin the melted chocolate with vegetable oil, one teaspoon at a time, for easy drizzling.

ASSEMBLING THE POPCORN

Once the popcorn is set, break off into small pieces and strategically place over the iced cupcakes, starting at the outer part of the cupcake working yourself to the top.

You can fill in any gaps with smaller pieces of popcorn by dipping them first in a little bit of melted chocolate (this will act as a glue) and then insert into the gaps.
Notes
Partially adapted from The Hummingbird Bakery Cookbook