Moist and tender Chicken Parmesan with Kale is a complete meal made in one pot from start to finish.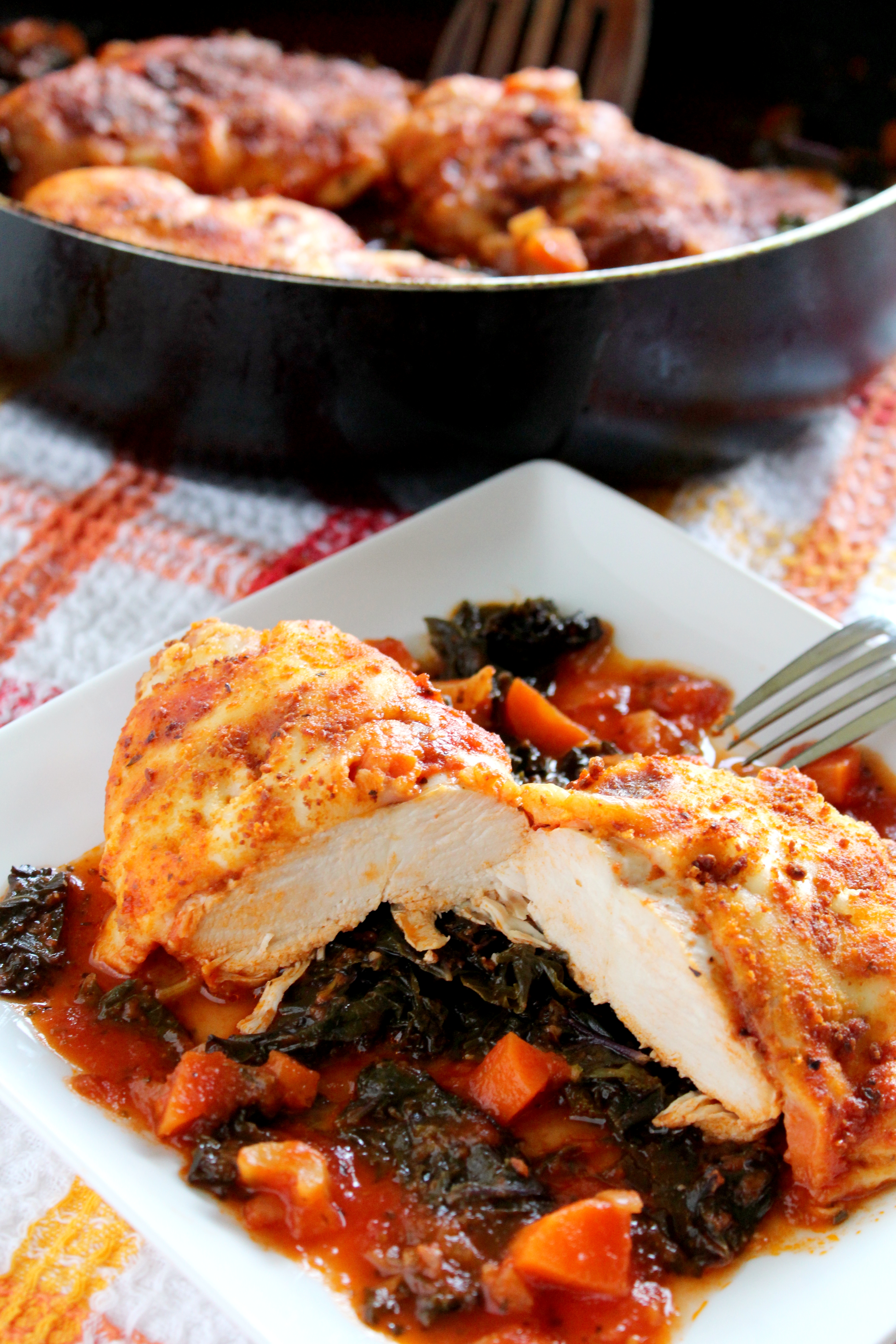 This classic Italian-Canadian dish is revisited with the addition of kale, into a one pot wonder. A leafy green vegetable and a nutritional powerhouse rich in vitamins A, C and K as well as iron and calcium with high levels of beta-carotene. Kale is slightly sweet in taste with a hint of pepper. The hearty texture of the kale leaves cooks up beautifully in this dish, soaking up all the wonderful flavors of the chicken and the marinara sauce.
This dish is a lighter and healthier version of the original Chicken Parmigiana and completely gluten free. The chicken breasts are seared not fried, cutting out most of the calories but not skimping on taste. Easy and delicious comfort food, made and finished in one pan. It comes together so easily making it great for a busy weeknight and yet elegant enough for a special occasion. It can be served with a side of rice, pasta, or even extra vegetables and rounded off with a crispy salad. My kind of meal !!
Preparing the kale:
Remove the tough stem and central rib by cutting it out with a knife or tearing the leaf away from the rib. Roughly chop the leaves and wash in a bowl of cold water. Swirl the leaves in the water bath to encourage any bits of dirt to float off and to ensure that any critters clinging to the leaves have washed away. Dry the leaves in a salad spinner and set aside.
Ingredients:
4 boneless, skinless, chicken breasts halves
kosher salt and freshly ground pepper
2 tbsp olive oil
1 bunch of kale, tough stems removed and leaves roughly chopped (approximately 8-10 cups)
2 cups Marinara sauce, or your favorite tomato sauce
8 slices mozzarella cheese
1/2 cup freshly grated Parmesan cheese
Preheat the oven to 400F (200C)
Season the chicken generously on both sides with salt and pepper. Warm the oil in a large OVEN PROOF pan over medium high heat. Add the chicken to the pan and cook for 7 minutes, turning once. The chicken will have a nice sear on both sides and should look golden brown. Transfer the chicken to a plate and set it aside.
Add the chopped kale to the frying pan and cook over medium heat just until wilted for about 1 to 2 minutes. Add the chicken with any remaining juices back to your pan with the kale and pour the Marinara sauce over the chicken. Divide the mozzarella slices evenly over each chicken and sprinkle with the Parmesan cheese.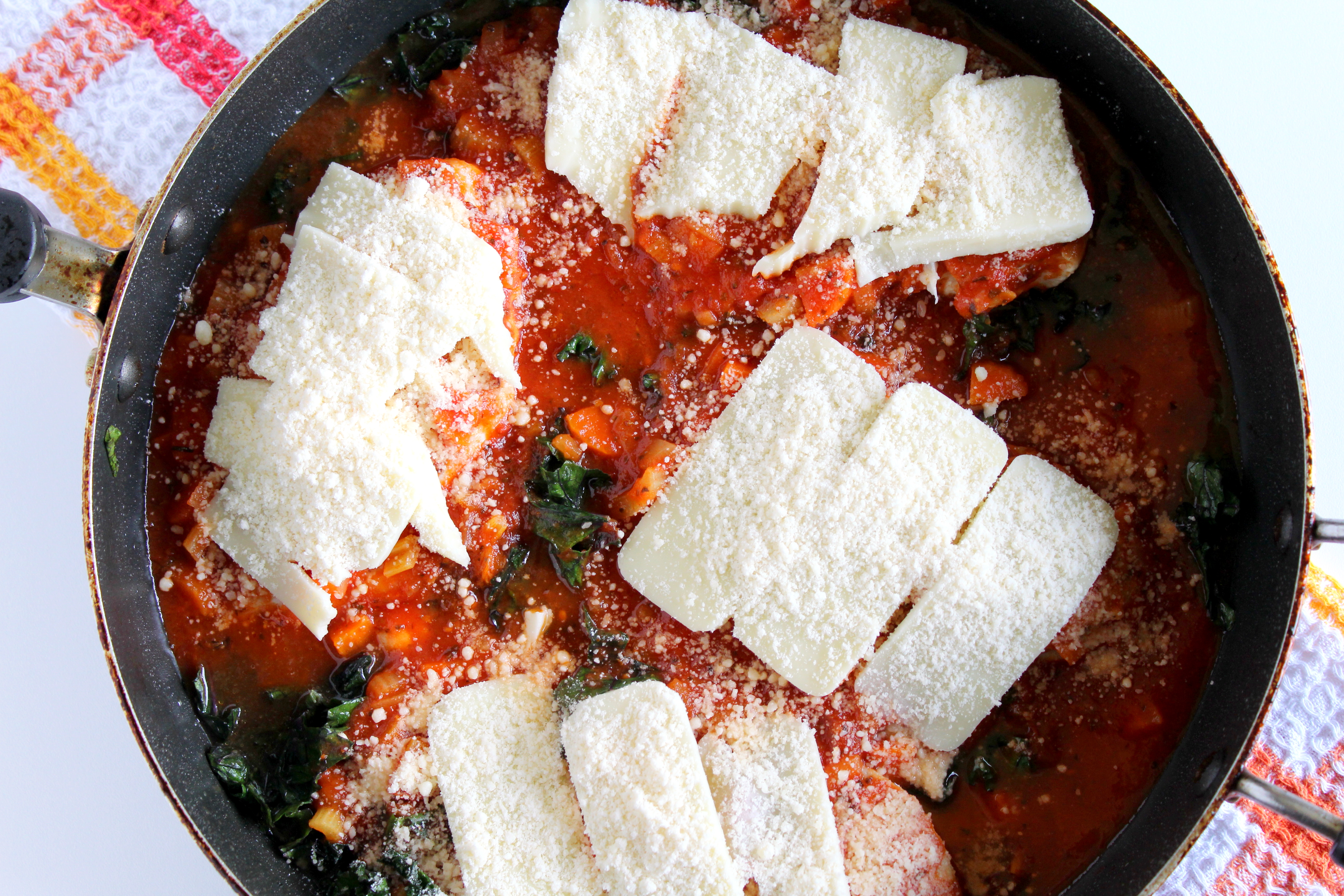 Place your pan in the preheated oven and bake for 20 minutes, just until the chicken is no longer pink inside.
Serve while still warm.
Yields 4 servings.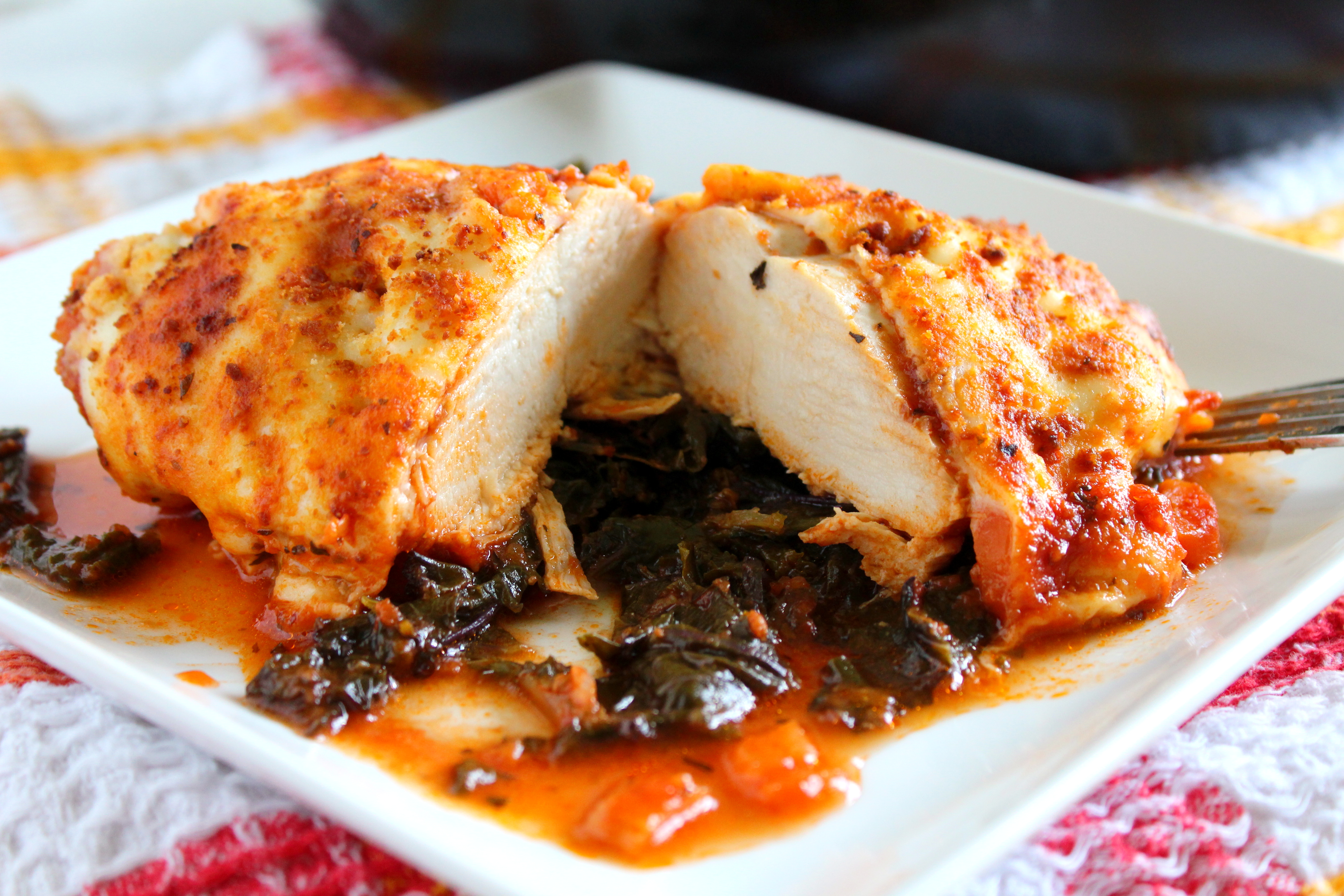 Recipe adapted from Williams-Sonoma Cookbook.