The Ultimate Biscotti Box is a compilation of some of my very favourite biscotti recipes. All are truly easy to make, flavourful and perfectly dippable with a crisp tender bite.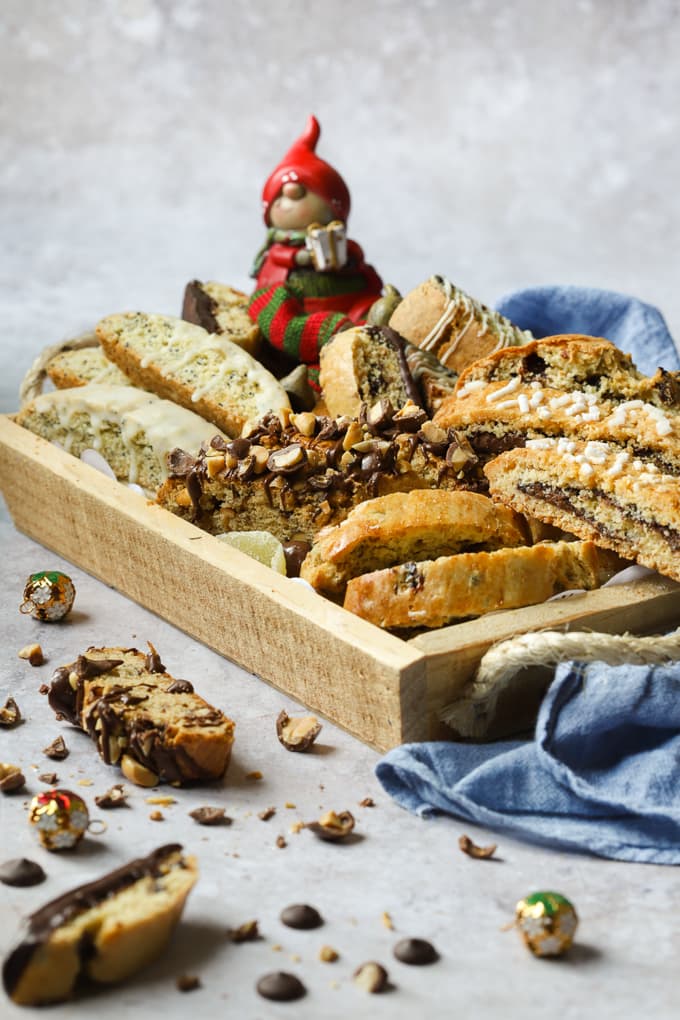 Although there are quite a few biscotti recipes here on the blog, today we are going back to basics on how you can easily put together a delicious assortment of these yummy treats for the holidays.
Nowadays there are so many variations of these twice-baked Italian cookies. They're all perfectly dunkable in a frothy cappuccino or espresso but especially so in Vin Santo, a sweet dessert wine.
And if you haven't yet tried the latter then do give it a go at least once in your lifetime!
But you're not only limited to a dessert wine. I thoroughly enjoy a good Italian cookie dipped in a fragrant Grappa soaking up all the delicate flavours.
What Are Biscotti?
Biscotti are for the most part, twice baked Italian cookies. But while growing up, the word biscotti was more of a generic word and every cookie was referred to as a "biscotto." Biscotto being the singular form!
Biscotti which first appeared during the Roman Empire were the preferred choice of nourishment for travellers. And that's because they contained no fats or dairy, which made them a perfect choice on long journeys.
In Tuscany they're traditionally made with almonds, which grow in abundance from the almond groves of Prato and are called Cantucci or Biscotti di Prato!
Unlike the biscotti from the era of the Roman Empire, the ones you see here today are not your rock-hard and jaw-breaking cookies.
These are an assortment of both crunchy and tender cookies. They're mostly butter based. But, with the noted exception of the Lemon Poppy Seed Biscotti which is an olive oil based cookie.
What Are The Main Ingredients in Making the Ultimate Biscotti Box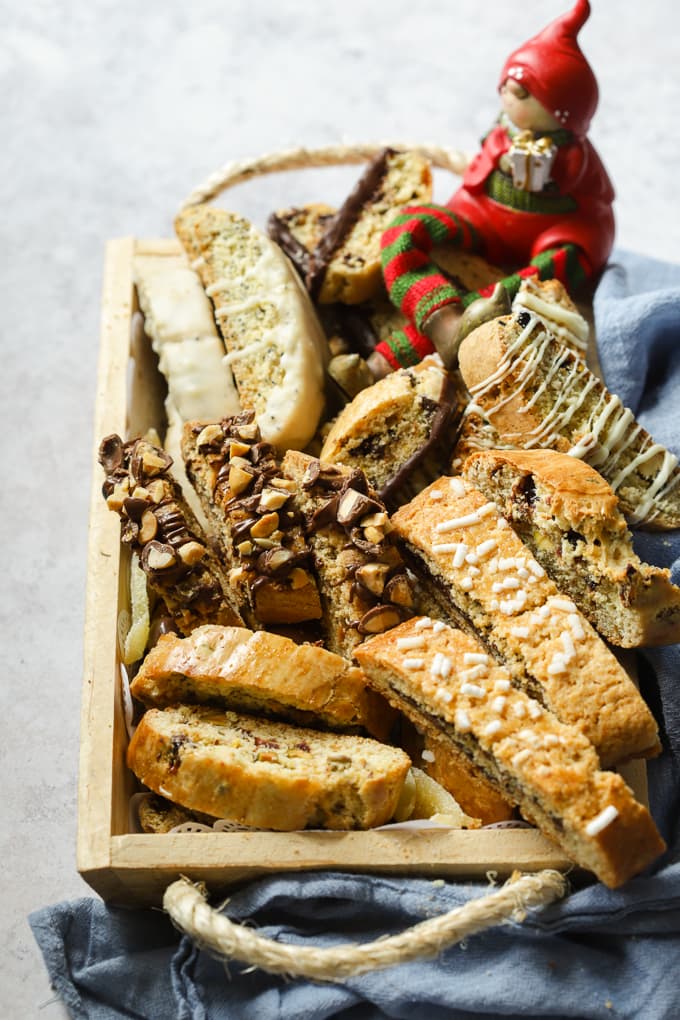 I love playing around with different flavours and and testing out various additions such as dried fruit, nuts, zests and different extracts and spices.
But feel free to experiment with your own favourites add-ins.
First off when planning a biscotti bakeoff, make sure to have a list of all the ingredients you'll need. Fresh is always best!
Ingredients for Best Biscotti
Flour – All purpose flour is ideal for baking biscotti. Before measuring out your flour, first give it a quick whisk while in its canister to loosen it. Then simply spoon the required amount into your measuring cup and level off the excess with the back of a knife or offset spatula.
Sugar – I typically bake with granulated sugar but I also love to use some aromatic vanilla sugar or brown sugar. Granulated sugar should be measured out the same as flour whereas brown sugar is usually firmly packed down into the measuring cup.
Eggs – Always use large eggs at room temperature when baking unless otherwise specified.
Butter – Always use unsalted butter in baking. This way you'll have total control on the amount of salt.
Oils – Butter can be replaced with neutral oils such as vegetable or canola oil. But I've used olive oil in my lemon biscotti with no visible difference.
Nuts – When using toasted nuts, remember to toast them just until fragrant because they will continue to toast during baking.
Dried Fruits – Dried wild blueberries, cherries, crystallized ginger or your own favourites.
Seeds -Such as poppyseeds.
Extracts – Pure vanilla extract is a key element when baking. Other pure extracts in my pantry are Almond, Anise and Amaretto.
Chocolate – White and dark chocolate chips plus more for melting and drizzling or dipping and Nutella.
Zests – Orange or lemon zest add a wonderful zing and make the flavours pop.
Decorative Sugar – They're always optional and so much fun.
Equipment Needed
Use heavy gauged rimmed baking sheets for even baking.
Large sheets of 18×13 work well for biscotti and allows enough room to space 2 logs of biscotti apart on one sheet.
Parchment paper is a baker's dream for easy clean-up. But it also ensures you lift a whole baked log seamlessly from the baking pan without any breakage.
A large sturdy wooden board for effortlessly slicing the logs.
A sharp thin knife or serrated knife (whichever works for you) to make clean even cuts.
How to Slice Biscotti
This is a question I get asked quite frequently.
First off, ensure your biscotti logs are firm to the touch after the first bake while keeping in mind not to over brown them because they will be going in for a second bake.
Although you can use a sharp serrated bread knife, I have much better success with a large thin sharp knife without serrated edges. This might be because I don't allow my logs to cool completely before slicing.
While still slightly warm, the logs are much more pliable to a sharp knife. But you can test this out yourself. After the logs have cooled for 10 or 15 minutes, slice a few pieces and see if that works for you. If not then simply let them cool a little longer.
Also, I prefer to add chopped dried fruits and nuts to my biscotti dough for even cuts. Unless using wild blueberries since they are quite teeny tiny of course!
Ready for the Second Bake
On the second bake is where all the crispness happens. But they also continue to crisp up as they cool.
And for this reason, I always underbake them because I'm just not a fan of jaw-breaking hard biscotti! They're just not my thing!
I love a good tender but crunchy bite to my biscotti!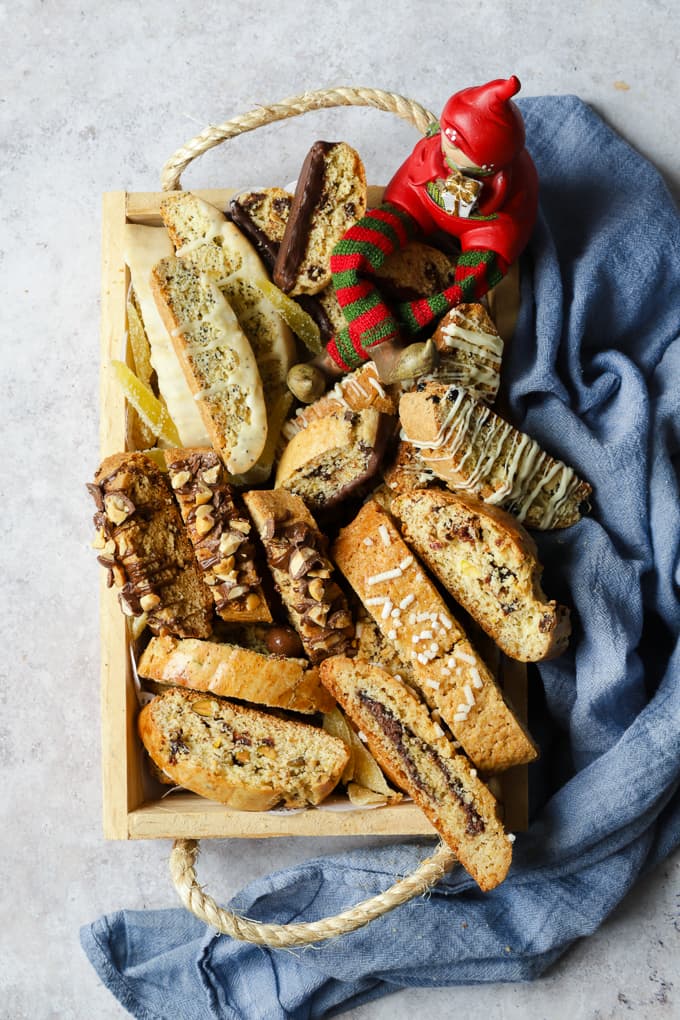 Can You Freeze Biscotti?
You can absolutely freeze biscotti up to two months. I would first wrap them in wax or parchment paper and then place them in freezer bags for double insulation.
The Ultimate Biscotti Box Recipes
This selection of my ultimate biscotti recipes makes a wonderful presentation when brought to the table on a serving tray or decorative wooden box. But it's also equally beautiful and much appreciated as a gift, all prettily wrapped up with cellophane paper and a festive bow.
Here are the 6 biscotti recipes in my Ultimate Holiday Biscotti Box!

These Nutella and Hazelnut Rolled Biscotti have fast become a new family favourite and are a delicious once baked variety. And, they're far easier to make than they look.

Wild Blueberry Lemon Biscotti are studded with dried wild blueberries, almonds and white chocolate chops. They're made with vanilla sugar and dressed up with a drizzle of white chocolate.

These Chocolate Peanut Butter Biscotti are reminiscent in taste of the much beloved peanut butter cookies. After the second bake they're topped with a chocolate peanut butter drizzle and chocolate covered peanuts.

Amarena Wild Cherry Biscotti are made with pistachios and dark wild cherries bottled in syrup. They're perfect for baking! However, if you can't find any you can substitute them with dried cherries or even cranberries.

This recipe for Candied Ginger and Lemon Poppy Seed Biscotti is an oil based recipe. They're sweet and tangy and studded with poppy seeds. To up the lemon flavour, I brushed the tops with a lemon glaze.

Chocolate Anise Biscotti are chock-full of dark chocolate chips with a lovely orange scent and the sweet flavours of both anise extract and ground anise.
And there you have it! Six yummy biscotti flavours for you to choose from for your next baking adventure!
Thanks for stopping by and I hope I've inspired you to create your own Ultimate Biscotti Box!
If you make any of these recipes be sure to tag @marisasitaliankitchen on Instagram so I can see your creation!