Rose di Carnevale are sweet Italian fritters and it probably doesn't get prettier then these rose shaped pastries. They're dusted with a generous amount of powdered sugar and topped with roasted hazelnuts. I'll bet you can't eat just one!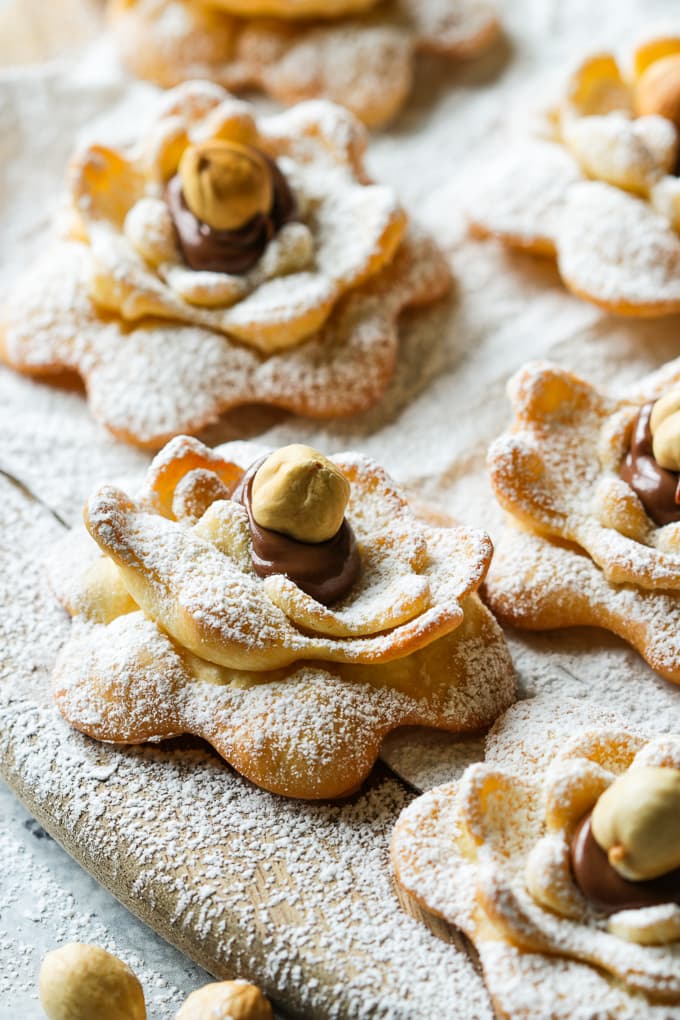 Each year in Italy, during Carnival season, masked celebrants throughout the provinces are marking the occasion with lavish parades and indulging in various delectable treats.
Families across Italy have their very own favourite sweet fritters. Some very popular ones are strips of dough covered with powdered sugar. Depending on which part of Italy one hails from, they'll go by various names such as Cenci, Chiacchiere or Frappe.
These gorgeous edible roses are simply that!
Strips of rolled out pastry dough which are then carved out with cookie cutters of various sizes. Then, they are overlapped and adhered together with a dab of water which acts as a glue.
They're simply one of many traditional Italian Carnival foods.
And like most of these deep fried treats, they're topped with a generous dusting of powdered sugar.
Too cute right?
How to make Rose Di Carnevale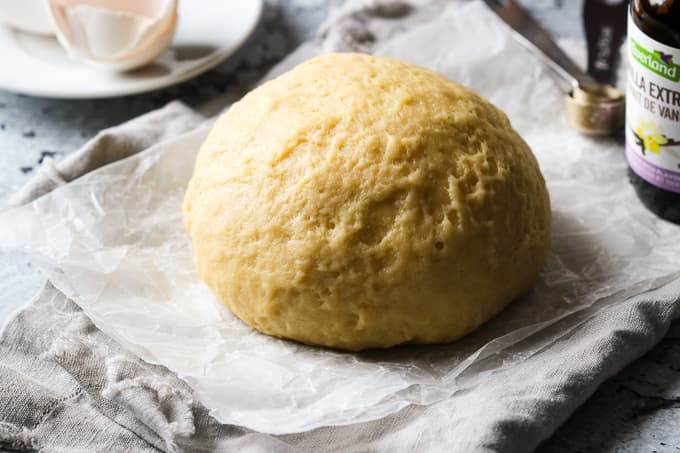 The pastry dough is really quite simple to make with just a few staple ingredients and will take only about 15 minutes to prepare.
You can substitute the Grand Marnier Liquor for either Brandy, sweet Marsala wine or a fruity Grappa.
Once it's ready, you'll need to cover it with some cling warp and let it rest for 30 minutes at room temperature.

Whether using a pasta machine to roll the dough or a rolling pin, do keep in mind that you want thin sheets of pastry dough.
They should be no thicker then 1/8 of an inch.

To make the flower cutouts, you'll need 3 different sizes of cookie cutters.
I used sizes of 2 1/2 inch, 2 inch and 1 1/2 inch flower shaped cookie cutters.
Have a small bowl of water nearby as you'll be using the water to dip your finger into and dabbing the centre of the flower with a little water. But just enough to dampen the dough so that the next cutout will stick to the one underneath.
And give it a little press in the middle to help it along!

Alright, so now you have all your pretty cutouts on a parchment lined cookie sheet.
Remember to keep them covered with a clean dish cloth so they don't dry up while you heat the oil.
While the oil is heating up, prepare another cookie sheet lined with paper towels. You'll be needing it to drain the deep fried roses from any excess oil.
And follow my directions in the recipe card below on how I kept the roses submerged with a wooden spoon for 10 seconds before releasing it to the surface. This allows the layers to crinkle up so prettily.

How to fill the Carnival Roses with Nutella
See that centre pocket in the middle? That's thanks to the tip of a wooden spoon handle which I pressed into the rose while frying.
It's now ready and waiting for a dollop of creamy Nutella!
But before you fill the centre roses with Nutella, give them a generous dusting of powdered sugar!

You can either spoon the Nutella in or use a piping bag to fill in the centres.
Heads up…the piping bag does a cleaner job!

Finish the tops by pressing down a roasted hazelnut over the Nutella.
Not too shabby right?

Don't let the long list of steps deter you from trying these deep fried roses. My aim was to make it easier for you by writing detailed instructions.
And they're really not difficult to make. Not more so then making cutout sugar cookies.
Besides once you get the hang of frying a few and see how pretty they turn out, you'll give yourself a pat on the shoulder for a job well done!
Remember though, as with most deep fried treats they're best served freshly made while they're still crispy.
But they'll keep well for a few days in an airtight container. If they last that long that is!

Still hungry for more deep fried goodness?
Then you'll love these pillowy soft Zeppole Ricotta Doughnuts. They're sweet and crunchy and a snap to make!
In fact they're so simple to make that I created a different variation such as these Pumpkin Ricotta Zeppole (Italian Doughnuts).
Or if you're not a fan of ricotta you might just want to try some Italian Orange Frittelle (Italian fried dough balls). They're soft cake-like dough balls made with finely ground almonds, scented with orange mandarin zest and the warmth of vanilla.
Enjoy!

Print Recipe
Rose di Carnevale, Sweet Italian Fritters
Rose di Carnivale are sweet Italian fritters. They're one of many types of deep fried pastries made during the carnival season in Italy and fairly easy to make. The centres are filled with a dollop of Nutella and topped with roasted hazelnuts.
Equipment
Pasta machine

Flower shaped cookie cutters sizes 2 1/2, 2 and 1 1/2 inches
Ingredients
2

cups

all purpose flour

1/8

teaspoon

salt

3

tablespoons

granulated sugar

2

large

eggs

2

tablespoons

unsalted butter

softened

1

teaspoon

vanilla extract

3

tablespoons

Grand Marnier Liquor

or sweet marsala wine or brandy

2/3

cup

powdered sugar

approximately

1/2

cup

nutella

approximately

36

roasted Hazelnuts
Instructions
In a small bowl sift together the flour and salt then set aside.

In a separate medium size bowl, whisk together the sugar and eggs.

Add the softened butter and vanilla extract to the egg mixture and whisk till combined. (it's ok if it's slightly lumpy.)

Stir in the sifted flour alternating with the liquor little by little.

Transfer the dough on a work surface and knead till it all comes together while working in all the bits of flour on the counter. This should take no more then about 5 minutes.

You should have a soft cohesive dough.

Shape into a ball and cover with cling wrap.

Let it rest for 30 minutes.
Rolling Out The Dough With Pasta Machine
Divide the dough into 8 pieces and keep it covered while working with one piece at a time.

Work one piece of dough through the pasta machine at the widest setting then fold the dough in half and pass it through the pasta machine again.

Next, pass the same sheet of dough once, through setting number 2 on the pasta machine.

Dust the dough with a little bit of flour if it's too sticky.

Switch to setting number 3 and pass the sheet of dough through once and repeat with setting 4 and finally setting number 5.

Transfer the sheets of dough onto cookie sheets lined with parchment paper. Cover with a clean dish cloth and repeat with the remaining pieces of dough.

When all rolled out, it's time to cut and shape the flowers.
Cutting And Shaping The Flowers
Cut out equal amounts of 2 1/2 inch flowers, 2 inch flowers and 1 1/2 inch flowers.

Superimpose the cut out flowers in stacks of three.

Start by placing the 2 1/2 inch cutout on a work surface, dab the centre with a little bit of water and place the 2 inch cutout over it while pressing down in the middle of the flower so that the dough sticks together.

Next, dab the top of the second flower with water and top with the smallest flower while pressing down again so that it adheres together.

Use an off set spatula to transfer the 3 tiered flower to a cookie sheet lined with parchment paper.

Cover with a clean kitchen towel.

Repeat with the remaining sheets of dough.

Any scraps of cutouts can be re-kneaded into a ball, flattened and run through the pasta machine again.
Frying The Carnival Roses
If you're new to this then start to fry the roses one at a time till you're comfortable doing 2 at a time.

But even if you fry one at a time its quick and easy to do because they fry for a total of 35 seconds each, approximately.

In a large heavy pot or dutch oven, pour in enough oil to reach 2 inches high and heat to 375 degrees F. (a candy thermometer comes in handy here)

Fry the rose one at a time by pressing the centre with the round tip of a wooden spoon and keeping the rose submerged for 10 seconds. Then release the spoon allowing the rose to float to the top and let it fry for another 10 seconds. Then, flip the rose over and brown the other side for another 15 seconds. Or till a soft golden brown.

Transfer the fried roses to a tray lined with paper towels to drain of any excess oil.

When finished frying all the roses, dust with the powdered sugar.

Top with a dollop of Nutella and a hazelnut.
Notes
Rolling Out The Dough With A Rolling Pin
If you don't have a pasta machine, no problem!
You can roll out pieces of dough using a rolling pin.
If the dough is somewhat sticky simply dust your work space and rolling pin very lightly with some flour.
Roll the dough out to thin sheets of dough no thicker then 1/8 of an inch thick then continue with the recipe.