These buttery and flaky Cinnamon Walnut Croissant Cookies are made with a sour cream based dough and greatly resemble mini pastries. They're little morsels filled with a sugar, cinnamon and nut mixture and never fail to please. A dusting of powdered sugar is all that's needed to dress up these mini croissant cookies.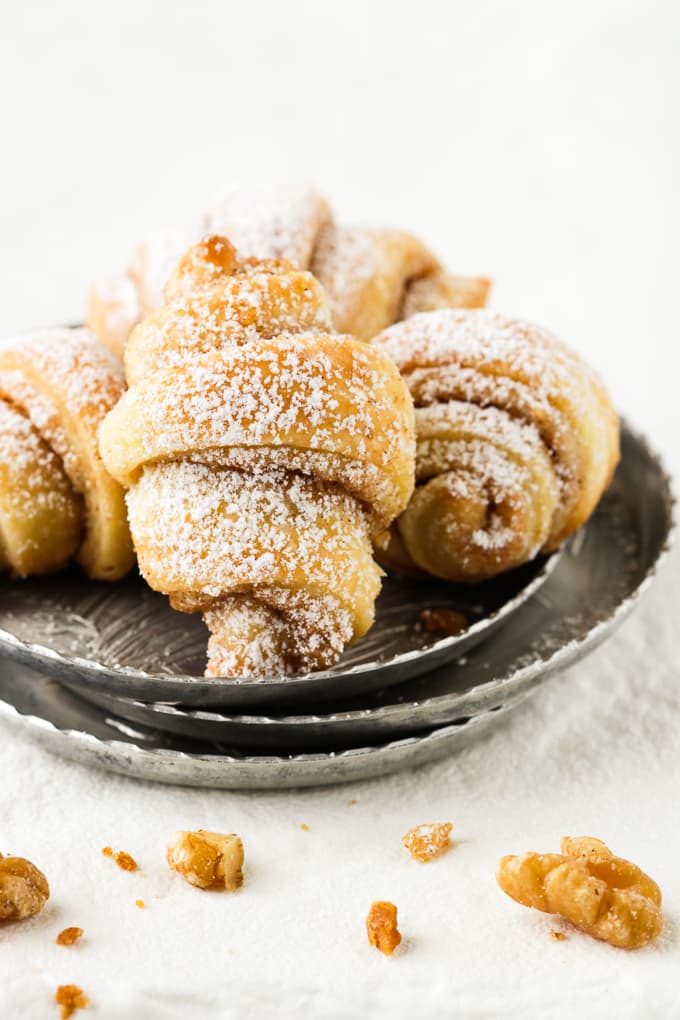 There are probably as many names to this type of croissant-like cookie as there are ways in which to make them. And this, I was soon to discover.
Years ago I set out to replicate the ones my mother-in-law diligently made for her family every holiday occasion as her hand written recipe book detailed the ingredients but not the instructions.
My mother-in-law's croissant cookies were the prettiest cookies ever! Tiny twirls of goodness both flaky and crisp, packed with a sugar nut mixture and the unmistakable scent of cinnamon!
Hubby would literally pop them in his mouth as though they were popcorn!
Rugelach, Rogaliki, Italian Butterhorns
I was soon to learn that the cookies greatly resembled the Jewish pastry called Rugelach. A cream cheese based dough with a variety of fillings but most notably with a poppy seed filing.
Rogaliki, on the other hand is a Polish jam-filled croissant cookie similar to the Russian Rugelach.
This recipe however is more in tune with Italian Butterhorns made with a sour cream based dough recipe and a filling of cinnamon, walnuts and sugar mix.
But since we've always referred to them as little croissant cookies for many years, that's what we continue to call them.
How to make Cinnamon Walnut Croissant Cookies
This is a big batch recipe which you can absolutely break down in half. But you'll probably not want to because they're simply too irresistible!
And besides, you can easily freeze half of the dough to bake at a later time.
Start by creaming the softened butter for about 30 seconds then add the sugar and mix til light and fluffy.
Then mix in the egg yolks with the sour cream until well combined. The mixture will have a curdled appearance and that's totally ok.
You'll then stir in the flour and salt to the butter and sour cream mixture until the flour is fully incorporated. It's really all there is to preparing the dough. Pretty simple right?!
At this point the dough is quite sticky and needs to chill before rolling it out.
You can divide the dough in two portions. Shape it in 2 disks, wrap it in cling wrap and refrigerate for at least 2 hours or even overnight if you're planing ahead.
But what I prefer doing is dividing the two disks of dough in quarters. So I'll have 8 disks of dough chilling in the fridge till ready to use.
And next my friends is where the magic begins!
How to Shape Perfect Mini Croissant Cookies
I've been making these cookies for well over 25 years and I can easily work with 4 discs of dough at a time.
However, if you're new to this type of cookie, I strongly urge you to work with 1 disc of dough at a time while keeping the remaining dough chilled.
When you're ready to shape the pastry dough, dust your work surface and your rolling pin with flour.
Roll the dough out to a 10 inch circle while keeping the work surface and rolling pin dusted with flour to prevent sticking.
Brush the dough with melted butter and top with an even layer of cinnamon and nut sugar. You can use your hands to spread it evenly.
Use a pizza cutter to slice the dough in a neat criss cross pattern to form 4 wedges. Then slice each wedge into 4 triangle shaped pieces. You should have 16 pieces for each disc of dough.

How to Roll Cinnamon Walnut Croissant Cookies
Start rolling the cookie dough from the widest end. Roll into a croissant-like shape.
Transfer the cookies to a parchment lined cookie sheet while spacing them about an inch apart. Make sure to have the end of the twirled cookie facedown on your cookie sheet.
I used 2, 14×20 cookie sheets and I'm able to fit 60 plus cookies onto each.
However, if your cookie sheets are smaller, you'll probably need 4 baking sheets for this amount of cookies.

Bake the croissant cookies in a preheated oven for approximately 22 to 25 minutes.
I rotate my baking sheet half way through baking for even browning as the back of my oven tends to brown a lot quicker.

Aren't they a thing of beauty? Even without the powdered sugar!
They turn out all golden brown with caramelized bottoms, flaky crusts and with wonderful aromas permeating throughout the kitchen.

You'll need to allow them to cool on a cooling rack. And then a simple dusting of powdered sugar dresses them up so prettily.
But really, not that it needs much embellishment. They're simply perfection!

Can You Freeze Sour Cream Cookie Dough?
This sour cream based cookie dough freezes beautifully. And that's a good thing since this is a large batch cookie dough.
Simply halve the cookie dough and then quarter the dough into 8 separate discs. Wrap the 8 discs individually with cling wrap and place them in a freezer bag.
Freeze for up to 1 month. Then when ready to use, you can thaw the cookie dough overnight in the fridge.
Or bake half the batch of cookies and freeze the remaining half for another occasion.

Big batch cookie dough recipes like these croissant cookies are perfect for large gatherings such as Baby or Bridal Showers. Also for Weddings and Baptisms too.
They'll dress up any dessert table quite beautifully!
But they're also great for gift giving as well.
After all, who wouldn't love a platter of these elegant pastries?!

Big Batch Cookie Recipes
If you're pretty much into big batch baking as I am then you'll also love these cute little Ciambelle Cookies. They're Italian lemon scented ring cookies that you can decorate with any sprinkle of your choice. It yields approximately 6 dozen cookies.
Another favourite and quite popular cookie on the blog is this Italian Mostaccioli Cookie Recipe. It's a traditional Italian cookie made with the addition of ground almonds and dipped in chocolate. It yields approximately 6 1/2 dozen cookies.
Happy baking and until the next recipe!
Cinnamon Walnut Croissant Cookies
Cinnamon Walnut Croissant Cookies also known as rugelach or rogaliki are buttery and flaky little morsels rolled in a walnut, sugar and cinnamon mixture.
Ingredients
Croissant Cookie Dough
454

grams

butter

softened

1/3

cup

granulated sugar

2

egg yolks

from large eggs

500

mL

sour cream

4

cups

all purpose flour

1/4

teaspoon

salt

I used fine sea salt
Walnut Sugar and Cinnamon Mixture
1 ¼

cup

walnuts

1 ¼

cup

granulated sugar

3

teaspoons

cinnamon

(corrected a typo Dec 17, 20)

2/3

cup

melted butter

powdered sugar

for dusting over the baked cookies
Instructions
Croissant Cookie Dough
In the bowl of a stand mixer, cream the butter for 30 seconds.

Mix in the sugar, while beating for about 1 minute till light and fluffy.

Next, mix in the egg yolks and sour cream till well incorporated. (It will look curdled and that's fine)

Switch to "stir mode" on the stand mixer and stir in the flour and the salt until the flour is thoroughly combined. (If not using a stand mixer, stir with a wooden spoon)

Divide the dough in half then each half into 4 pieces.

So you'll end up with 8 pieces of dough.

Wrap each piece in cling wrap and refrigerate for at least 2 hours. Or chill overnight.

Meanwhile prepare the cinnamon, sugar and nut mixture.
Walnut Sugar and Cinnamon Mixture
In a food processor, pulse together the walnuts, granulated sugar and cinnamon, until you have a very fine mixture.

Divide the mixture equally in 2 separate bowls. (you'll be using 1 cup of mixture for each 4 discs of dough) This will ensure it's evenly divided.

Set the mixtures aside till you're ready to roll and shape the croissant cookies.
Filling the Croissant Cookies
Working with one disc of dough at a time, on a lightly floured work surface, roll out the dough into a 10 inch round circle. (To facilitate rolling flour your rolling pin as well)

Brush the rolled out dough with some of the melted butter making sure to brush the entire surface.

Top with a sprinkle of cinnamon and nut mixture over the buttered dough. (for each disc of rolled out dough, I sprinkle about 4 generous tablespoons of cinnamon nut mixture)

Cut the dough in a criss cross pattern of 4 equal wedges and then each wedge in 4 triangle slices. (you'll end up with 16 wedges)

Starting at the wide end, roll up each wedge into a crescent roll.

Transfer the cookies to parchment lined cookie sheets, placing them 1 inch apart.

Repeat with the remaining dough.

Bake in a preheated oven at 350 degrees F, for about 22 to 25 minutes or til golden brown in colour.

Allow the cookies to cool before dusting with the powdered sugar.
Notes
Note: Prepping the dough and the nut filling should take approximately 30 minutes.Chilling time: Minimum 2 hours or even overnight if planning ahead.Rolling and filling the cookies: The entire batch takes me approximately 1 hour and 30 minutes to roll out, fill the cookies with nut mixture, cutting into wedges and finally rolling into croissant cookies.
Nutrition
Serving:
1
g
|
Calories:
74
kcal
|
Carbohydrates:
6
g
|
Protein:
1
g
|
Fat:
5
g
|
Saturated Fat:
3
g
|
Cholesterol:
15
mg
|
Sodium:
42
mg
|
Potassium:
17
mg
|
Fiber:
1
g
|
Sugar:
3
g
|
Vitamin A:
147
IU
|
Vitamin C:
1
mg
|
Calcium:
10
mg
|
Iron:
1
mg