Quinoa Gnocchi alla Romana is a Roman style dish with a little twist and a truly satisfying ultimate comfort food. One of those easy to prepare meals with few ingredients that requires minimum fuss and packs lots of flavor. Served as either an entreé or a first course meal, it is sure to impress.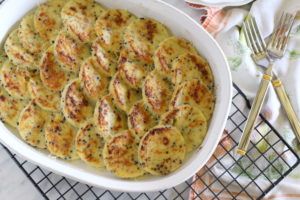 These roman style gnocchi are made with semolina, a durum wheat flour and very much different from the more popular potato gnocchi but equally delicious.
Simmered in milk till a porridge like consistency and flavored with a few simple ingredients such as butter and Parmesan cheese with an egg yolk for some added richness and of course…that little twist I mentioned being quinoa!
Quinoa, better known as the mother of all grains and a nutritional powerhouse has a chewy texture once cooked and is nutty in taste. There is much to love about this protein packed super food!
These cutesy little grains of white, red and black hues add a visual appeal and elevates this rather simple dish and I could not resist adding them to one of my favorite dishes.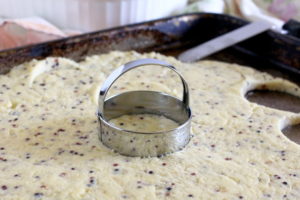 The cooked quinoa is stirred into the semolina mixture along with the butter, cheese, egg yolk and then spread out to a half inch thick layer.
Although I used a 2 inch cookie cutter to shape the disks, alternately a drinking glass would also work. Or simply get creative with any shape you prefer.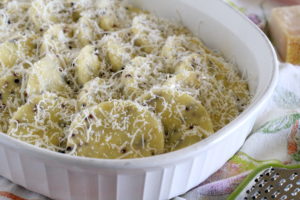 You can really go to town here using lots of cheese and if I may say so, the more… the better it is!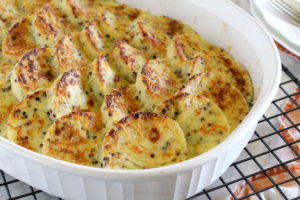 A bit of time under the broiler and these delicious gnocchi develop crispy golden brown edges with pillowy soft centers.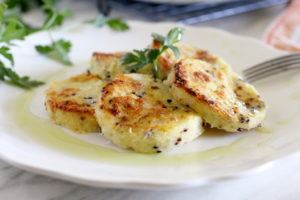 Serve with a light drizzle of your finest extra virgin olive oil and garnished with some parsley sprigs for extra love.
Simple, satisfying and so delicious!!
Buon appetito!

Print Recipe
Quinoa Gnocchi Alla Romana
Quinoa Gnocchi alla Romana is a Roman style dish with a little twist and a truly satisfying ultimate comfort food.
Ingredients
1/4

cup

quinoa

I used a tri-color mix of white, red and black

3

cups

whole milk

1

cup

semolina flour

1

teaspoon

salt

2

tablespoons

plus 2 melted tablespoon for topping

1/2

cup

grated Parmesan cheese plus 1/4 cup for topping

1

egg yolk

beaten
Instructions
Grease a baking sheet and set aside.

Rinse the quinoa with cold water.

Place the quinoa in a small pot filled with 2/3 cup of water and bring to a boil.

Reduce the heat and let simmer uncovered until all the water is absorbed and set aside til ready to use.

Whisk together the milk, semolina flour and the salt in a sauce pan over medium-high heat until the mixture thickens and bubbles over for about 6 to 8 minutes while stirring constantly.

Remove the mixture from the heat and stir in the cooked quinoa, 2 tablespoons of butter, 1/2 cup grated Parmesan cheese and the beaten egg yolk.

Transfer the gnocchi mixture to your prepared baking sheet, spreading it out to about a 1/2 inch thick layer.

Chill uncovered for 1 hour or until very firm.

Butter a 10 inch round or oval shaped baking dish.

Using a 2 inch round cookie cutter or the top of a drinking glass, cut out round shaped circles from the firm gnocchi mixture.

Arrange the slices in the baking dish while slightly overlapping them.

Brush the 2 tablespoons of melted butter over the gnocchi and sprinkle with a 1/4 cup of grated Parmesan cheese.

Place the prepared gnocchi dish in the oven, on the middle rack and broil for about 8 minutes just until they have heated through and have a golden brown crust.