Swiss Chard Mozzarella Calzone are warm pockets of pizza dough stuffed with braised Swiss chard, fresh mozzarella, sweet golden raisins and toasted pine nuts for a delicious lunch or anytime snack.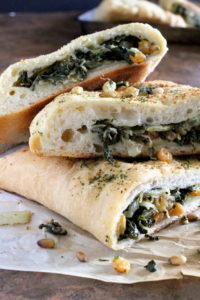 There is something deeply pleasing to me which comes in part from a continuity of sorts when making traditional meals. I find they bring to mind such fond memories of a time when those before us lovingly prepared the same food we so treasure to this very day.
Usually served during the Easter celebrations, these Swiss Chard Mozzarella Calzone are so delicious you'll want to make them all year round.
Although calzone can be stuffed with just about anything, these Swiss chard filled ones brimming with sweet raisins and tender pine nuts is a typical childhood dish. Sliced in small vertical pieces, they were always served as part of our antipasto before lunch or even dinner.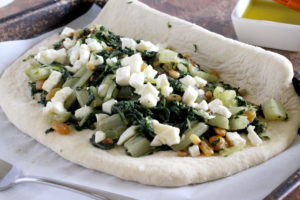 I used a very basic focaccia dough recipe for my calzone, much like the dough used to make my Schiacciata Con L'uva.
However, if your pressed for time store bought pizza dough will also work beautifully.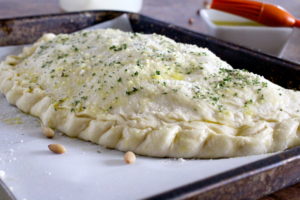 Once assembled, all that's needed is a light brushing of olive oil, a sprinkle of Parmesan cheese and some dried parsley flakes.

A very hot oven works best therefore you'll want to preheat your oven to a very high temperature of 425 or 450 degrees F to achieve a crispy outer crust.
These Swiss Chard Mozzarella Calzone also make a rather relaxed meal accompanied with a crispy salad and complimented with a glass of wine.

Enjoy them hot or cold and should you be so lucky to have any leftovers the next day try heating them up in a skillet or even a panini press. While the outer layers crisp up nicely the vegetable filled centers remain soft offering up a lovely contrast.

Buon Appetito!

Print Recipe
Swiss Chard Mozzarella Calzone
Swiss Chard Mozzarella Calzone are warm pockets of pizza dough stuffed with braised Swiss chard, fresh mozzarella, sweet golden raisins and pine nuts for a delicious lunch or anytime snack.
Servings:
4
, 8 inch half moon calzone
Ingredients
PIZZA DOUGH

2

cups

water

4

tablespoons

olive oil

4 to 5

cups

all purpose flour

1

teaspoon

sea salt

8

grams

quick rise instant yeast

SWISS CHARD FILLING

2

big bunches of Swiss chard

rinsed and chopped into 1 inch pieces (stems included)

1/4

cup

extra virgin olive oil

4

garlic cloves

smashed

2

generous pinches of red chili pepper flakes

1/4

cup

pine nuts

toasted (see note)

1/2

cup

golden raisins

salt and pepper to taste

1/2

cup

fresh mozzarella

diced

Parmesan cheese for sprinkling

dry parsley flakes for sprinkling
Instructions
Heat 2 cups of water with 4 tablespoons of olive oil in the microwave for 60 to 90 seconds or till lukewarm.

In a large bowl combine 3 cups of flour, salt, yeast and stir well.

Stir the warm liquids in the flour mixture with a wooden spoon, mixing well.

Stir in another cup of flour till combined.

Invert the dough onto a well floured counter and knead for a few minutes, working in the last cup of flour a bit at a time just until the dough is soft and smooth.

Grease a large bowl with some olive oil. Place your pizza dough in the greased bowl turning the dough to grease all over. Cover with saran wrap.

Let it rise till it doubles in size for about 1 1/2 to 2 hours, in a draft free place.

SWISS CHARD FILLING

While the pizza dough rises prepare the Swiss chard filling.

Heat about 4 inches of water in a very large stock pot.

When water comes to a boil add in the Swiss chard and salt to taste.

Lower the heat and cook the greens for about 10 minutes.

Drain and set aside.

In a large frying pan, add the oil with the smashed garlic, chili flakes and cook for about 1 minute or until the garlic is just slightly golden.

Add in the drained swiss chard, pine nuts, raisins and salt and pepper to taste.

Stir and cook the mixture for a few minutes, until the liquid evaporates.

Set aside to cool.

PREHEAT OVEN TO 425 degrees F"

Line 2 baking sheets with parchment paper and set aside.

Transfer the pizza dough to a floured surface and divide into 4 equal pieces.

Roll each piece into an 8 inch round circle and place on the prepared baking sheet.

Divide the Swiss chard mixture evenly between the 4 pizza rounds leaving a 1 inch border, topping one half while leaving the other half extended.

Sprinkle the diced mozzarella over the filling onto each calzone.

Fold the extended half over the filling while pressing to seal around the edges to secure the filling.

Use a fork to press down along the outer edge or use your fingers to crimp the edges.

Brush some olive oil over each calzone.

Sprinkle each calzone with Parmesan cheese and dried parsley.

Bake for 30 minutes switching the pans half way through for even baking.

When ready the calzone will be puffed and golden brown.

Let cook a little before slicing and serving.
Notes
Toast the pine nuts in a small skillet over medium-low heat until they are lightly golden. You'll want to keep an eye on them as they're browning because they can burn very quickly.