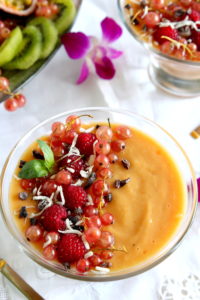 Having just returned from the white sandy beaches and crystal clear waters of Cayo Santa Maria, I find myself to be…still in a holiday mode.
Cayo Santa Maria is one of the many islands of Cuba, just off its' north central coast and lined with beautiful, luxurious, all inclusive resorts.
A typical breakfast for me was a plateful of their exotic fruits, usually consisting of pineapple, papaya and the most delicious and sweet tasting mangoes that I have ever laid eyes on.
We soon came to realize that the early bird gets the mango! They disappeared that quickly!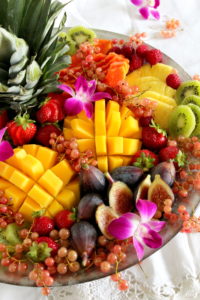 First opportunity I had on arriving back home was in visiting the local Farmer's Market, where I went a little teensy, weensy overboard with the purchase of fresh fruits…how can one resist these gorgeous fruits, right!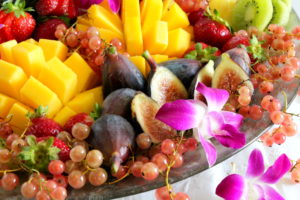 Aside from the mangoes, pineapple and papaya, there were juicy strawberries and raspberries.
Gadelles du Quebec, sweet, aromatic clusters of pink currants.
Kiwis, figs and passion fruit.
I did also purchase a coconut but alas, I could not pry it open and now it sits on my kitchen counter till hubby (muscle man) gets home.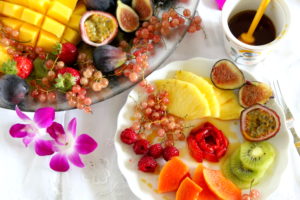 A well platted fruit platter makes a stunning centerpiece and a lovely alternative to sweet desserts. It's just wonderful served as is or complimented with condiments such as honey, maple syrup, caramel and chocolate sauce.
I initially wanted to make a rum sauce to drizzle over the fruit but did I mention that I am still on a relaxed holiday mode….:)
Which now brings me to the dilemma of what to do with all this delicious fruit, aside from feeding the whole neighborhood that is!
Hence the inspiration for this Valentin Tropical Fruit Smoothie. Valentin, being the name of our resort.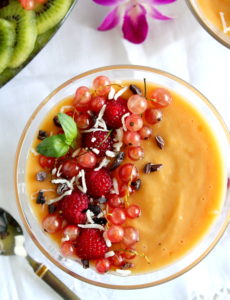 Fruit smoothies are really quite simple to put together, making them an easy go to breakfast choice. You can use any fruit you have on hand. For a creamier consistency add a frozen banana and your favorite nut butter for an extra protein kick.
To thin the smoothie I used almond milk because that is what I had on hand but you can also use any non dairy milk, even coconut water or fruit juice.
Go ahead and give it a little extra love by topping your fruit smoothie with more fruit, a sprinkling of coconut, or even nuts and seeds.
I am sure it will become a favorite morning ritual.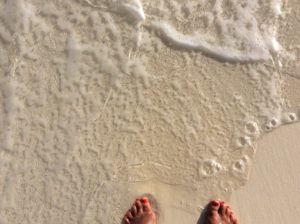 Arrivederci Cuba, alla prossima!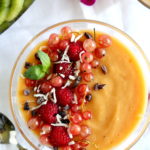 Print Recipe
Valentin Tropical Fruit Smoothie
A mix of banana, mango, papaya and pineapple blended together with almond milk and peanut butter to form a refreshing tropical fruit smoothie.
Ingredients
1

frozen banana

1

cup

chopped mango

1

cup

chopped papaya

1

cup

chopped pineapple

1

tablespoon

peanut butter

I used organic creamy peanut butter)

1/2

cup

almond milk
Instructions
Place all ingredients in a blender.

Blend till smooth.

Pour into small serving bowls.

Top with any fruit of your choice

I used raspberries

Gadelles du Quebec (pink champagne currants)

Shredded sweetened coconut

Cocoa Nibs