My friends, today I've got a Beet Hummus Recipe for you all, but first the Yogurt Every Day Cookbook review!
Disclosure: Publishers at Appetite by Random House a division of Penguin Random House Canada have kindly provided me a copy of Yogurt Every Day Cookbook by Hubert Cormier for review. I was not financially compensated for this review and all thoughts and opinions stated here are entirely my own.
Yogurt Every Day Cookbook Review
A cookbook has always been more then just the recipes for me. They allow a sneak peak into the author's culinary journey while captivating us with their beautiful photos. Some transport us to faraway places, enticing us to explore the unfamiliar, while never leaving the comfort of our own kitchens. They also charm us with their writing style and are a fountain of insightful information.
Hubert Cormier, the author of Yogurt Every Day is a Nutritionist/Dietician who's field of study is genetics and nutrigenomics. After researching links between yogurt and good health, he came across some pretty interesting findings, which he eventually published in the European Journal of Nutrition.
The findings of all the wonderful benefits that yogurt has on our health, led Hubert to compile more then 75 recipes utilizing this super food.
For those who must follow a specific diet such as diabetes, you'll very much appreciate the nutritional value information for each recipe that this cookbook offers.
You'll find many delicious and healthy recipes which cover breakfast, lunch, dinner and dessert. Also, if you need any snack ideas…Hubert has you covered.
Hubert also walks you through the basics of making your own yogurt at home. From using a yogurt maker, a stove top method and yes even your slow cooker will slowly and surely do the job.
Moving forward to the recipes I've tried and loved.
Recipes
Overnight Oats was the first recipe tested. It was a lovely alternative to my morning routine of hot steel cut oats with banana. Not only is it super easy to prepare, it comes together in mere minutes. You'll find it a true grab and go breakfast for those chaotic mornings and keeps you full all morning long.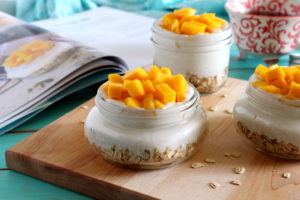 Banana Walnut and Toblerone Bread , when I came across this recipe I immediately thought "now why didn't I think of that". I love toblerone chocolate and a good banana bread so it makes perfect sense to combine both together, right!
I couldn't wait to dive into this one but I came across a few issues which I quickly ironed out so beginners should not be discouraged.
The recipe starts off with instructions to whisk together the butter and sugar but does not stipulate whether its softened butter. I didn't see that happening without some damage to my whisk even with my stand mixer and whisk attachment. I therefore decided to use softened butter with the sugar and beat both together using my stand mixer.
Also the ingredient list called for 2 bananas but doesn't indicate whether to mash them before adding them to the mixer. But this probably goes without saying!
The recipe did not indicate the size of the loaf pan but lucky for me I had loaf pans in various sizes. Judging from the amount of batter I deduced a 9 x 5 pan would work best and I had to double the amount of baking time for my banana bread so I'm not sure what size of baking pan Hubert used.
Overall this is a delicious banana bread. So moist and chocolaty…my family devoured it in one sitting. I actually baked it twice!
Beet Hummus was the third recipe I tried. My family adores hummus so this was a definite must try for me. It makes a quick and healthy afternoon snack to enjoy with some crunchy raw vegetables, crackers or pita wedges. A topping of roasted chickpeas, crumbled feta cheese with a dash of paprika and garnished with basil leaves adds a pretty decorative touch. You'll find it light in taste and a cinch to make.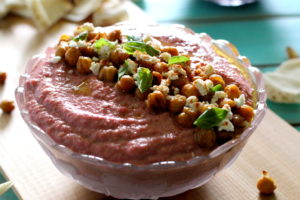 My Aha Moment
Hubert gives lots of tips throughout his cookbook. One notable tip stood out for me and I had a (Aha Moment).
For the most part, people who are lactose intolerant can actually ingest up to 12 grams of lactose in one meal without experiencing any discomfort. As long as the consumption of dairy products are paced throughout the day we can actually enjoy more of it. "Aha"!
I enjoyed reading Yogurt Every Day and testing out some of the recipes. I've made each of the above recipes twice except the Beet Hummus which I actually made three times. I've also learned much about the importance and benefits yogurt has on our everyday lives. Also how easy it is to incorporate this super food in our favorite recipes. Next on my list of must tries are the Sweet Potato Gnocchi, Tagliatelle a la Carbonara and the Fig Foccacia.
In conclusion, Yogurt Every Day is a fun way to get creative in your own kitchen.
Recipe excerpted from Yogurt Every Day Hubert Cormier.
Copyright © 2017 Hubert Cormier.
Food Photography by Catherine Côté.
Published by Appetite by Random House®, a division of Penguin Random House Canada Limited.
Reproduced by arrangement with the publisher. All rights reserved.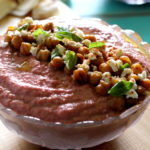 Print Recipe
Beet Hummus
An easy and delicious pairing of chickpeas and red beets with Greek yogurt incorporated into the mix for a healthier version from store bought variety.
Ingredients
1/2

cup

125 ml canned chickpeas, drained and rinsed

1

cooked red beet

2

tablespoons

30 ml plain Greek yogurt

2

tablespoons

30 ml sesame oil

salt and pepper to taste

For Garnish

Crumbled feta cheese

roasted chickpeas

Smoked paprika

Fresh basil leaves

Cold-pressed olive oil
Instructions
In the bowl of a food processor, add the chickpeas, beet, yogurt, sesame oil and process until smooth.

Season with salt and pepper and garnish as desired.
Nutrition
Serving:
4
g
|
Calories:
107
kcal
|
Carbohydrates:
7
g
|
Protein:
3
g
|
Fat:
7.6
g
|
Saturated Fat:
1.1
g
|
Sodium:
14
mg
|
Fiber:
1
g