Cute as a button and with only 3 ingredients in the dough, these Butterball Cookies are simply irresistible! They're sandwiched together with seedless raspberry jam and rolled in aromatic vanilla sugar for a sparkly appeal. They also make a wonderful nut free cookie recipe to add to your repertoire.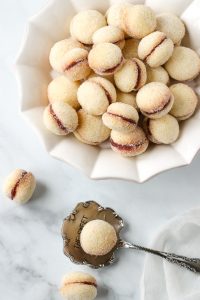 This post was originally published in December of 2015 and republished December 4, 2018 with updated photos and content.
My exquisitely fragrant Vanilla Sugar is ready and waiting to coat these cute little one bite Butterball Cookies!
I am filling mine with raspberry jam as it seems to be everyone's favourite. But also because the redness of the jam really adds a festive colour this time of the year. This is especially wonderful when you serve a platter full of Christmas cookies. They stand out like little jewels ready to be plucked off the tray!
Alternately the butterball cookies can be filled with Nutella or even chocolate ganache. However you choose to fill them they will garner many smiles from both kids and adults alike.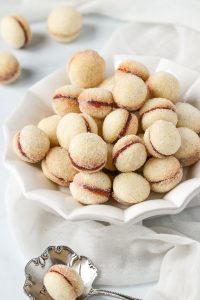 Its not an overly complicated recipe or with any fancy techniques. We are taking a few simple ingredients, which you probably already have on hand. And, we are turning them into these irresistible buttery morsels.
So get comfortable, play your favourite holiday music and lets roll some butterballs!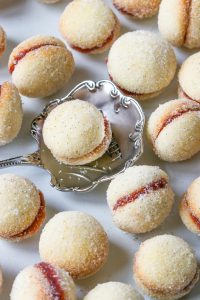 How To Make Perfect Butterball Cookies
You will need 3 cookie sheets lined with parchment paper.
Make sure your dough has been chilled at least 4 hours before rolling the cookies. You can also make the dough up to 5 days in advance and refrigerate till ready to use.
Measure out 1/4 teaspoon of cookie dough and roll in the palm of your hands, no bigger than the size of a hazelnut in it's shell.
Continue with the remaining dough and chill the butterballs in your freezer for 30 minutes before baking.
When ready to bake space them out on the cookie sheet about 2 inches apart as these will spread. Bake one cookie tray at a time while keeping the remaining cookies chilling in the freezer.
Once the cookies are baked and cooled, place a small dollop of jam on the flat surface of one half of the cooled cookies and top with another half to sandwich them together. Roll the cookies in the vanilla sugar.
They're simply beautiful served in an elegant footed glass bowl and also make a wonderful addition to any holiday cookie platter.
Which ever way you serve them, they're sure to impress your guests!
If you make this recipe remember to tag @marisasitaliankitchen on Instagram so I can see your creation!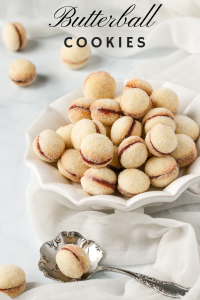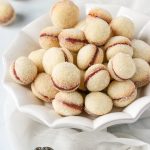 Print Recipe
Butterball Cookies
Irresistible Butterball Cookies! They're sandwiched together with seedless raspberry jam and rolled in aromatic vanilla sugar for a sparkly appeal.

Ingredients
1

cup

unsalted butter

softened

1/2

cup

granulated sugar

1 3/4

cups

all-purpose flour

1/2

cup

seedless raspberry jam

1

cup

vanilla sugar for rolling
Instructions
Using a mixer fitted with a whisk attachment, beat the butter on medium speed for about 3 to 5 minutes until the butter is light and fluffy. Mix in the sugar until well blended then add in the flour and continue mixing until the dough is formed. Wrap the dough with saran wrap and chill the dough for about 3 hours. Chilling the dough will prevent the cookies from spreading out too much when baked.

Preheat the oven to 375*F.

Use a small spoon to tear out small pieces of dough and use the palm of your hands to roll them out into small balls about the size of a hazelnut. Place them on a cookie sheet and chill them in the freezer for 30 minutes.

Line 3 cookie sheets with parchment paper. Place the cookies 2 inches apart on the prepared cookie sheets (cookies will spread). Bake one sheet at a time for 8 to 10 minutes or just until the cookies are firm and pale golden in colour. Keep the remaining cookie sheets chilled till ready to bake the next batch.

Spread the flat side of half the cookies with the jam and then top with remaining cookies to form a sandwich. Once you have paired them and formed little sandwich cookies, roll them in vanilla sugar to coat all over.
Notes
This recipe is adapted from a wonderful cookbook: Chocolate and Vanilla by G

ale Gand