One of the easiest cookies you'll ever make are these amaretti morbidi, Soft Amaretti Cookies made with almond flour. They're absolutely delicious! Addictive! And gluten free too!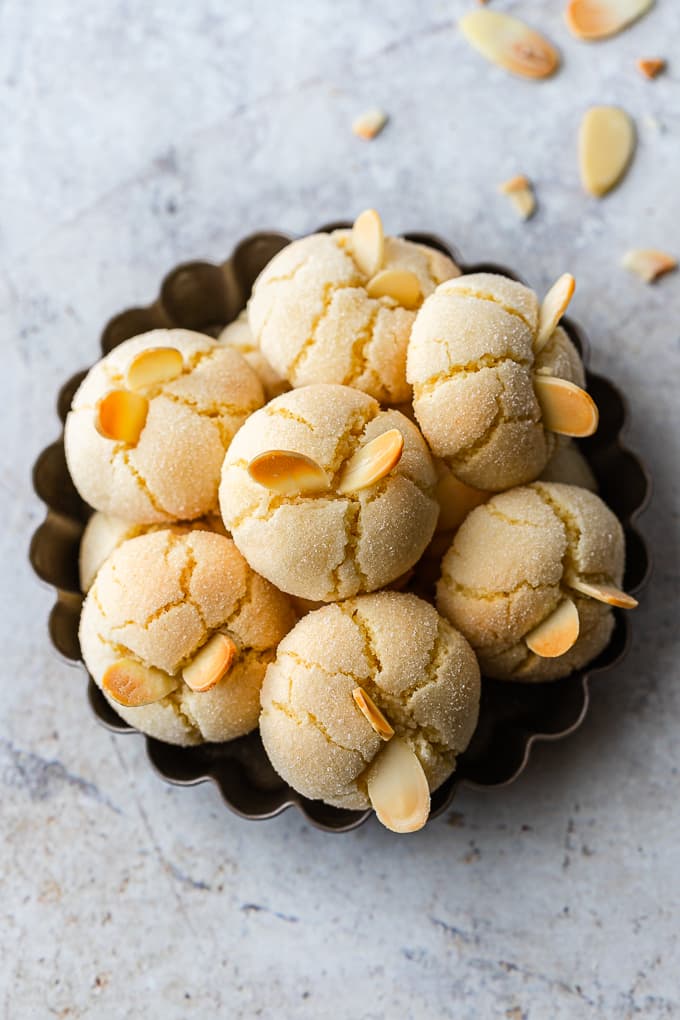 As friends and family know me well, I have a love affair with cookies! But you've probably noticed from all the yummy cookie recipes here on the blog.
So when my dear friend Franca generously offered to share her Italian amaretti morbidi recipe with us, morbidi meaning soft, I was quite thrilled to bring it to life here on the blog.
Friends, they're exquisite!
Right after biscotti, Italian almond cookies are a favourite indulgence of mine! So much so, that you'll find quite a few recipes here on the blog. And all have that unmistakable almond flavored bite!
The ones you see here today are similar in taste to these chewy amaretti made with finely ground almonds and hazelnuts, but the texture differs between the two. Because, almond flour renders cookies way softer than home ground almonds.
I would have to compare them to my soft blueberry amaretti cookies. In both taste and texture, they're very much alike. However, the honey in the blueberry amaretti recipe gives them that little extra softness. Almost a melt-in-your-mouth softness!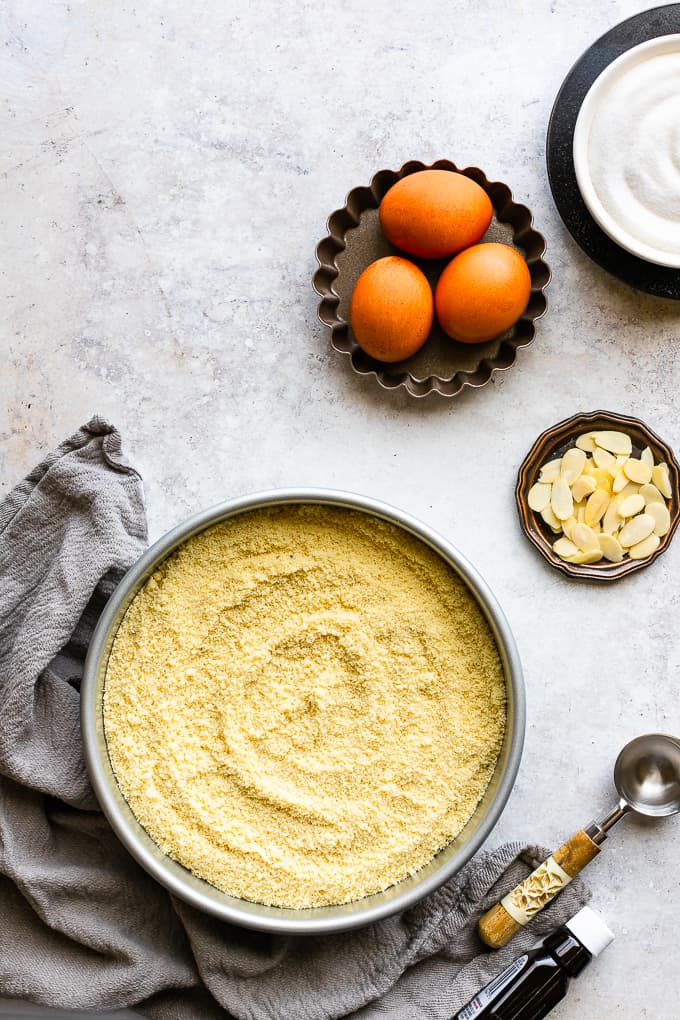 All you'll need are a 4 ingredients to bake these sweet morsels. As shown in the photo above.
almond flour
eggs
sugar
almond extract
Well, 5 if counting the sliced almonds used for garnishing!
So let's get started!
How To Make Soft Amaretti Cookies
You can make these amaretti cookies using a hand held mixer or a stand mixer with the paddle attachment. But if you don't have either, all you'll need is a large bowl to mix the ingredients in and a sturdy wooden spoon.
Step 1: Place the eggs and sugar with the almond extract in a large bowl. Beat the ingredients together on low speed until combined.
Step 2: Slowly, beat in the almond flour on low speed, until the ingredients are well incorporated.
You'll have a soft but fairly firm dough, ready to be shaped into small cookie dough balls.
So have your baking sheets ready and lined with parchment paper. And preheat your oven!
Let's get rolling…but first, see the image below with the small cookie scoop! It's one and a quarter inch round in diameter and will give you perfectly shaped almond cookies!
The trick is to compact the dough really well in the hollow scoop. And once the dough is released simply round it with the palm of your hands. You'll get a consistent size in every cookie ball.
If you don't have a small scoop, a teaspoon will do. But, you'll need to use your hands to compact the dough tightly so they hold their rounded shape.
Step 3: Roll the dough balls in granulated sugar while turning to coat all over. Then, top with two sliced almonds if using.
If you prefer, you can also top with a whole almond instead of the sliced ones.

Step 4: Transfer the cookies to your parchment lined cookie sheet and bake for approximately 12 to 14 minutes.
Remove the cookies from the oven when they're pale golden in colour. And take care not to let the bottoms darken too much!
Allow the cookies to cool completely before lifting them from the pan because they're very fragile while still warm.

Can Amaretti be Frozen?
These cookies are great for planning ahead as they freeze quite well. But you'll need to take care when stacking them in your freezing container. Because, the sliced almonds can easily snap off.
So it's best if you freeze them in one single layer as much as possible.
You can still bite through them straight out of the freezer. They'll be soft but chewier. However, a half hour or so at room temperature will restore them to a softer texture.
Baker's Note:
Instead of sliced almonds you can top these cookies with whole almonds. Skin on or blanched.
You can also top each cookie with either green or red glazed cherries sold in jars to add a festive holiday appeal.
Or simply leave them unadorned if you so wish.
Happy Baking dear friends!
Soft Amaretti Cookies
These soft amaretti cookies are made with almond flour and are so incredibly delicious. You'll only need 4 ingredients to make these easy, gluten free almond flavored cookies.
Servings
60
cookies (approximately)
Equipment
Stand mixer or hand held mixer

Mixing bowl

Three baking trays

Parchment paper

Cookie scoop (1¼ inch size)

Rubber spatula
Ingredients
Ingredients For Soft Almond Cookies
3

large

whole eggs

1½

cups

granulated sugar

1

tablespoon

pure almond extract

4

cups

almond flour

1/2

cup

sliced almonds for garnish

(optional)
Instructions
Making Soft Almond Cookies
Preheat oven to 350 degrees F.

Line cookie sheets with parchment paper

In the bowl of a stand mixer and with the paddle attachment, beat together the eggs, sugar and almond extract on low speed until incorporated.

Slowly beat in the almond flour until well incorporated.

Use a 1¼ inch cookie scoop or a scant teaspoon size to scoop out and shape the dough into small round shapes.
Rolling The Cookies In Sugar
Place a 1/2 cup of granulated sugar in a small round bowl.

Roll the cookie balls in the granulated sugar, turning to coat all over.

Place the sugar rolled cookies on the prepared parchment lined cookie sheet. (Space 2 inches apart)

Top with sliced almonds if using.

Bake for approximately 12 to 14 minutes or until pale golden in colour. (mine were ready after 12 minutes)

Allow to cool before removing the baked cookies from the baking tray. (they're very delicate)
Nutrition
Calories:
84
kcal
|
Carbohydrates:
9
g
|
Protein:
2
g
|
Fat:
5
g
|
Saturated Fat:
1
g
|
Polyunsaturated Fat:
1
g
|
Monounsaturated Fat:
1
g
|
Trans Fat:
1
g
|
Cholesterol:
9
mg
|
Sodium:
4
mg
|
Potassium:
18
mg
|
Fiber:
1
g
|
Sugar:
7
g
|
Vitamin A:
14
IU
|
Calcium:
22
mg
|
Iron:
1
mg