Roasted Fingerling Potatoes with Apples are a perfect medley of sweet and savoury. Combined together, you'll find they compliment any fish or poultry dish while providing a unique and delicious way of teasing your taste buds.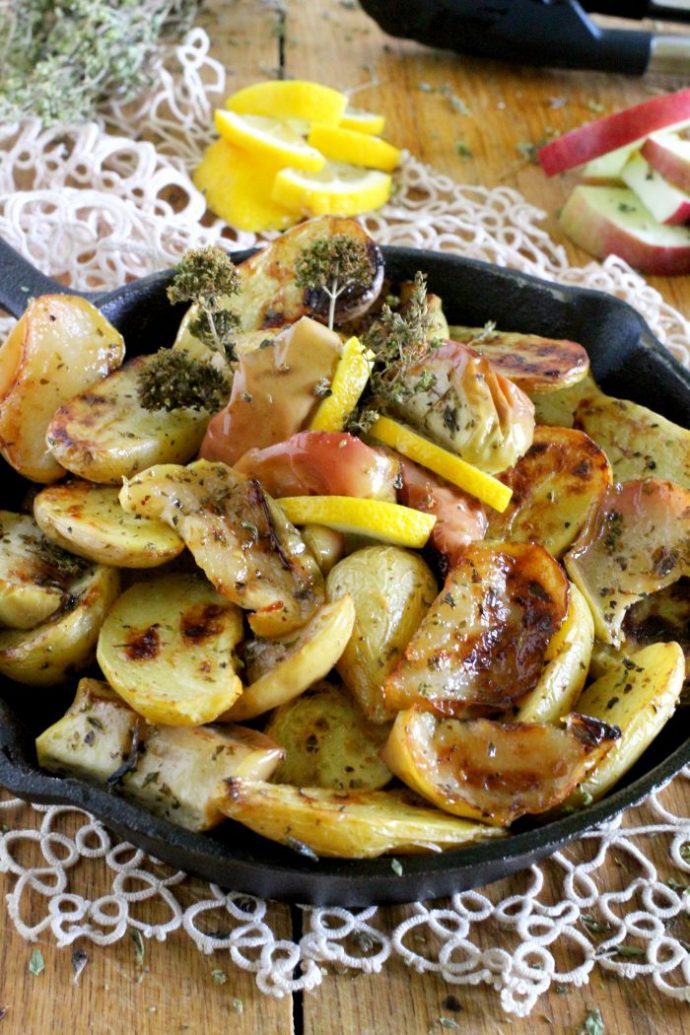 Roasting potatoes alongside another vegetable or even in this case combined with apples, is my favourite way of serving up the yummy spud.
These distinctive crescent shaped and thin skinned fingerling potatoes are a perfect match with a great baking apple.
The Cortland or Empire apples pair really well here. Or any apple that holds its' shape when baked will do for that matter.
However I wouldn't use the McIntosh, as this variety gets mushy and falls apart when roasted.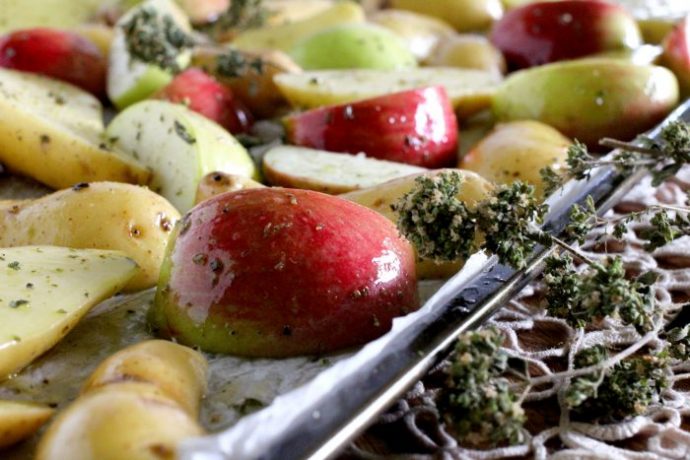 Look for apples with bright red skins. The bold red colours provide a lovely contrast to the more palish yellow skin of the fingerling potato.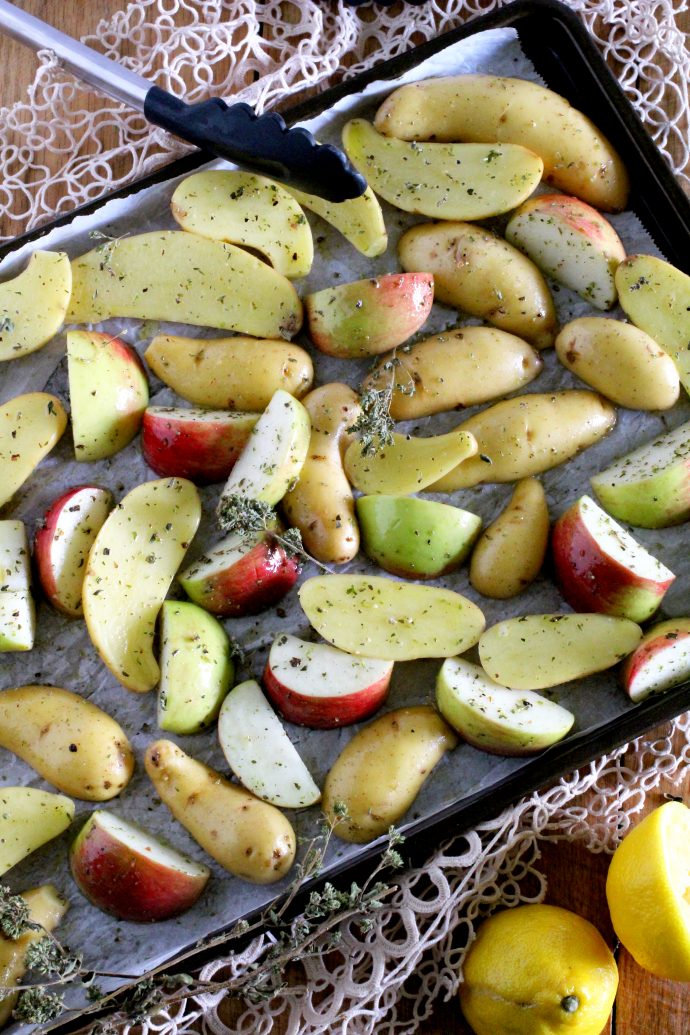 I prefer to keep the seasonings to a few simple ingredients.
Aside from the customary salt and pepper, I added dried organic mountain oregano.
It's one of the few dried herbs I have on hand and use quite often when making any kind of roast.
You can purchase the dried stalks whole and keep them in plastic air tight bags for months! This way they'll retain their natural fragrances and compliment many dishes.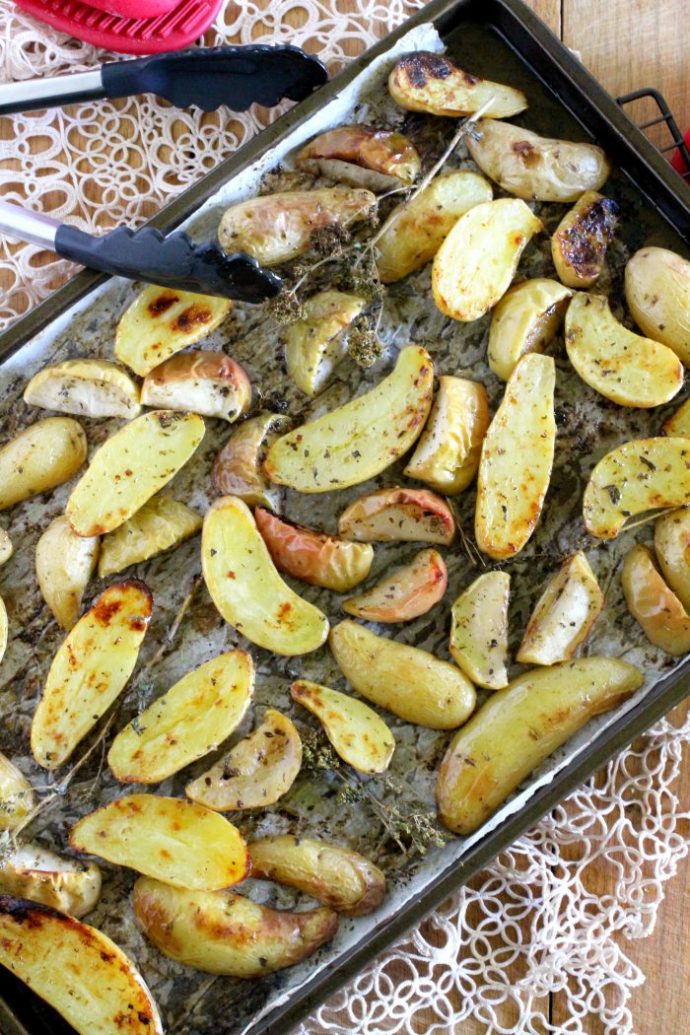 All that's then needed is a generous drizzle of good quality olive oil and a few squirts of fresh lemon juice to make the flavours pop.
Some salt and pepper to your liking!
Make sure not to over crowd the potatoes and apples on the small baking sheet. This way they'll roast evenly and caramelize beautifully all around!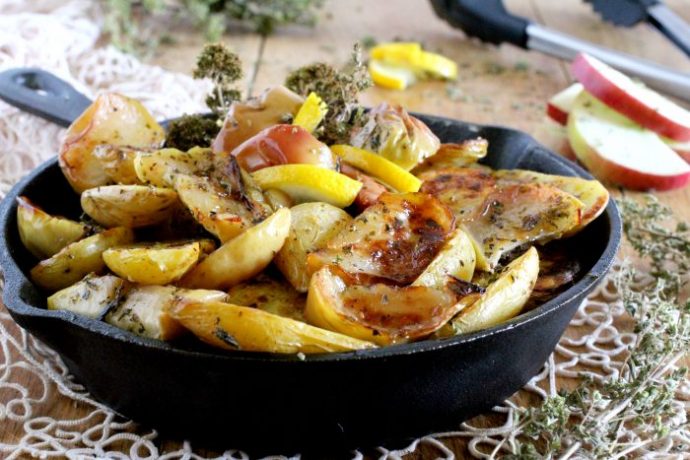 Add a little love to your next meal with a side dish of Roasted Fingerling Potatoes with Apples and enjoy with your family and friends!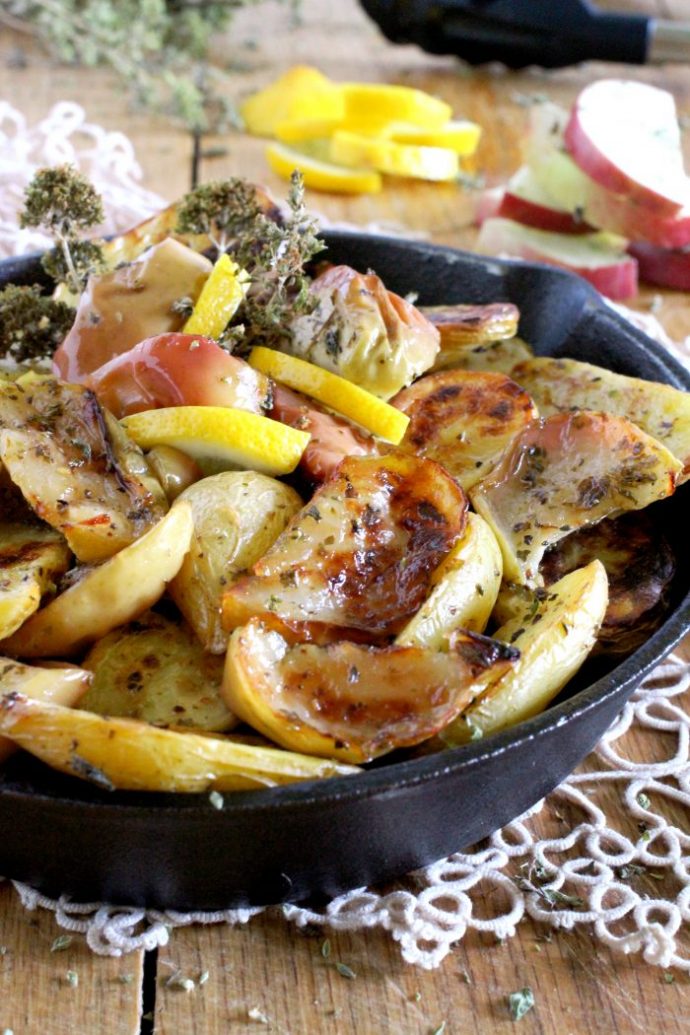 Buon Appetito!
Roasted Fingerling Potatoes with Apples
Roasted Fingerling Potatoes with Apples, a perfect medley of sweet and savory and a delicious compliment to fish or poultry.
Ingredients
1 1/2

pounds

fingerling potatoes

sliced in half lengthwise

3

medium red apples

cored and cut into wedges ( I used Cortland apples )

2

tablespoons

olive oil

freshly squeezed lemon juice from half a lemon

1

teaspoon

dried oregano

I used an organic brand

fine sea salt

to taste

freshly ground pepper

to taste
Instructions
Preheat the oven to 425 degrees F.

Line a large baking sheet pan with parchment paper (for easy cleanup).

Combine all the ingredients in a large bowl and toss to coat all over.

Transfer the potato and apple mix to the prepared sheet pan while spreading them out in a single layer.

You'll want to leave some space between the potatoes and apples so that they roast beautifully.

Roast for about 30 minutes, turning the slices over after 15 minutes.

Remove from the oven and enjoy while still warm.
Check out other potato combo side dishes