Stracciatella Soup with Mini Meatballs is an Italian egg drop soup. It's packed with shreds of eggs, cheese and parsley mixture and mini veal meatballs for a soul satisfying meal.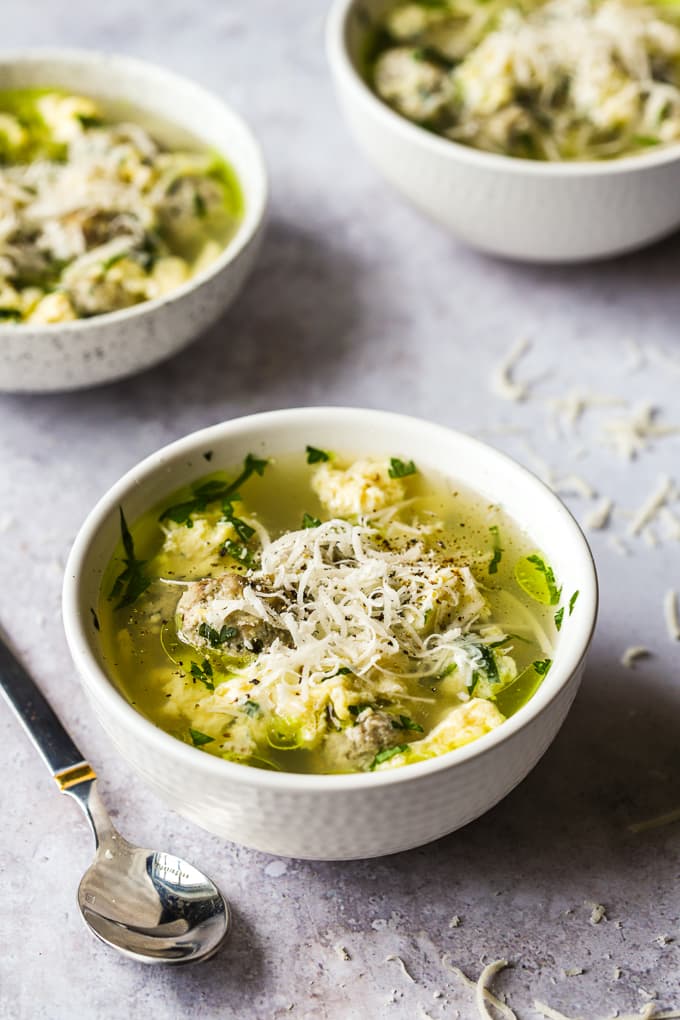 What is Stracciatella Soup?
Stracciatella soup is a classic broth based, egg drop soup and quite popular in the Lazian countryside of Italy where I was born.
In Italian, stracciatella means little shreds. In this egg drop soup it references the beaten egg mixture which is poured into a simmering broth and then stirred to form soft pillowy shredded morsels.
It's a comfort food at best and one that was quite prominent during my childhood years. It was traditionally served at the start of our Christmas or Easter meal.
Of course growing up Italian, this type of soup was only a prelude to a more lavish 5 or even 6 course meal and generally mamma would serve it in very small portions.
How Do You Make Meatballs From Scratch
Making your own meatballs from scratch is really a simple process of combining some minced meat with flavouring agents such as spices, herbs, some grated cheese, breadcrumbs and eggs. This will ensure well seasoned and tender meatballs.
You can shape them into very small shapes or slightly bigger if you so wish. However, you'll need to increase the cooking time to compensate for the larger sized meatballs.
Once the seasoned minced meat is prepared, you'll need about 30 minutes to form the tiny meatballs.
To form the mini meatballs for the stracciatella soup you'll need:
minced veal (you can also substitute with minced chicken or turkey)
eggs which act as a binding agent and add moisture
breadcrumbs also act as a binding agent and soak up flavours
Parmigiano-Reggiano, freshly grated for optimal flavour
garlic, a fundamental flavouring agent
parsley, fresh is best
salt and pepper brightens up the flavours
A neat trick in shaping perfect little meatballs is rubbing your hands with a little vegetable oil which makes it all the more easier to form the little balls.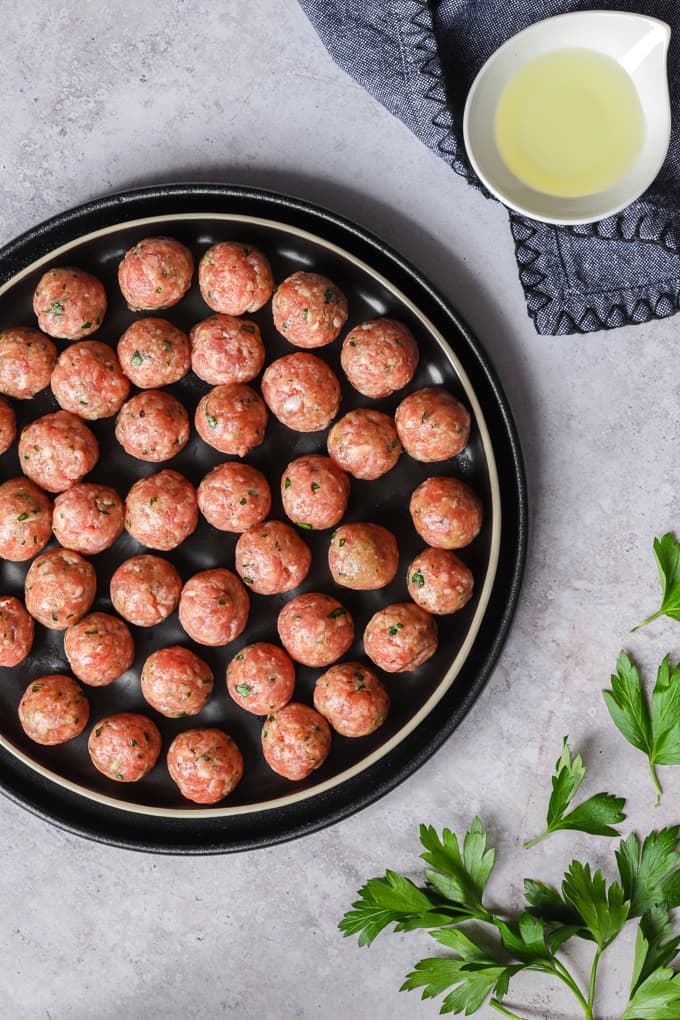 How To Make Stracciatella Soup With Mini Meatballs
Stracciatella soup is one of my all time favourite Italian soups packed full of delicious flavours. And it's really quite simple to make!
You'll need a good quality ready made chicken broth or simply make your own from scratch if you wish!
Bring the chicken broth to a simmer and slowly add in the meatballs.
Let the meatballs simmer in the broth for about 10 minutes or until cooked through.
Once cooked through, I like to pass a small skimmer over the top of the soup to remove any fat residue and have a clearer broth.
But this is entirely up to you.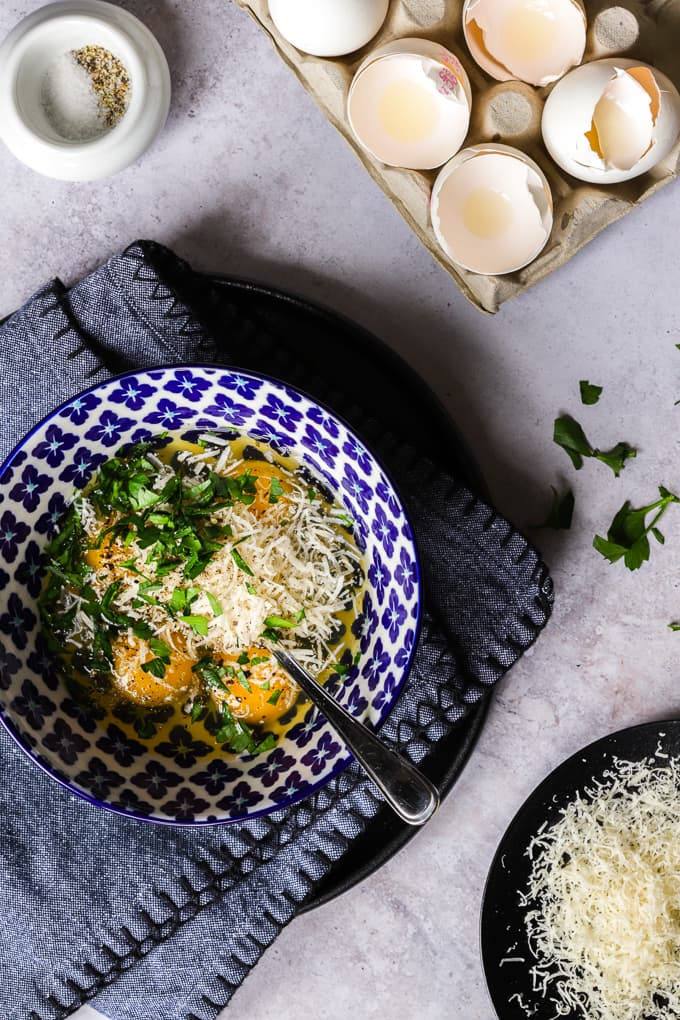 Meanwhile, combine the eggs, Parmigiano-Reggiano cheese, and some chopped parsley with salt and pepper in a small bowl.
Then lightly whisk the mixture together.
The egg mixture is then gently poured over the simmering meatball soup.
Once you've poured all of the egg drop mixture into the broth, lightly stir with a wooden spoon.
The egg mixture will firm up while creating soft pools of shredded egg drops.
You'll note that the more you stir the egg mixture as it's firming up, the smaller the shreds become. So for larger shreds of egg drops simply stir less.

Soups are always a saving grace during cold and flu season, providing us enough sustenance to get us through the worst!
But, there's really only one other thing better then this Mini Meatball Stracciatella Soup when your feeling under the weather, and that would be when someone else graciously makes it for you!

If you make this recipe remember to tag @marisasitaliankitchen on Instagram so I can see your creation!
This recipe was originally published January 18, 2018 and updated with new content and photos January 7, 2021.
Stracciatella Soup with Mini Meatballs
Mini Meatball Stracciatella Soup is an Italian classic and a family pleasing dish. Packed with shreds of eggs, cheese and parsley mixture and mini veal meatballs for a soul satisfying meal.
Ingredients
For the Mini Meatballs
10

cups

chicken broth

(I used store bought no added salt, fat free and gluten free)

640

grams

ground veal

2

large eggs

(lightly beaten)

2

small

garlic cloves

(minced)

1

teaspoon

salt

(I use fine sea salt)

1/4

teaspoon

ground pepper

1/4

cup

grated Parmesan cheese

3

tablespoons

bread crumbs

(I used dry bread crumbs)

2

tablespoons

chopped parsley plus 1 tablespoon more for garnish
For the Stracciatella: Egg Drop
4

large eggs

2

tablespoons

Parmesan cheese

1

tablespoon

chopped parsley

salt and pepper to taste
Instructions
In a large bowl combine together the minced veal, beaten eggs, salt and pepper, Parmesan cheese, breadcrumbs, minced garlic and 2 tablespoons of chopped parsley.

Mix well by hand and shape into tiny meatballs about 1/2 inch in diameter. (rub your hands with some vegetable oil for easy rolling)

Bring the chicken broth to a simmer and slowly add in the meatballs.

Let the meatballs simmer for about 10 minutes or until cooked through.

Skim any of the residual fat from the top of the broth.

Meanwhile whisk the stracciatella ingredients in a small bowl.

When the meatballs are cooked through, slowly pour the stracciatella into the soup and then give it a gentle stir.

Let simmer for one minute.

To serve, ladle into soup bowls and top with a sprinkle of chopped parsley and freshly grated Parmesan cheese.
Nutrition
Calories:
326
kcal
|
Carbohydrates:
9
g
|
Protein:
37
g
|
Fat:
16
g
|
Saturated Fat:
6
g
|
Cholesterol:
256
mg
|
Sodium:
784
mg
|
Potassium:
752
mg
|
Fiber:
1
g
|
Sugar:
1
g
|
Vitamin A:
455
IU
|
Vitamin C:
3
mg
|
Calcium:
135
mg
|
Iron:
3
mg