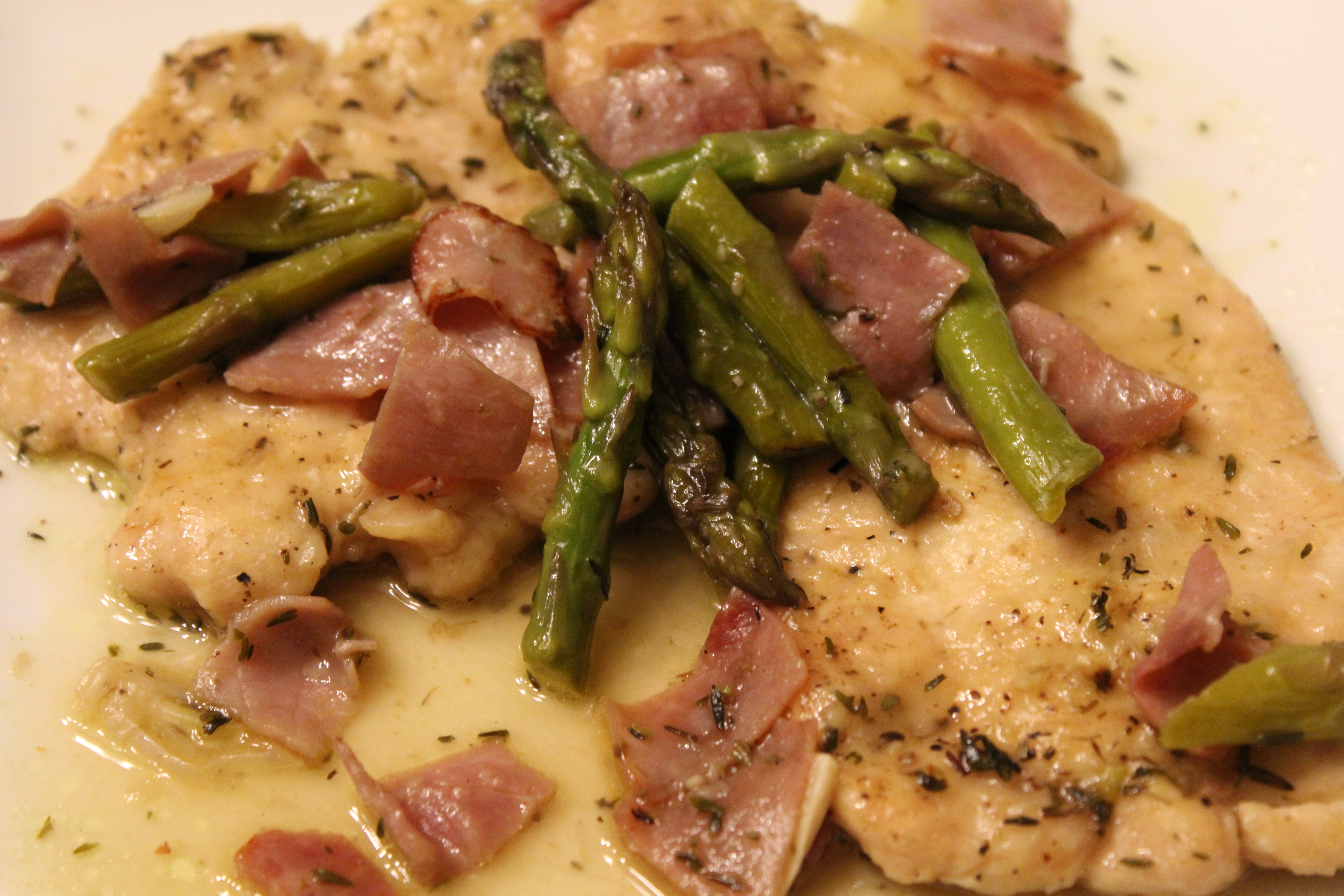 This is the most delicious, irresistibly moist chicken ever. It is melt in your mouth tender and I promise after the first taste, will soon be a family favorite of yours. I find it is such an elegant way of serving up chicken to diner guests. Or with a little bit of prep work ahead of time, you can very easily make it for a special weeknight supper. This recipe will please the most picky palette!.
If your really short on time and don't mind paying more for chicken that has been pre-pounded to the proper thickness, then by all means do so!
If using de-boned chicken breast, slice each chicken breast in three pieces, Place the chicken between two pieces of plastic wrap and pound it till 1/4 inch thin. Sprinkle both sides of the chicken with 1/4 teaspoon of salt and 1/4 teaspoon of pepper and dust lightly with flour.
Ingredients:
4 boneless chicken breasts
1/2 tsp salt
1/2 tsp pepper
4 tbs flour
4 tbs olive oil
4 tbs butter
3 garlic cloves, sliced
1 tsp thyme
2 cups asparagus chopped into 1 inch pieces
1/2 cup rosemary ham, cut into small pieces (or any other ham of your choice)
1/2 cup white wine
1/2 cup chicken stock
In a sauté pan, heat 3 tablespoons of the olive oil on medium high heat and 1 tablespoon of the butter, Add the prepared chicken slices in one layer (not to crowded, you'll want a little bit of a sear) and cook 1 minute on each side just until lightly browned. Transfer the chicken to a plate and repeat with remaining chicken, then set aside.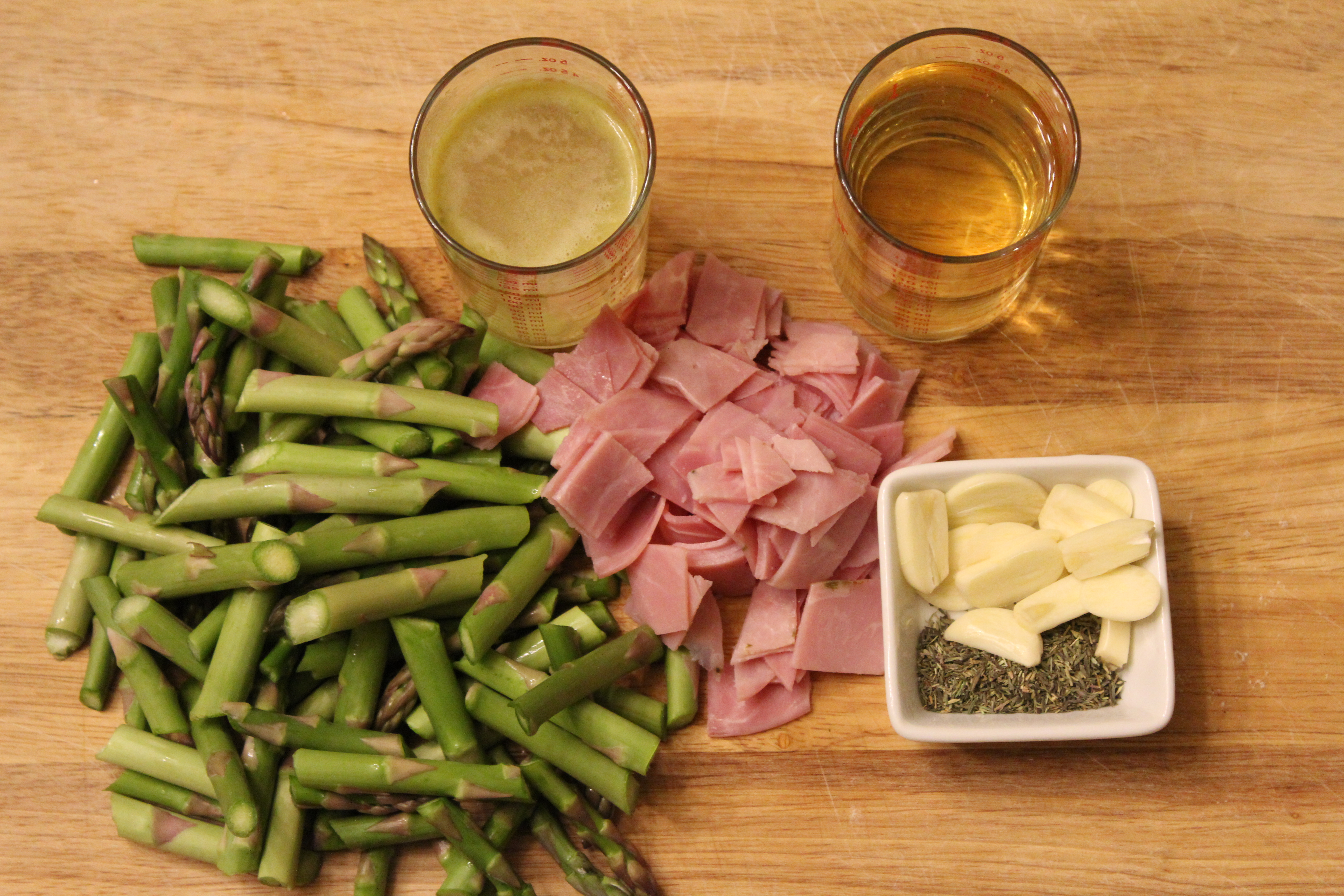 Heat the remaining olive oil on medium high heat in the same pan and cook the garlic, thyme, asparagus, and ham for 1 minute, stir well. Add the wine and simmer till reduced by half. Should take 1 to 2 minutes. Pour in the chicken stock, add a 1/4 teaspoon salt, 1/4 teaspoon of pepper and bring the mixture to a boil. Cook for one minute then return the chicken to the pan with the remaining butter for another minute. The sauce will start to thicken at this point. Remove from heat. Plate the chicken on a serving dish and top with the sauce.
I love to serve this chicken with a side of mashed potatoes or mashed cauliflower….yummy !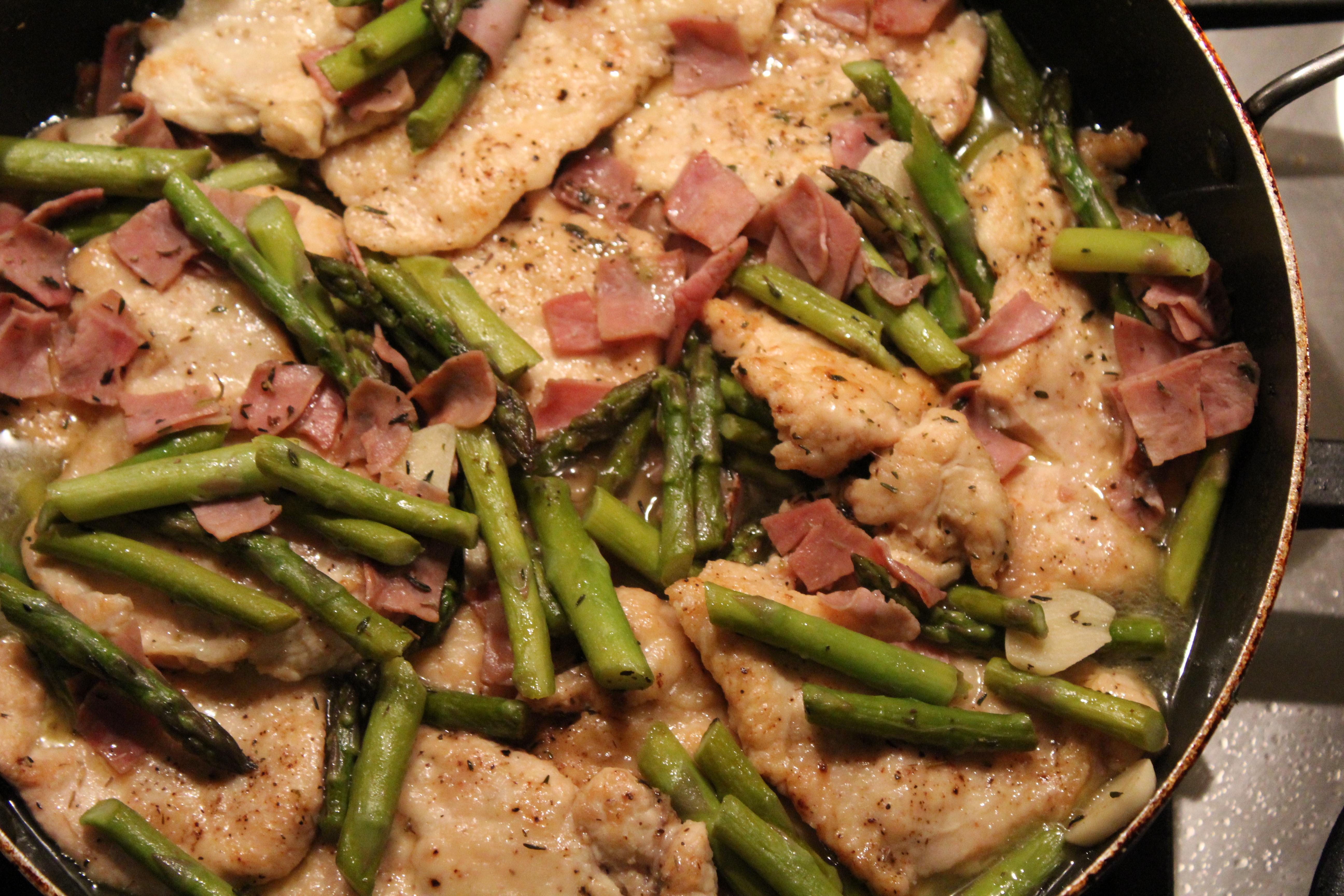 This recipe was adapted from one of my favorite cookbooks by Nick Stellino's ( Mediterranean Flavors)