Oven Roasted Potatoes and Fennel, is a simple yet delicious vegetarian dish combining two of my favourite vegetables. This combo makes an excellent side dish to any main meal.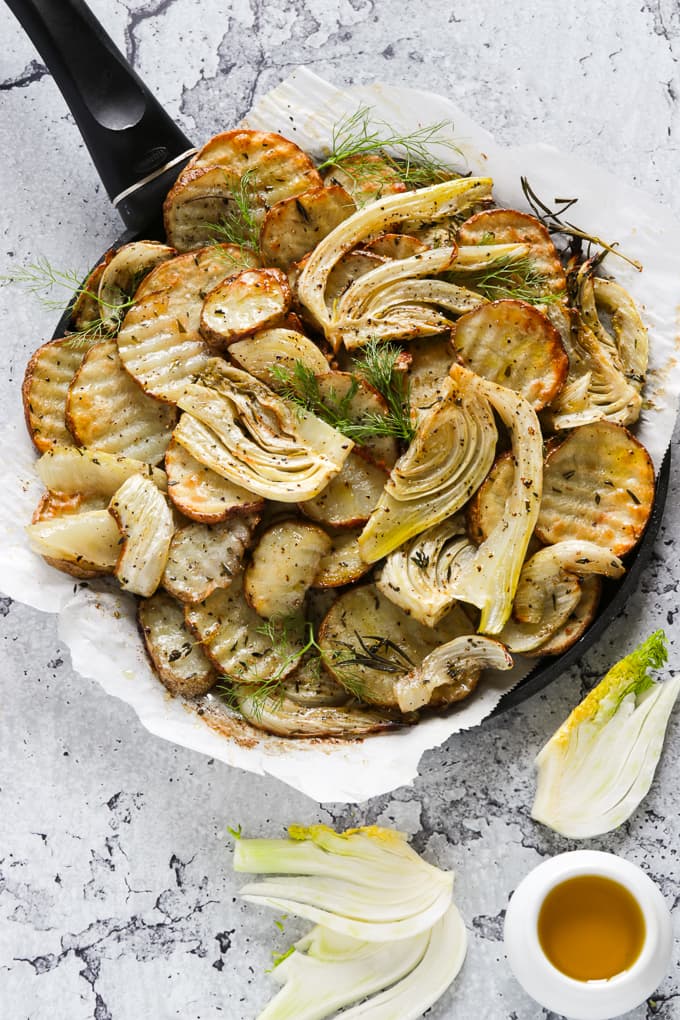 What is Fennel and what can I do with it?
Fennel is a super crisp vegetable that can be eaten raw as is or sliced thinly and tossed in a salad. Such as in this refreshing Fennel and Pomegranate Salad.
I actually love to snack on this slightly sweet vegetable with it's subtle licorice flavour. In texture it's much like celery but way more tasty.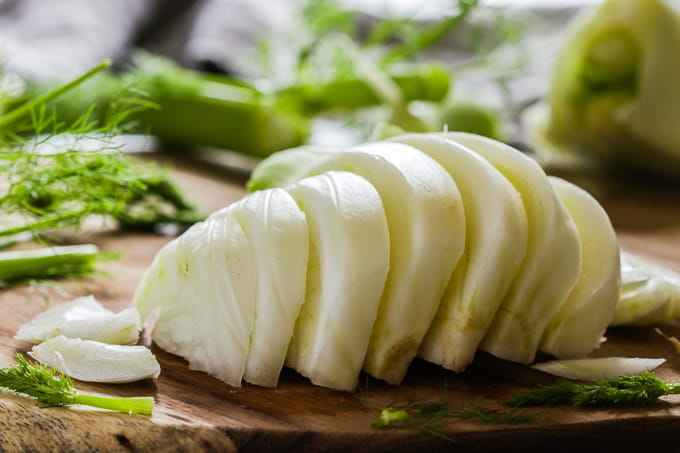 All parts of the fennel are edible. From the bulb, the stalks and the fronds which are mostly used as an herb seasoning or garnish.
But did you know that fennel is just as delicious when cooked? When cooked, fennel turns soft and sweeter.
The sweetness of this vegetable pairs beautifully in a spicy tomato sauce, much like my Mussels Linguine with Tomato Fennel Sauce.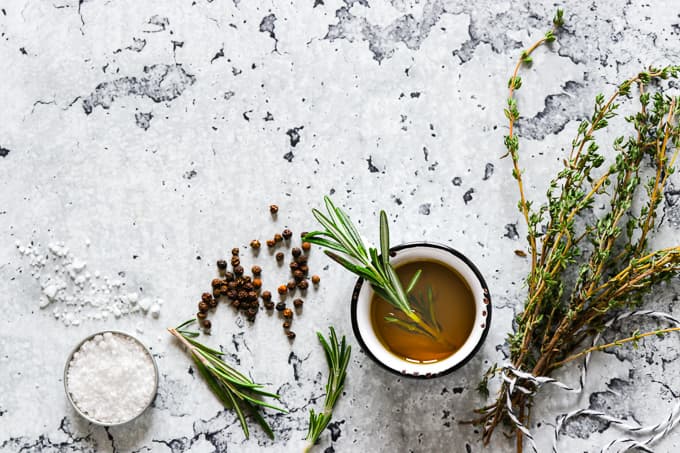 However, lately I've been loving it roasted alongside the ever so humble potato with a simple drizzle of olive oil and a seasoning of fresh rosemary, thyme, salt and pepper. That's it!
You'll find these Oven Roasted Potatoes and Fennel to be quite easy to put together and hardly requires any fuss at all.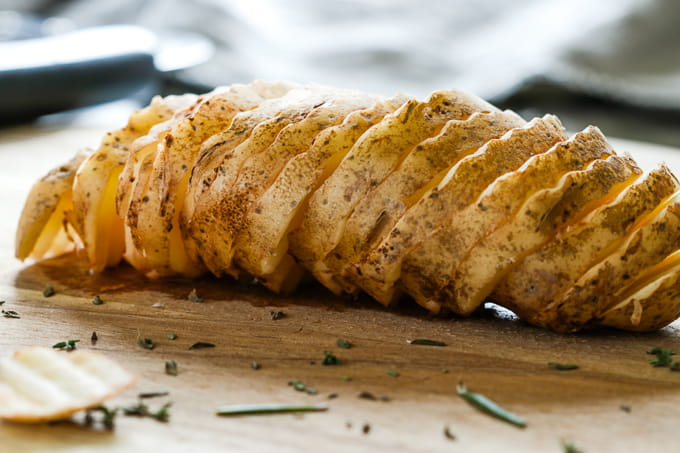 Half Your Plate
Every time I combine and cook two vegetables this way, I find it easier to fill half my plate with nutrient-dense foods and at the same time reduce calorie intake!
Also, If you are looking to reduce starchy foods in your diet but adore potatoes like I do, combining them with a non starchy vegetable is a great way of doing so.
I love to use my wavy crinkled cutter when slicing potatoes as the ridges cradle all those delicious flavours.
But you can really slice them any way you want. Just make sure that both the potatoes and fennel are sliced fairly equal in size. This ensures that they cook evenly.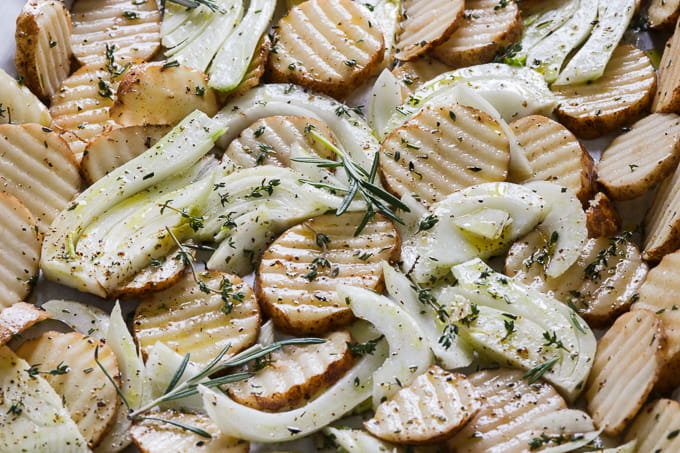 How to prep oven roasted potatoes and fennel
You'll want to use the largest sheet pan that you have.
Line the pan with a sheet of parchment paper that over extends up the sides by an inch. This not only prevents the vegetables from sticking to the sheet pan but it also makes for easy clean up.
Spread the vegetables out in one single layer as much as possible. And if you find yourself with extra potato slices lean them upright against the sides of the pan. The over extended parchment paper will hold them up while allowing you more room to spread out the veggies.
This way both the potatoes and fennel will brown beautifully and crisp up around the edges.
I used an 18 x 12 x 1 inch baking sheet, which is fairly big, any yet a few of the vegetables overlapped just slightly.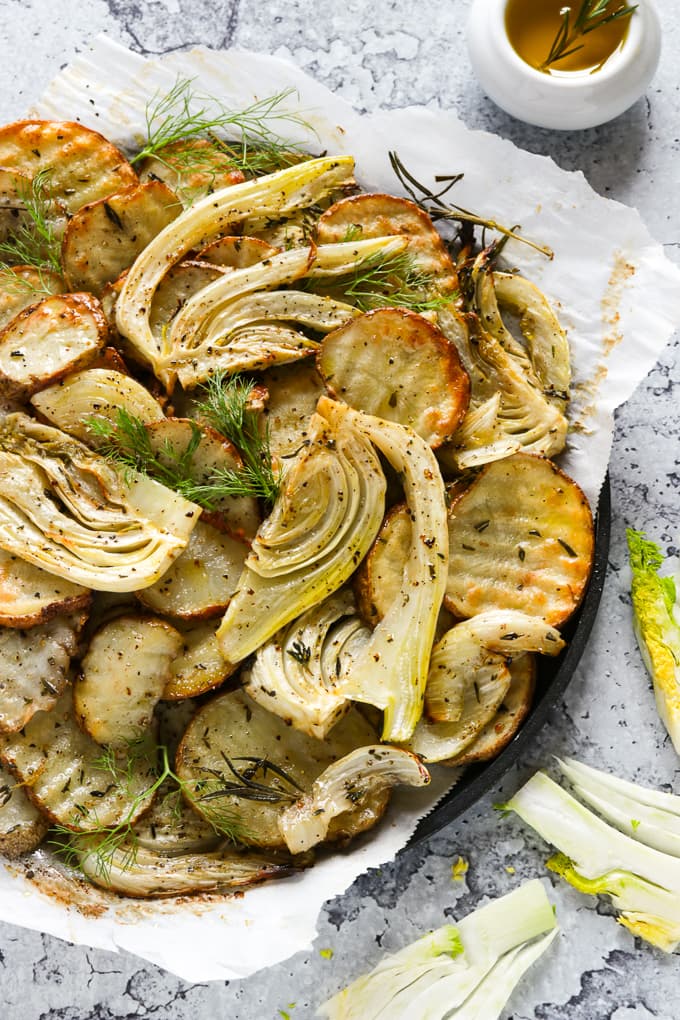 Although I could make an entire meal out of these Roasted Potatoes and Fennel recipe, they pair perfectly as a side dish with any red meat, poultry or fish.
I adore this dish served alongside pan or oven roasted salmon!
Whichever way you serve them I'm quite confident you'll be making them over and over again!
Buon Appetito!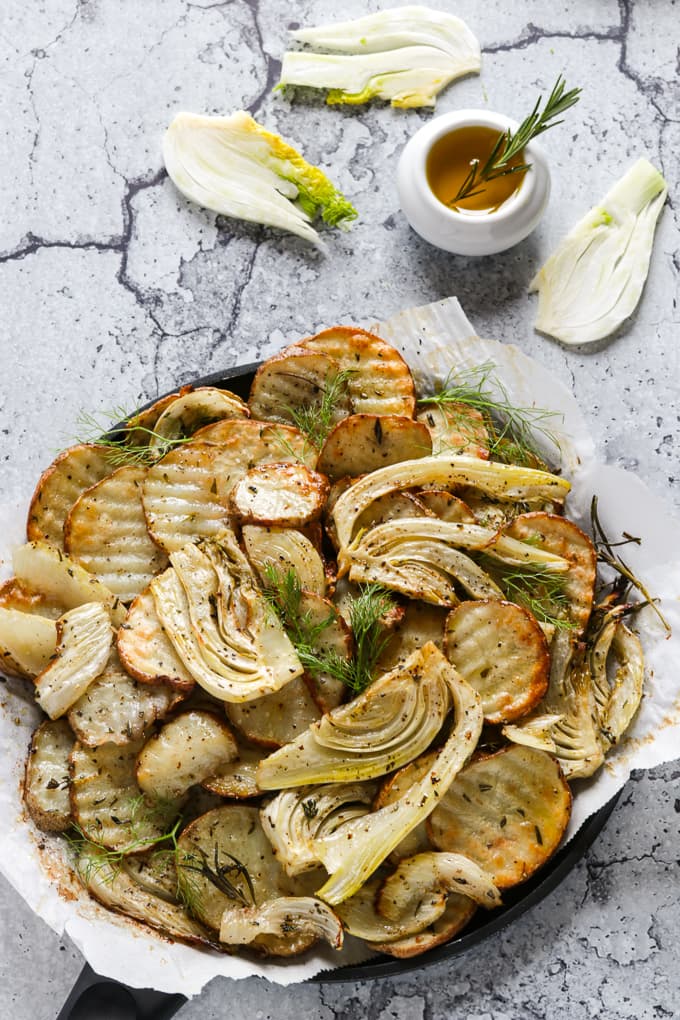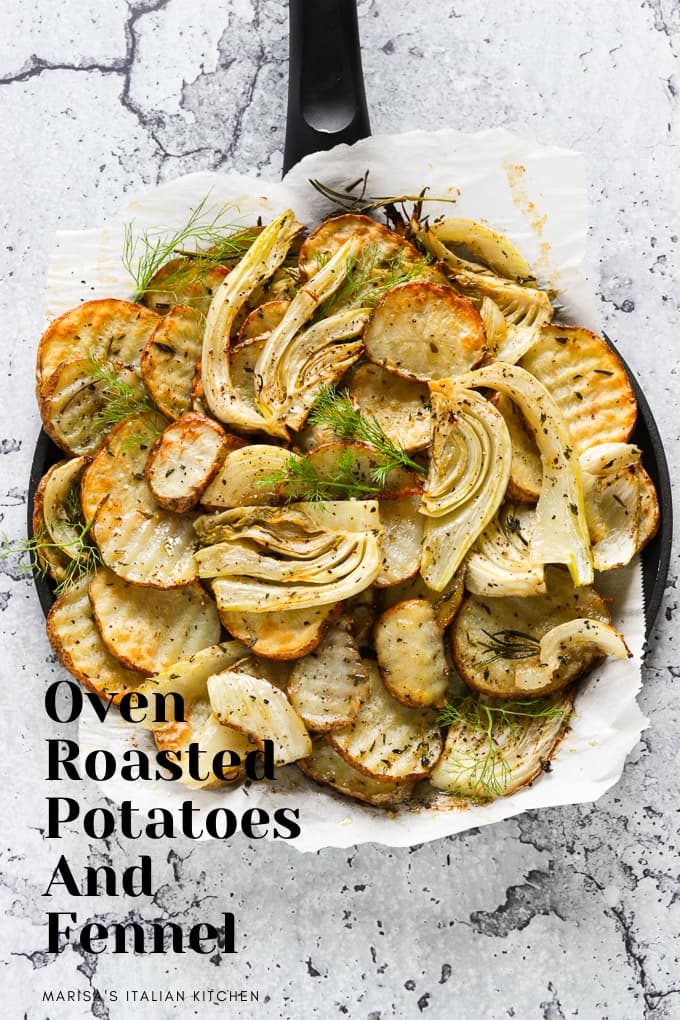 This recipe was originally published November 6, 2016 and republished January 28, 2020 with updated photos and content.

Print Recipe
Oven Roasted Potatoes and Fennel
Oven Roasted Potatoes and Fennel. A simple, delicious vegetarian dish combining two favorite vegetables and makes an excellent side dish to any main meal.
Ingredients
4

medium potatoes

sliced into 1/4 inch slices

1

fennel bulb

sliced into 1/2 inch wedges (see note)

2

tablespoons

of olive oil

plus more for drizzling

1

teaspoon

chopped fresh rosemary

extra springs to nestle between veggies

1

teaspoon

fresh thyme

extra springs to nestle between veggies

salt and pepper

to your taste
Instructions
Preheat the oven to 425 degrees F.

Line a large baking sheet with parchment paper and set aside. (I used an 18x12x1 sheet pan)

Place the sliced potatoes and sliced fennel in a large bowl.

Add the 2 tablespoons of olive oil, rosemary, thyme, salt and pepper to the vegetables.

Toss to combine and then spread them out in one single layer onto the prepared baking sheet.

Tuck in a few extra sprigs of rosemary and thyme and drizzle with a teeny bit more olive oil.

Roast the vegetables in the preheated oven for about 40 minutes or just until the potatoes are crispy and the fennel is tender with a rich golden brown colour.

Serve while still warm.

NOTE

Slicing fennel is really quite simple. First start by cutting off the stalks from the bulb (you can reserve the stalks for making soup).

Cut the fennel vertically in half and leave the hard core attached, then slice into 1/2 inch wedges.

Leaving the hard core attached will insure the wedges stay intact.
Nutrition
Calories:
249
kcal
|
Carbohydrates:
43
g
|
Protein:
5
g
|
Fat:
7
g
|
Saturated Fat:
1
g
|
Sodium:
41
mg
|
Potassium:
1130
mg
|
Fiber:
5
g
|
Sugar:
1
g
|
Vitamin A:
102
IU
|
Vitamin C:
20
mg
|
Calcium:
56
mg
|
Iron:
2
mg