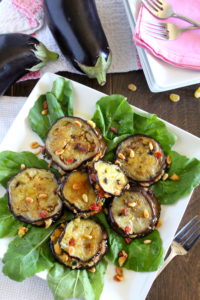 These vegan eggplant pockets could not be more simple to make and will surely have you doubling the recipe because they are devoured ever so quickly. They can be served elegantly as a side dish on a bed of arugula or baby romaine leaves and they make a delicious addition to any antipasto platter. A wonderful twist on a reverse sandwich with the bread tucked in between the eggplant slices.
I am by no means an expert on vegan meals as I very much enjoy poultry, fish and occasionally beef dishes. Nor would I ever be able to give it up entirely. My daughter however, has been doing a 30 day vegan challenge and so far she is enjoying it.
My challenge was in finding a vegan cheese which would greatly resemble or mimic the sharpness of a good quality Parmesan cheese, which I have always used in this recipe. I believe, I may have burnt a hole in the floor of the organic and vegan dairy section of my favorite grocery store. That is how long I stayed rooted in the same spot, reading and rechecking the list of ingredients on the various vegan cheeses. In conclusion, there is no vegan replacement for Parmesan cheese, the king of all cheeses!
I did however come across an organic, vegan mozzarella flavored cheese, which worked beautifully in this recipe and imparted a creamy taste and texture that was simply irresistible.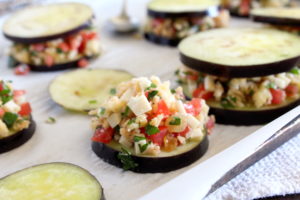 A little note to help along the way…have the stuffing ready before cutting the eggplant since the flesh quickly discolors.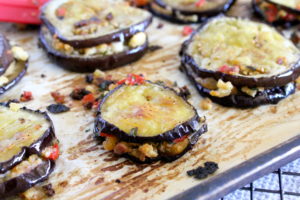 A little fun fact…bigger is not always better! Smaller eggplants are best. The full sized eggplants tend to have hard seeds and can be bitter, so do look for smooth-skinned ones and avoid any that have soft brown spots.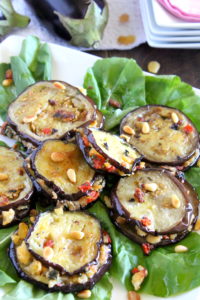 These little vegan pockets also make a healthy and fun afternoon snack for all kids who come barging in with a rumbling tummy after school!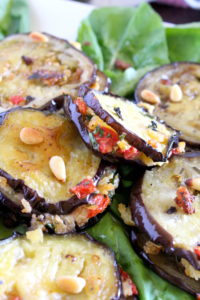 If anyone knows of a good vegan substitution for Parmesan cheese, I would love to hear from you…simply leave me a comment!
Ciao for now!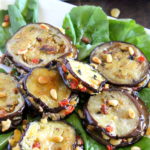 Print Recipe
Vegan Eggplant Pockets
These vegan eggplant pockets make an easy and delicious side dish. They can also be served as a first coarse meal over a bed of arugula or baby romaine.
Ingredients
1

cup

fresh breadcrumbs

made without eggs

1/2

cup

vegan mozzarella cheese

1/2

cup

finely chopped tomato

1/3

cup

extra-virgin olive oil

1/4

cup

chopped fresh Italian parsley

1

clove

of garlic

minced

1

heaping tablespoon golden raisins

1

tablespoon

pine nuts

lightly toasted

1/2

teaspoon

salt

I used fine sea salt

1/4

teaspoon

freshly ground pepper

16

eggplant slices

cut 1/4 inch thick
Instructions
Line a baking sheet with parchment paper.

In a medium size bowl, combine the bread crumbs, cheese, tomato, 2 tablespoons of extra-virgin olive oil, parsley, garlic, raisins, pine nuts and 1/4 teaspoon of salt and pepper. Set aside.

Brush both sides of the eggplant slices with the remaining extra-virgin olive oil and sprinkle both sides with the remaining salt.

Place half of the eggplant slices on the prepared baking sheet.

Spoon the bread mixture evenly over the slices and top with the remaining eggplant slices.

Bake in 450*F degree oven for about 20 to 30 minutes, turning once or until the slices are a light golden brown on each side.