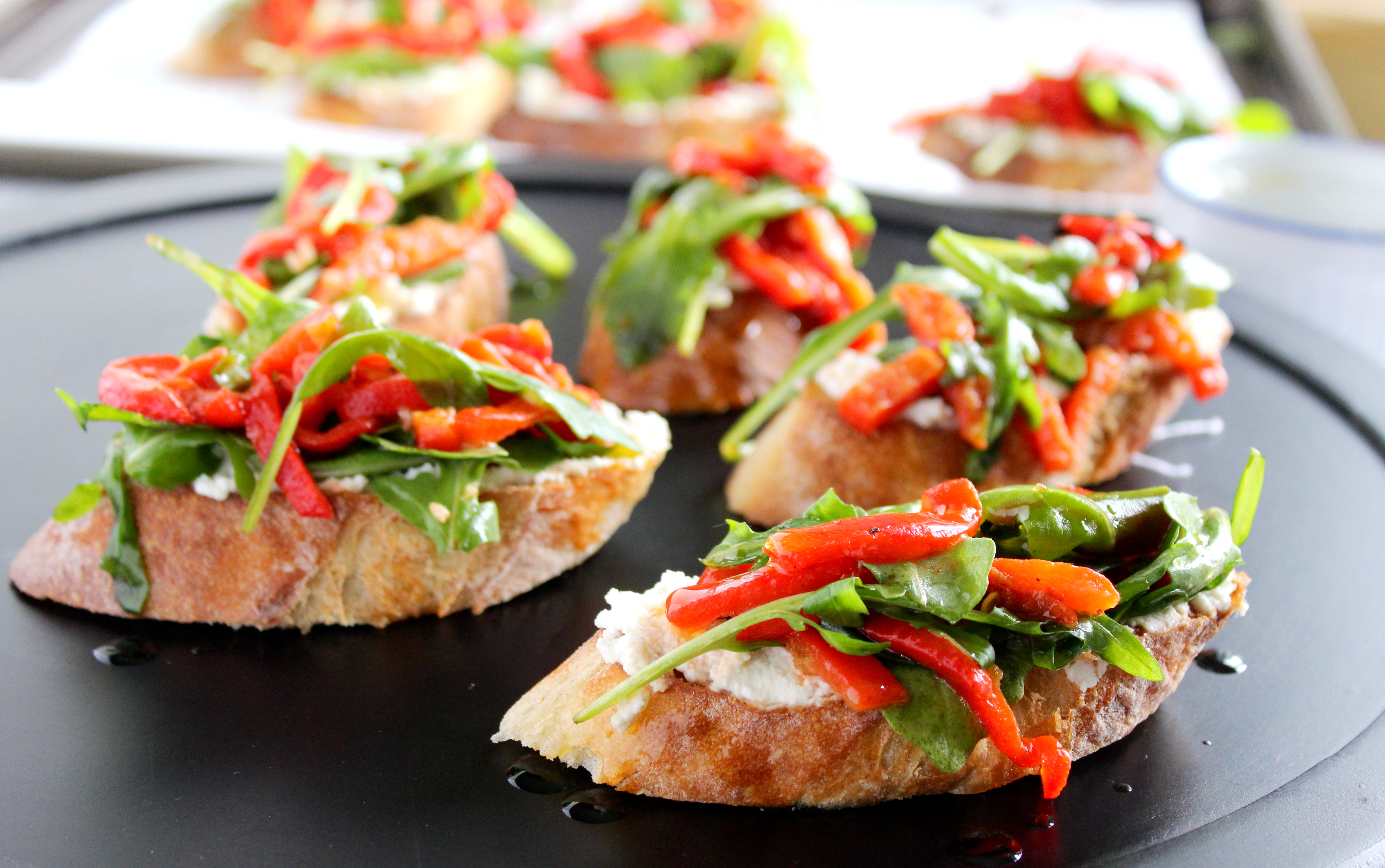 This amazingly super easy crostini will wow your guests from the very first bite. It can be prepared up to four hours in advance by simply covering the crostini separately from the pepper mixture. This was a task usually delegated to my children whenever we had company, allowing me time to put the finishing touches to the rest of our meal. Just remember, if you are preparing in advance, add the salt and pepper just before serving as the salt will whittle down the arugula.
On another note, crostini (little toasts) are slices of bread that are brushed with olive oil and broiled just until golden brown. It can then be rubbed with a clove of garlic and eaten as is or dressed up with a wide variety of different toppings sure to please the most finicky eaters. Here the crostini are brushed with a rosemary infused olive oil, slathered with creamy ricotta and crowned with a roasted red pepper and arugula mixture. The rosemary oil is so simple to make and yet imparts so much flavor. You may be tempted to skip this step but please don't, the rosemary oil will elevate your crostini to a whole new level and your guests will be singing your praises for months 🙂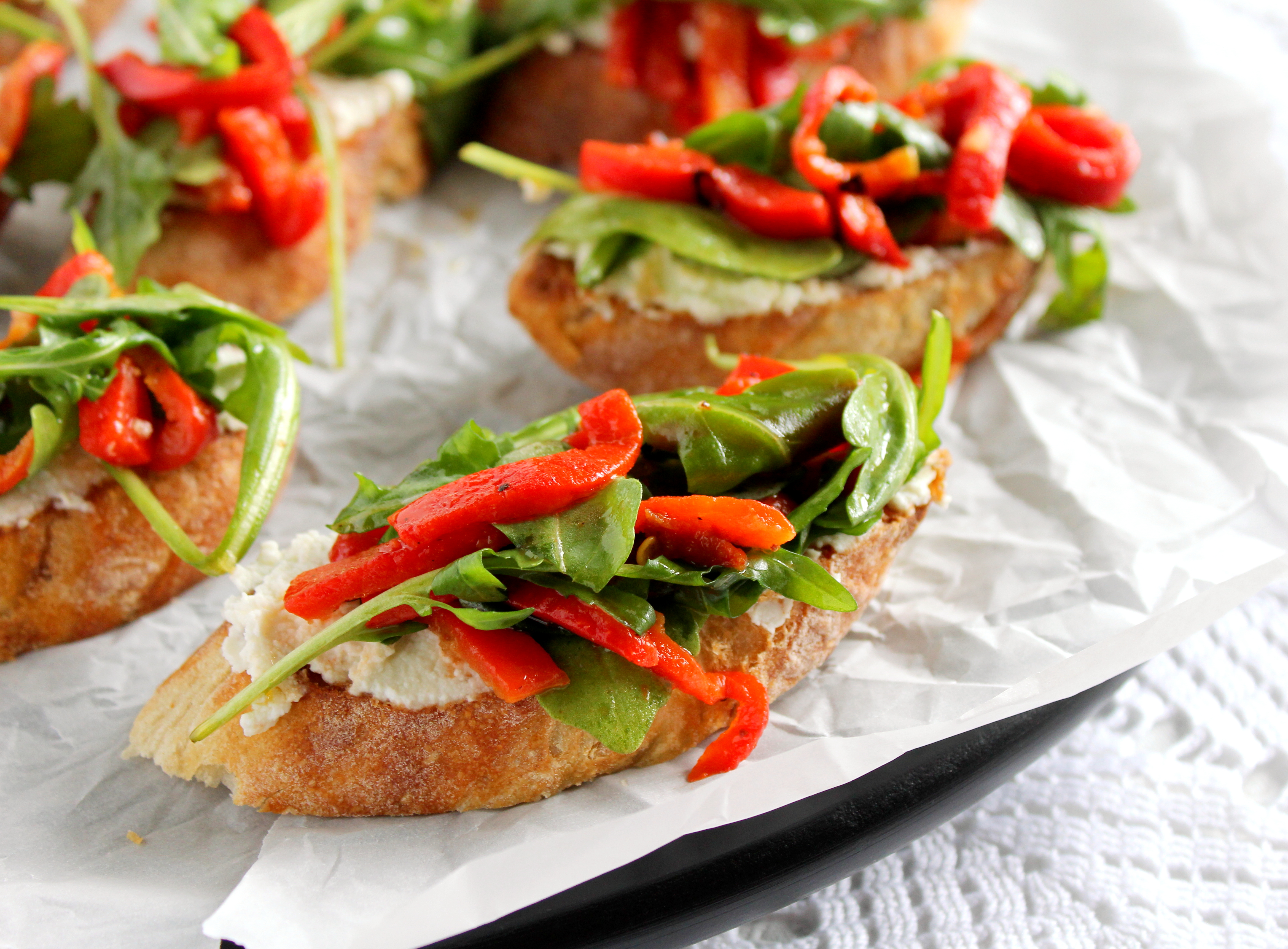 Ingredients:
12 slices baguette or ciabatta bread cut diagonally
1 cup thinly sliced roasted sweet red pepper
1 cup baby arugula
1 clove garlic, minced
2 tbsp extra-virgin olive oil
salt and pepper to taste
1 cup ricotta cheese
Rosemary Oil:
1/4 cup extra-virgin olive oil
2 tbsp rosemary leaves (about 1 sprig) kept intact
Rosemary Oil: In a small frying pan heat the extra-virgin olive oil with the rosemary over medium heat for about 3 minutes. The rosemary will start to turn greyish.
Place the bread slices on a baking sheet and brush the tops with the rosemary oil. Place under the broil for about 1 minute or just until the bread turns a nice golden brown. Let cool while you toss the other ingredients.
In a bowl, combine the roasted red pepper, garlic, extra-virgin olive oil, salt and pepper. Gently toss together.
Spread the ricotta over each crostini and then top with the pepper mixture.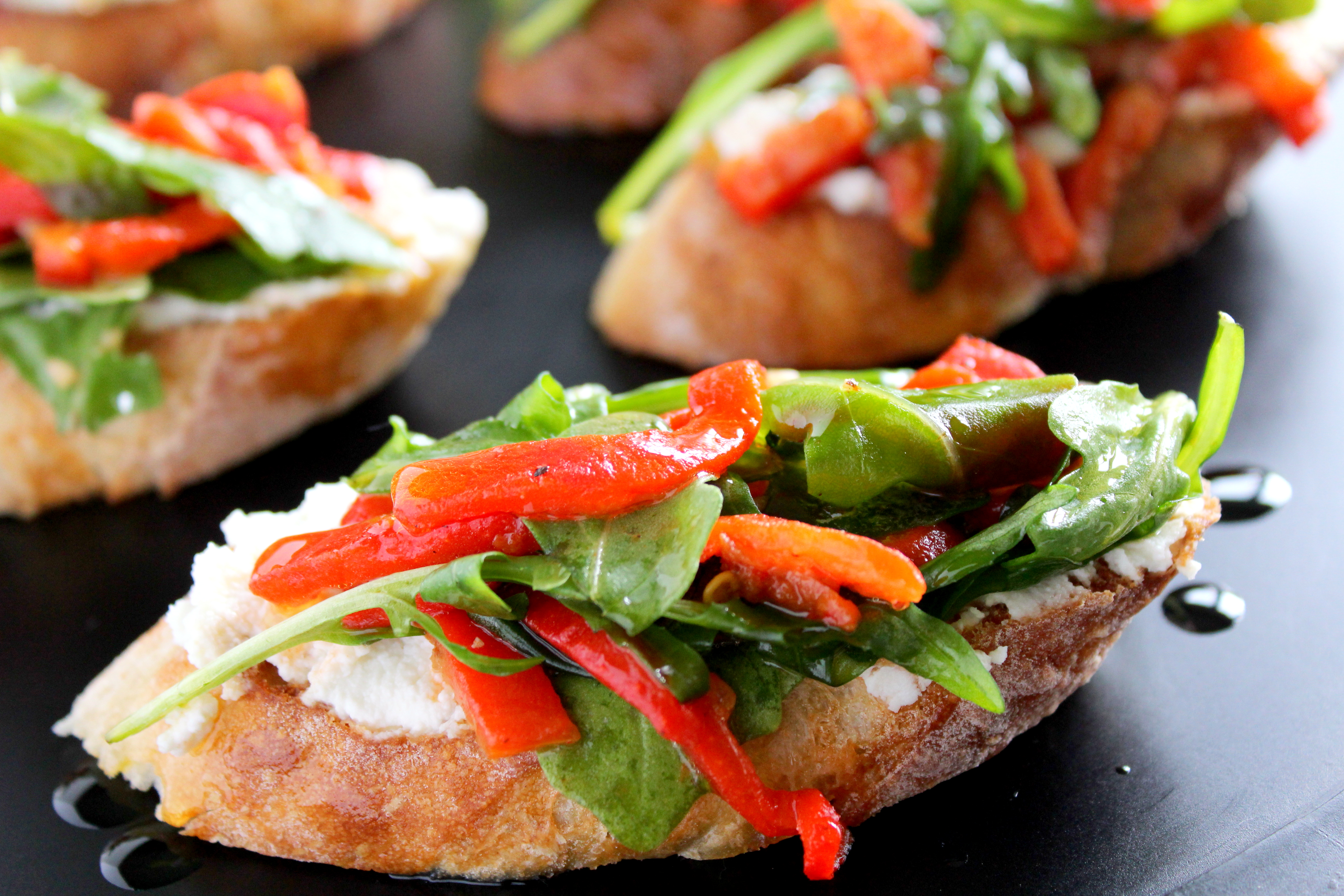 Makes 12 yummy crostini pieces.
This recipe was adapted from Canadian Living Magazine 🙂