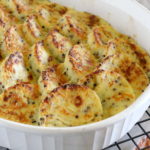 Print
Quinoa Gnocchi Alla Romana
Quinoa Gnocchi alla Romana is a Roman style dish with a little twist and a truly satisfying ultimate comfort food.
1/4

cup

quinoa

I used a tri-color mix of white, red and black

3

cups

whole milk

1

cup

semolina flour

1

teaspoon

salt

2

tablespoons

plus 2 melted tablespoon for topping

1/2

cup

grated Parmesan cheese plus 1/4 cup for topping

1

egg yolk

beaten
Grease a baking sheet and set aside.

Rinse the quinoa with cold water.

Place the quinoa in a small pot filled with 2/3 cup of water and bring to a boil.

Reduce the heat and let simmer uncovered until all the water is absorbed and set aside til ready to use.

Whisk together the milk, semolina flour and the salt in a sauce pan over medium-high heat until the mixture thickens and bubbles over for about 6 to 8 minutes while stirring constantly.

Remove the mixture from the heat and stir in the cooked quinoa, 2 tablespoons of butter, 1/2 cup grated Parmesan cheese and the beaten egg yolk.

Transfer the gnocchi mixture to your prepared baking sheet, spreading it out to about a 1/2 inch thick layer.

Chill uncovered for 1 hour or until very firm.

Butter a 10 inch round or oval shaped baking dish.

Using a 2 inch round cookie cutter or the top of a drinking glass, cut out round shaped circles from the firm gnocchi mixture.

Arrange the slices in the baking dish while slightly overlapping them.

Brush the 2 tablespoons of melted butter over the gnocchi and sprinkle with a 1/4 cup of grated Parmesan cheese.

Place the prepared gnocchi dish in the oven, on the middle rack and broil for about 8 minutes just until they have heated through and have a golden brown crust.