Pastiera Napoletana Recipe is an Italian citrus scented wheat berry and ricotta pie which is immensely popular in Naples. In la bella Napoli, pastiera is synonymous with Easter and every home in Naples will be dishing out their own version of this pie made with grano cotto, or rather cooked wheat.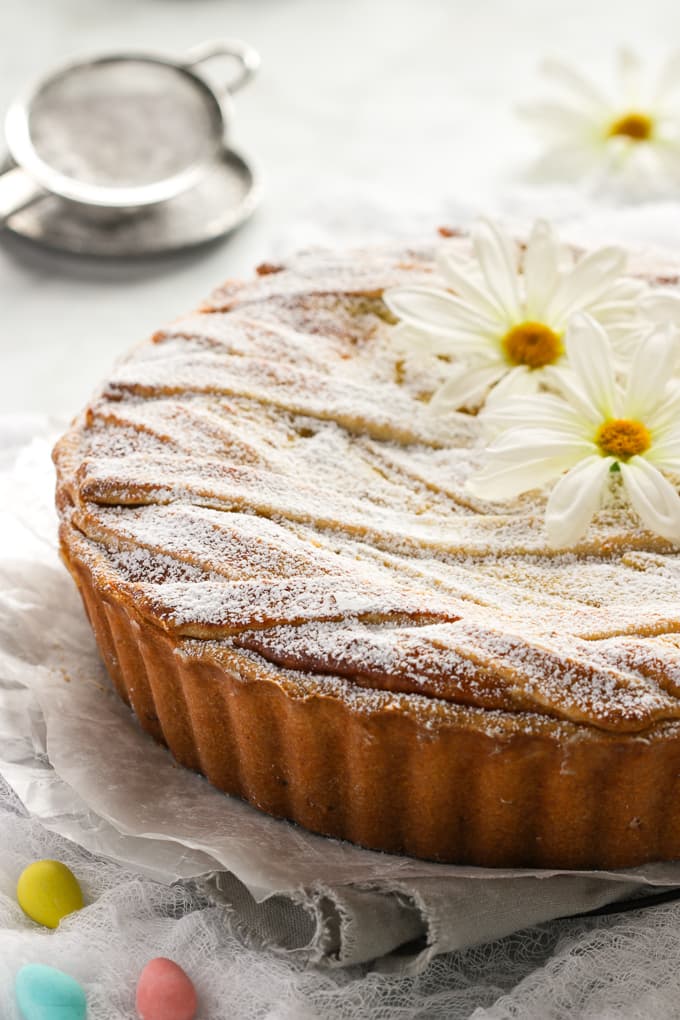 Throughout Italy the use of eggs and grains are predominate during Easter time as its said to represent new life and harvest.
This pastiera has many similarities to the one mamma would make but without the grano cotto! At times she would use a whopping 30 eggs in her Easter cassata!
I have yet to post mamma's cassata recipe because I haven't perfected it yet.
Not long ago and under the guidance of my zia Maria, I attempted to make my own for the very first time. To say it wasn't picture worthy is an understatement!
I really had high expectations here and didn't want to mess it up. But after committing several hours in bringing our coveted Easter dessert to life, it came out looking much as Mount Vesuvius must have looked after its catastrophic volcanic eruption!
Grano Cotto, Cooked Wheat Berries
This recipe was originally published March 17, 2018 and republished April 11, 2020 with updated content and photos.
This time around I was fortunate to find pre-cooked wheat berries at an Italian specialty shop and that's what I used in this revised recipe.
However, if you don't find any you can still make this Italian Easter pie by cooking your own wheat berries. It's a simple process of soaking them overnight as this will reduce the cooking time by half. Otherwise they'll need a good two hours to cook.
Alternately the wheat berries can be substituted with quick cook farro or even cooked rice such as arborio rice.

Then, you simply proceed to the next step of simmering the cooked wheat with milk, vanilla bean and lemon zest for about 25 minutes to infuse the flavours.

You'll have an oatmeal like consistency at this point and the mixture will need to cool somewhat before proceeding with the recipe.
As it cools it will thicken even more.
Pastry Crust For Pastiera Napoletana

I use my stand mixer to make the short crust pastry dough and it comes together in under 1 minute.
Then, I transfer the dough onto a work surface and simply give it a short gentle kneading till I have a cohesive dough.
You'll need to chill it for 1 hour before rolling it out.

I use 3/4 of the dough for the bottom crust while reserving the remaining portion for the lattice top.
You won't need any flour to roll out the dough.
And if short on time you can make the pastry dough a day ahead. But you'll need to set it at room temperature for about 30 minutes before rolling out.
Filling for Neapolitan Easter Pie

Once the grain mixture is cooled and you've lined your baking tin with the short crust pastry, you're ready for the ricotta filling.
Mix together the ricotta, 2 whole eggs and 2 egg yolks.
Add the sugar, orange blossom water and both the orange and lemon zests. Mix.
Stir in the cooled wheat mixture.
Fold in the beaten egg whites and fill the pie with the ricotta and wheat berry mixture.

Roll out the reserved pastry dough and cut out 1 inch strips.
Top the ricotta pie with the pastry strips in a criss cross pattern and trim off the excess edges.
Brush the pastry strips with milk.
Bake in a preheated oven at 350 degrees F, for about 1 hour or till golden brown.

The centre of the Easter pie should look and feel set. If it's still jiggly and wet bake the pie an extra 5 or 10 minutes.
Once ready and cooled, all it needs is a dusting of powdered sugar.

Quite common in la Pastiera Napoletana Recipe are candied peels such as lemon and orange.
I'm simply not a fan of candied peels in my desserts. I always take great care in plucking them right out of any sweet treats.
However feel free to add some if you wish. Simply adjust the amount of grated zests if you do.

I love this ricotta pie with its grainy texture and the soft bite from the cooked wheat berries.
I can't stress enough how wonderful this Pastiera Napoletana Recipe tastes when made ahead!
Its a symphony of a soft creamy interior perfumed with aromatic orange blossom water, encased in a lovely pasta frolla!

Buona Pasqua , Happy Easter everyone!
If you make this recipe remember to tag @marisasitaliankitchen on Instagram so I can see your creation!

Print Recipe
Pastiera Napoletana Recipe
This recipe for Pastiera Napoletana is a traditional Italian Easter dessert. It's a citrus scented pie made with a ricotta and wheat berry filling, encased in a short crust pastry.
Equipment
25 centimetre round tart tin with removable bottom
Ingredients
FOR THE PASTA FROLLA

3

cups

all purpose flour

1

cup

powdered sugar

icing sugar

a pinch of salt

I use fine sea salt

3/4

cup

cubed cold butter

3

large eggs. lightly beaten

1

teaspoon

pure vanilla extract

1

tablespoon

orange zest
FOR THE FILLING
560 gram

jar of Grano Cotto, cooked wheat

1

cup

whole milk

A vanilla bean

split open

1

tablespoon

lemon zest

400

grams

of full fat ricotta cheese

2

whole eggs plus 2 eggs separated

1

cup

powdered sugar

icing sugar

1 1/2

tablespoons

orange blossom water

1

tablespoon

each of orange and lemon zest
Instructions
FOR THE PASTA FROLLA
Place the flour, sugar and salt in the bowl of a stand mixer and stir to combine.

Add the cubed butter and mix till coarse crumbs form.

Mix in the lightly beaten eggs, vanilla extract and orange zest until it forms a smooth ball. (takes less than a minute).

Wrap the dough in cling wrap and allow to chill in the fridge for 1 hour.
WHEAT BERRY MIXTURE
Meanwhile spoon the jar of the cooked wheat in a medium sized stock pot.

Add in the milk, vanilla bean and lemon zest.

Bring to a boil over medium heat then reduce the heat to a simmer and cook for about 25 minutes or until the mixture thickens and has absorbed most of the liquids.

Stir frequently making sure to keep an eye on it so the wheat berries do not stick to the pot and burn.

Scrap out the any remaining seeds from the vanilla bean. Stir them back into the cooked wheat mixture and set aside to cool.
ROLLING OUT THE SHORT CRUST PASTRY DOUGH
While the mixture cools, grease a 25cm round tart tin with a removable bottom and set aside. (I used a 25cm (10 inch) deep quiche pan with removable bottom however any 10 inch pie dish would also work).

Cut a quarter of the dough off, reserving it for the lattice top.

Roll out the remaining dough to about 1/8 inch thick and line the tart tin with the rolled dough.

Trim off any excess dough with a knife.
PREPARING THE RICOTTA FILLING
In a medium sized bowl mix together the ricotta, the 2 whole eggs plus 2 egg yolks until light and fluffy.

Mix in the powdered sugar (icing sugar), orange blossom water, orange and lemon zests until combined.

Stir in the cooled wheat mixture.

In a separate bowl beat the two remaining egg whites just until stiff peaks form and then softly fold them into the ricotta mixture.

Pour the ricotta mixture into the prepared pie.

Roll out the remaining pastry dough and cut out 9 strips of dough slightly longer than the pie tin. (about 1 inch wide)

Place the strips of dough over the filling in a criss-cross pattern and trim off any excess.

Brush the strips of dough with milk and bake the pie in a preheated oven at 350 degrees F, for about 60 minutes or until a lovely golden brown.

Allow the ricotta pie to cool completely before refrigerating then dust with powdered sugar just before serving.

This ricotta pie actually tastes better the day after it's baked making it a great make ahead dessert.
Notes
If you can't find store bought "grano cotto," cooked wheat you can replace it with 3/4 cup of dry wheat berries. However you'll need to cook them yourself before proceeding with the recipe.
Follow package direction for soaking and then cooking the wheat berries or follow the instructions below:
Rinse the wheat berries well and place them in a small bowl with enough water to cover.
Allow to soak overnight or up to 24 hours before you plan to bake the ricotta pie as this will allow for quicker cooking time.
THE FOLLOWING DAY:
Rinse and drain the wheat berries and place them in a pot with 2 cups of water and bring to a boil.
Reduce the heat and let simmer for about 1 hour or until tender.
Drain any remaining liquids and set aside while you prepare the pasta frolla.
Then simply continue with the recipe at the "Preparing Ricotta Filling" heading.