Learn how to make a spectacular Chocolate Cranberry Twist Star Bread that is sure to impress family and friends. This homemade sweet bread is loaded with walnuts, dried cranberries and dark chocolate pieces with some aromatic cinnamon flavour in every bite.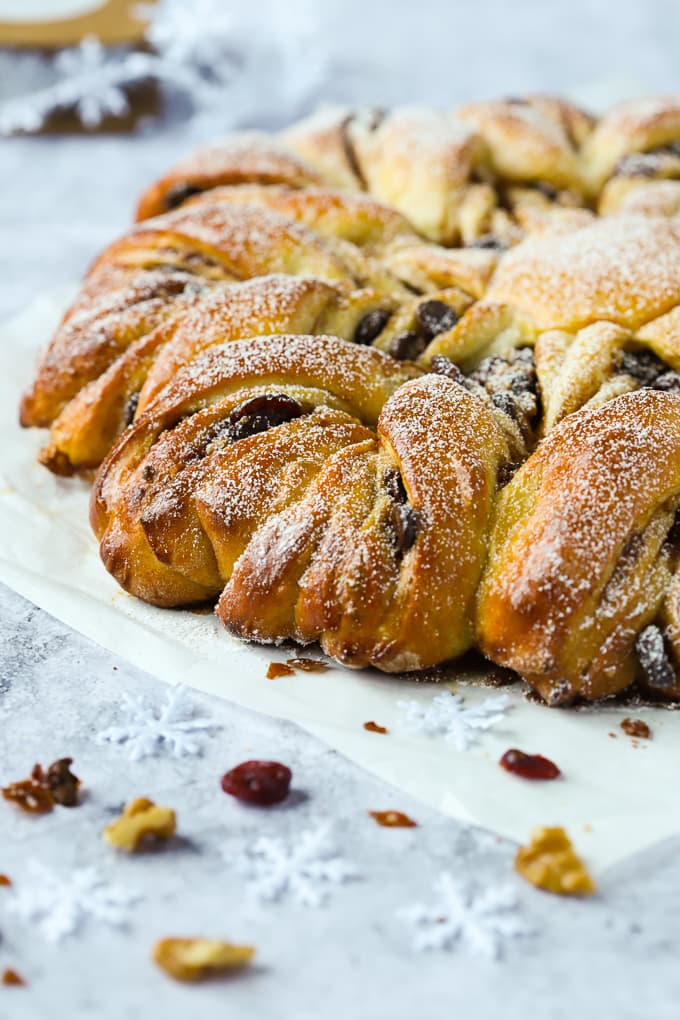 There is something so magical by taking a few simple ingredients, which you probably already have on hand and transforming them into an incredibly delicious sweet bread.
In texture this yeast based dough recipe is much like an Italian Panettone but not as dry on the inside. It's fluffier and more brioche-like!
The filling is a chocolate, cranberry and walnut mixture that once rolled into the dough creates a pretty swirl into each slice.
Alternately you can also spread it with your favourite jam. I'm thinking raspberry jam and then sprinkled with some mini dark chocolate chips would work really well here.
Another wonderful option is Nutella, everyone's favourite Italian chocolate hazelnut spread!
The Inspiration for this Holiday Star Bread
The inspiration for this gorgeous and delicious holiday bread comes from an old Canadian Living Magazine recipe that I've been making for well over 20 years.
I would usually make this sweet bread by slicing and braiding the filled dough into a wreath shape. It was then baked in a springform pan and would greatly resemble a fancy Panettone.
This year I decided to switch it up by tweaking the ingredients and shaping the dough to resemble a star bread. I have to say it did not disappoint at all!
It not only makes a beautiful presentation but…è semplicemente delizioso…it's simply delicious!
Drizzled with icing or a simple dusting of powdered sugar, this sweet bread makes a spectacular centrepiece for the holidays!
Or just enjoy it on a crispy-cold day, curled up in front of the fireplace with a steaming cup of coffee or tea.
How to make a Chocolate Cranberry Twist Star Bread
Punch the dough down and turn it out onto a slightly floured work surface.
Divide the dough into four equal portions.
Work with one piece at a time while keeping the remaining pieces covered with cling wrap so it doesn't dry out.
Roll out a piece of dough to an 8 to 10 inch circle. ( This will depend on the size of your largest baking sheet as you'll need some growing space of 2 inches more)
Transfer the rolled out dough to a parchment lined baking sheet.
Spread a third of the filling over the dough, pressing it slightly into the surface of the dough.
Sprinkle with 1 teaspoon of cinnamon over the filling.
Repeat this with the second and third piece of dough.
Then roll out the fourth piece of dough and place it over the 3rd stack of dough. (this one will have NO filling on top)
Once your dough is all rolled out, filled and stacked you are ready to slice into wedges.
First, place a round cookie cutter or glass of about 2 and a quarter inch wide over the centre of the stacked dough.
With a sharp knife, cut the dough all the way through into four equal edges while leaving the cookie cutter or glass in place.
Cut each of the 4 wedges in half making sure to slice all the way through. You now have 8 wedges.
Then cut each of the 8 wedges in half all the way through. You now have 16 wedges all connected to the middle circle.
You're now ready to twist the wedges.
How to Twist the Chocolate Cranberry Star Bread
This part is a lot easier than it may look.
Grab hold of two pieces of dough that are side by side.
Lift and twist the wedges away from each other, making two whole twists and pinch the edges to seal.
Repeat with the remaining wedges to form the star bread.
Cover with cling wrap and allow to rise for 30 minutes.

After the star bread dough has risen for 30 minutes, remove the cling wrap and gently brush the top and sides with a beaten egg.
Bake in the centre of a preheated oven (350*F), for 20 minutes.
When ready the star bread will have a deep golden brown colour.

This star bread with its filling of chocolate, cranberries and walnuts is a thing of beauty all on its own.
I love it as is with a light dusting of powdered sugar and usually serve it while still warm with the filling all ooey and gooey.
But if you prefer a little extra sweetness you can also serve it with a drizzle of icing.

Two Ingredient quick and easy Icing
For the icing, mix together 1/3 cup of sifted icing sugar with 2 teaspoons of milk.
Drizzle the icing over the top of the star bread.

The bread is at it's best served the same day while it's still warm, but can also be wrapped and stored for one day.
Any leftovers the next day, can be portioned out wrapped in paper towels and warmed in the microwave for about 10 to 15 seconds. It will come out tasting like it had just been freshly baked!
Happy Baking!
This recipe was originally posted November 7, 2015 and republished with updated photos and content December 15, 2020.