Pan Roasted Pepper Salad makes an easy and delicious side dish to meat, poultry, or fish and can also be enjoyed on its own as a vegetarian dish.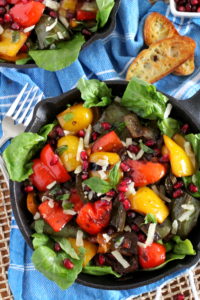 Fried sweet bell peppers was a signature dish my mamma would make quite often and had become a delicious comfort food while growing up. Mamma would typically pan fry them on medium low heat with a simple seasoning of salt and pepper and a generous amount of oil that would have us eagerly doing "la scarpetta" with much enthusiasm!
Fare la scarpetta is a phrase we use in Italian. It literally translates to "make the little shoe" by taking a piece of bread and using it to sop up all that delicious goodness on the surface of your plate which we simply can't leave behind.
Often times our school lunches consisted of fried red peppers sandwiched together with thick slices of Italian Margarita bread and it just had to be red peppers because…. well, mamma knew we loved those best!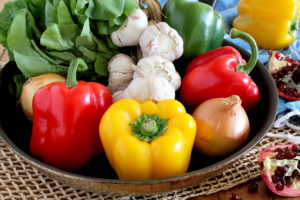 While I still very much prefer the sweet red bell peppers, I've grown to love the wide array of bright colors with their glossy exterior.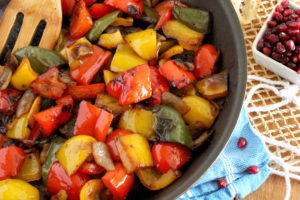 Throughout the years I've lightened up the dish by using far less oil and as a result made it more heart friendly but without skimping on taste.
Also I prefer to cut the peppers and onions in fairly equal size, roughly one inch pieces. This way they'll cook much more evenly and in the same amount of time. You can also cut them in strips if you like as my mamma would often do. Whatever works best for you is just fine!
I've shortened the cooking time considerably by turning up the heat which allows the sweet peppers to char nicely. You will want to use an oil with a higher smoking point for this part and then a light drizzle of your best extra virgin olive oil to finish off the dish once plated.
Just before removing the pan off the heat, I love to give the veggies a splash of balsamic vinegar and if you've never tried this I urge you to give it a go. It imparts such lovely sweet flavors and an extra zing to the pan roasted pepper salad.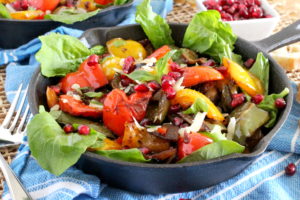 How versatile this dish is!
There are so many ways to serve up these pan roasted veggies. They make a rather delicious topping for a vegetarian pizza which I make once a week!
You can also top them over sausage or strips of beef on a bun as a panini sandwich or simply as a side dish.
They are just as tasty tossed with some pasta or spooned atop crostini.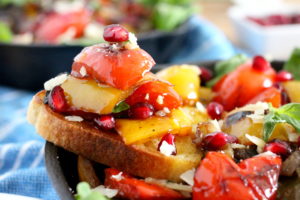 Today I am serving these pan roasted peppers with some rustic elegance over a bed of arugula with some Parmesan shavings and a generous sprinkle of pomegranate arils for a burst of refreshing sweetness.
Enjoy piled high with your favorite grilled or toasted bread and don't forget the wine!
Buon Appetito!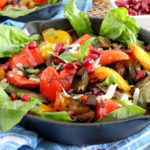 Print Recipe
Pan Roasted Pepper Salad
This Pan Roasted Pepper Salad makes an easy and delicious side dish to meat, poultry, or fish and can also be enjoyed on its own as a vegetarian dish.
Ingredients
2

tablespoons

canola or vegetable oil

4

sweet bell peppers

seeded and roughly cut into1 inch pieces

2

onions

peeled and cut into 1 inch pieces ( separate layers)

3

garlic cloves

peeled and smashed

salt and pepper

1

tablespoon

balsamic vinegar

A bunch arugula

rinsed and dried

1

tablespoon

chopped fresh basil

1/3

cup

pomegranate Arils

1

tablespoons

shredded Parmesan cheese

extra virgin olive oil for drizzlling
Instructions
Pour the oil into a non stick frying pan and heat to medium high.

Add the cut peppers, onions and smashed garlic to the pan and season with salt and pepper.

Cook for about 7 to 10 minutes while stirring occasionally so that they get a nice sear.

Just before turning off the heat, drizzle the balsamic vinegar over the veggies while stirring to coat all over (for about 1 minute).

Remove from the heat.

Place the arugula onto a serving platter and top with the roasted pepper mixture.

Scatter the chopped basil, pomegranate Arils and Parmesan cheese over the pepper salad.

Drizzle a little extra virgin olive oil over the roasted pepper salad and serve with your favorite bread.