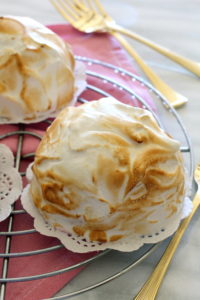 If you are into easy make ahead desserts then these Mini Baked Alaska treats are for you. With simply a little bit of time invested, you will reap huge results that will have your guests thinking you slaved in the kitchen.
They are somewhat of a throwback dessert and a classic one at that when sponge cakes topped with ice-cream, enveloped with meringue and toasted till golden perfection were all the rage.
Just last weekend I had the pleasure of baking a batch of these Triple Chocolate Cookies for my niece, whom I have to thank for her patience as she has waited quite awhile for them… 🙂
Seeing that it was also my anniversary weekend, I kept a dozen aside to reinvent them into these pretty mini baked Alaska desserts which are also reminiscent of the baked Alaska cakes my husband and I had at our wedding.
With the lights dimmed down low at just about midnight, a dozen waiters came out and encircled us on the dance floor. Each bearing one baked Alaska ignited with cake sparkles. Let me say that it garnered a lot of oohs and aahs and it was just a truly magical moment!

A wonderful thing about this recipe is that you don't have to bake cookies from scratch. In a pinch, store bought cookies work just fine.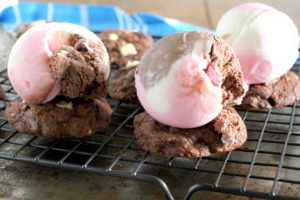 You can customize the mini baked Alaska to your tastes with just about any flavored cookie and ice-cream of your choice.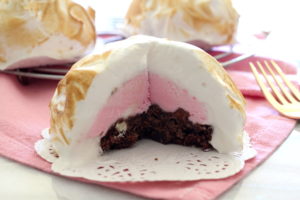 I chose a Neapolitan flavor with the trifecta of chocolate, vanilla and strawberry which is really quite fun as it gives an element of surprise when cutting into the stunning little individual dessert.
Make the mini baked Alaskas this weekend and create your own memorable moment.
Ciao for now!

Print Recipe
Mini Baked Alaska
A scoop of Neapolitan ice-cream is placed over a triple chocolate cookie and topped with meringue to form Mini Baked Alaskas
Ingredients
12

cookies

I used triple chocolate cookies

12

scoops of ice-cream

I used Neapolitan flavor, chocolate, vanilla and strawberry

3

egg whites

1

tablespoon

freshly squeezed lemon juice

1/4

teaspoon

cream of tartar

pinch

of salt

1

cup

granulated sugar
Instructions
Place the 12 cookies on a parchment lined cookie sheet.

Place one scoop of ice-cream onto each cookie and transfer the tray to the freezer while you prepare the meringue.

Using a stand mixer or hand held mixer, beat the egg whites with the lemon juice, cream of tartar and salt until soft peaks have formed.

While beating constantly, add sugar one tablespoon at a time until stiff peaks have formed.

Remove the tray with cookie topped ice-cream from the freezer.

Using the back of a spoon, spread the meringue all over the cookies and ice-cream.

Freeze the mini Alaskas for at least 8 hours, until they are solid.

When ready, preheat the oven to 400 degrees F. Bake for 5 to 6 mins until the meringue turns golden in color.

Alternately you may use a kitchen torch to toast the meringue. (as I did)

Serve immediately or return to freezer till ready to serve.
Notes
Adapted from Bake Fest recipe booklet.