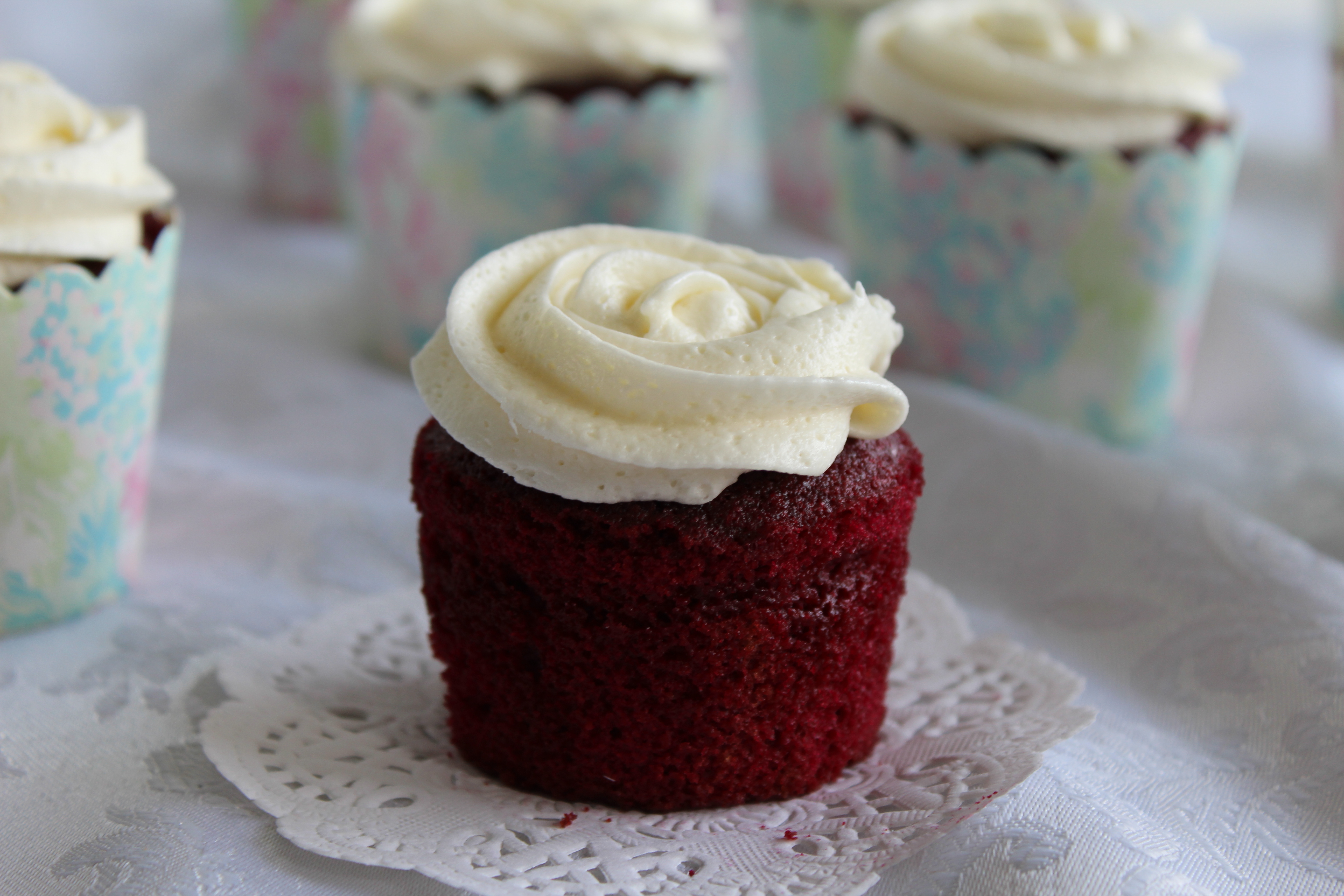 A colleague of mine started a new tradition at work. Rather than collecting money for a birthday cake on someone's special day, the "birthday person" gets to bring a cake or treat. Since baking is right up my alley, it works just fine for me. The difficult part was in deciding what to bake! I have no qualms in baking my own cake, I have even ordered my own birthday cake on one occasion…but that's another story!
I love Red Velvet Cake!!! Rather than baking a whole cake I decided on mini red velvet cupcakes topped with my favorite buttercream icing. It is my birthday after all! But enough about me. Let me say, these cupcakes were a hit! With a deep rich red color and tender texture…simply irresistible!!!
The addition of vinegar to the batter boosts the red coloring. I promise you won't even know its' there.
The recipe calls for 1 cup of buttermilk, but if your like me and almost never have it in the fridge, here is a simple substitution. Pour 1 tablespoon of white vinegar into a measuring cup and pour in enough milk to make 1 cup. Stir and let stand for about 10 minutes and use as buttermilk.
Cupcakes
1 cup buttermilk
1 tsp pure vanilla extract
1/2 cup unsalted butter at room temperature
1 1/2 cups granulated sugar
1 tsp coarse salt
2 large eggs, room temperature
1/4 cup red food coloring
2 tbls dutch processed unsweetened cocoa powder
2 1/4 cups cake flour, sifted
1 tsp baking soda
1 tbl white wine vinegar
Preheat the oven to 350*F.
Place 26 small parchment baking cups, divided on 2 baking sheets. You can also use standard muffin pans, in this case you will need a 12 cup pan and a 6 cup pan sprayed with nonstick cooking spray or lined with cupcake liners.
For the cupcakes: In a small bowl combine the buttermilk, vanilla and set it aside.
In a large bowl mix the butter, sugar and the salt on medium-high speed just until it is light in color and looks creamy, about 2 to 3 minutes. If you are using a stand mixer you will need to scrape down the bowl about half way through. Beat in the eggs one at a time.
In another small bowl, combine the food coloring and the cocoa together, stir to form a paste. Beat the paste into the butter-sugar mix until combined.
Next, start adding the flour and the buttermilk mixture in tree batches by starting with the flour and ending with the flour. Let the batter stand for 15 minutes.
Stir together the baking soda and the vinegar in a small bowl. Let it stand until it starts to foam then fold into the batter. Divide the batter among the baking cups.
For best results, bake one pan at a time for about 18 to 23 minutes. Because I used smaller baking cups, I found 18 minutes was sufficient. If you are using standard baking cups you may need to bake them a little bit longer. Use the 18 to 23 minutes as a guide line. When the cupcakes spring back when gently touched, you'll know they are ready. You can also insert a toothpick in the middle of the cupcake, if it comes out clean then it is ready. Cool completely before frosting.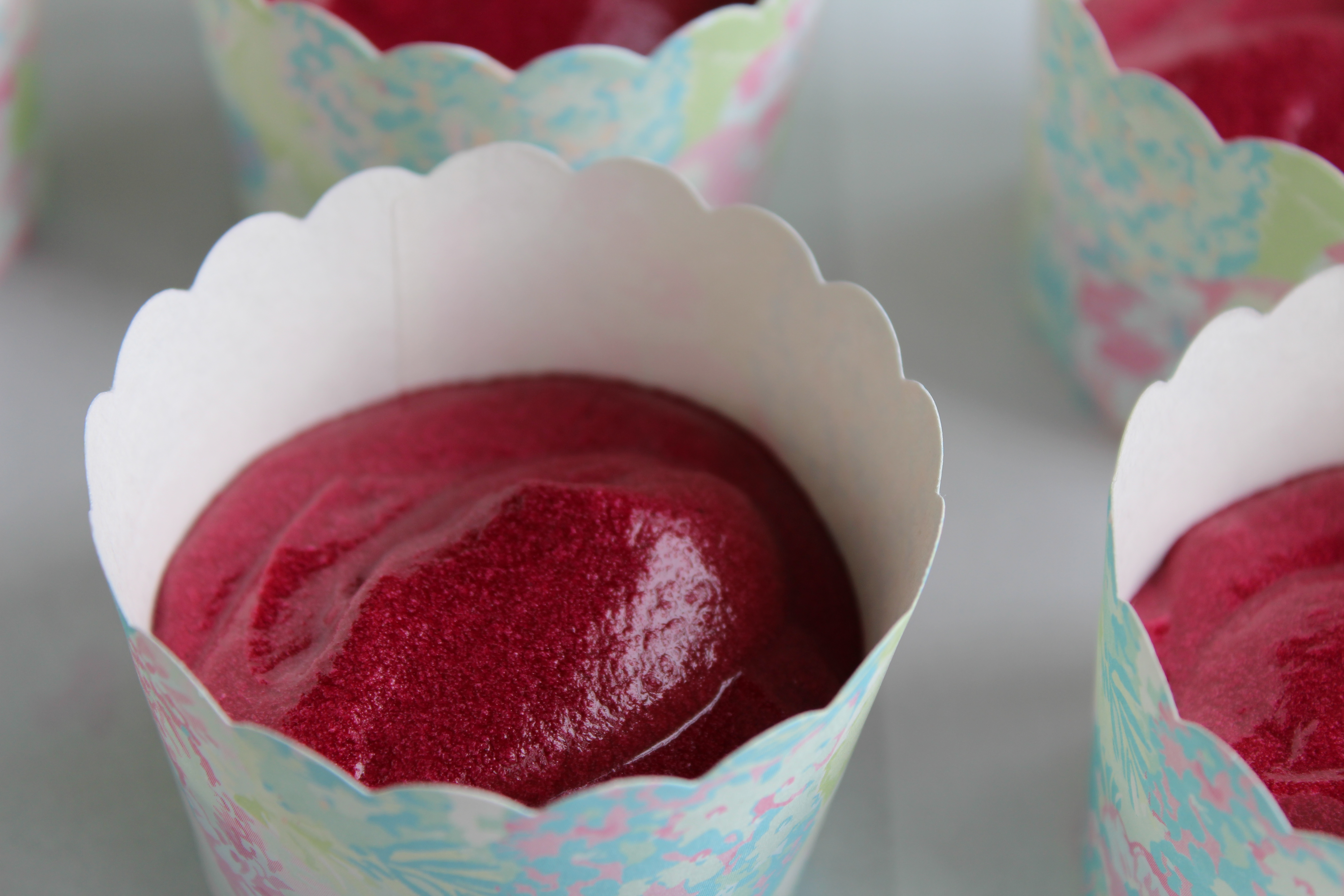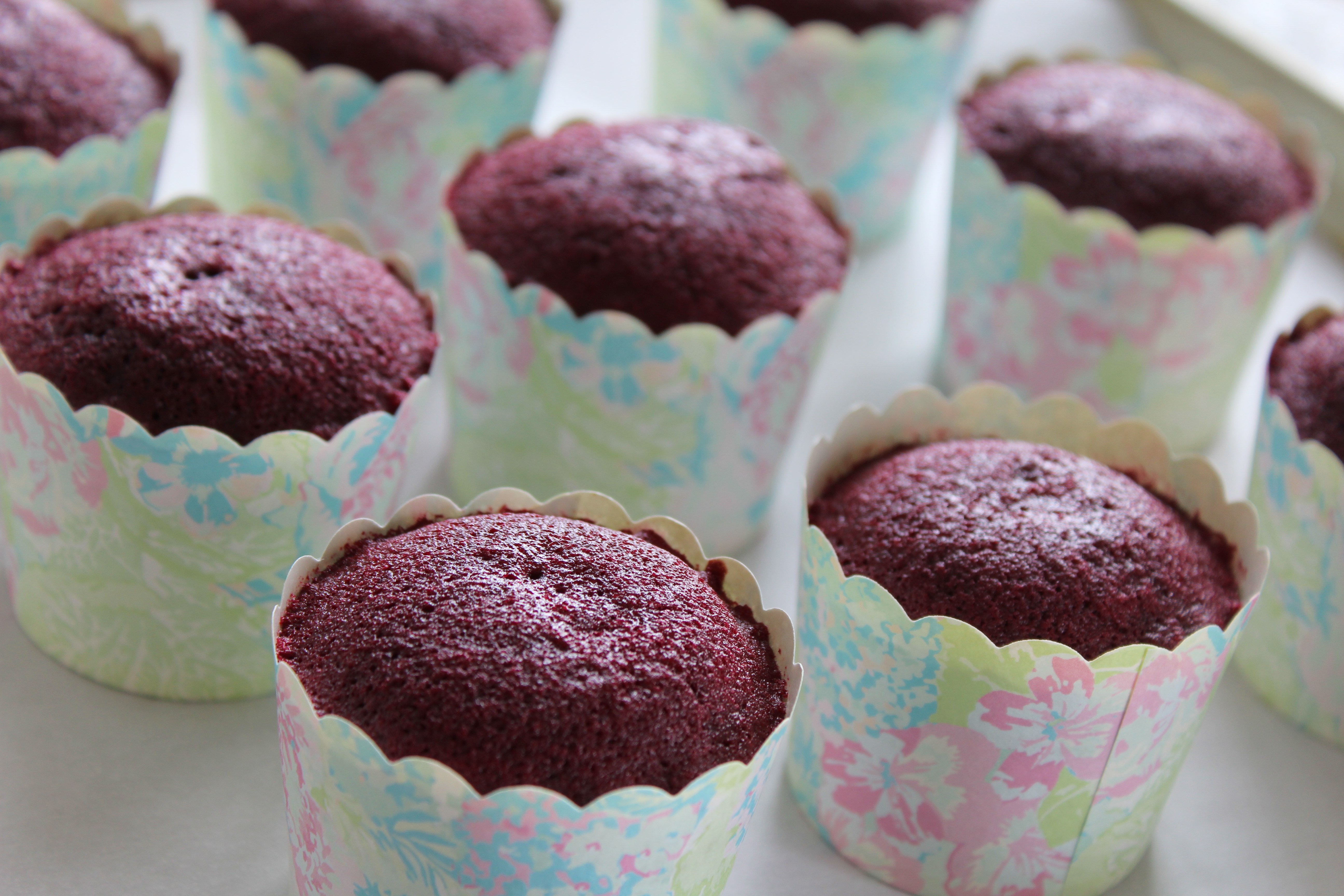 Vanilla Buttercream Frosting:
4 cups icing sugar, sifted (also known as confectioner's sugar)
2/3 cup unsalted butter at room temperature
1/4 cup whole milk
1/4 tsp pure vanilla extract
Beat the icing sugar and butter together on medium-low speed until well mixed.
In a small bowl, combine the milk and vanilla extract. Add it to the butter-sugar mixture a bit at a time, beating on low speed until incorporated. Then turn the mixer to high speed and continue beating until the frosting is light and fluffy for at least 5 minutes. The longer you beat the frosting, the lighter and fluffier it becomes.
Frost the cupcakes with the Vanilla buttercream using any technique you prefer. I used a pastry bag fitted with a large pastry tip, the 1M from Wilton to form the rosette on top.
Yields 18 standard cupcakes or 26 mini cupcakes.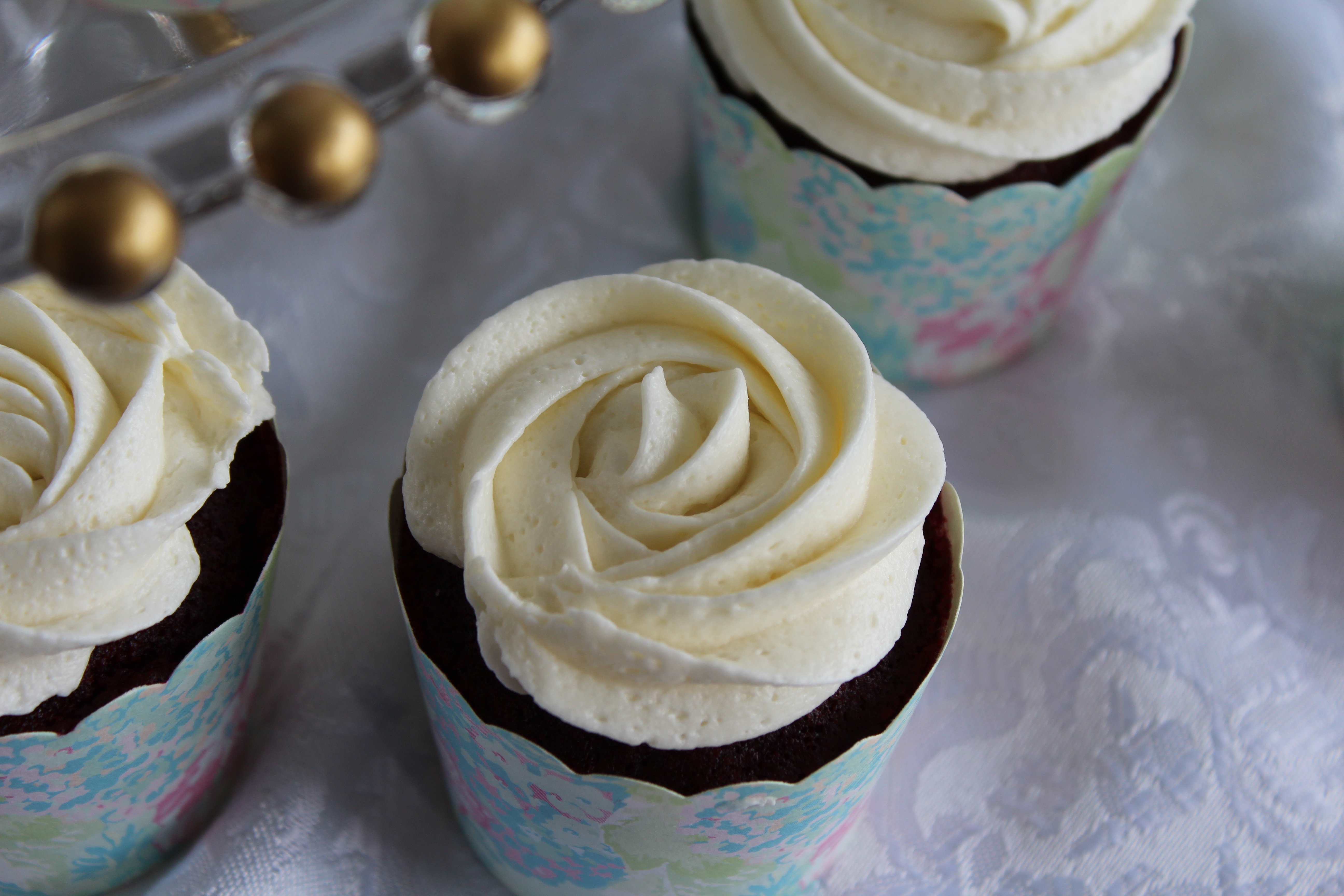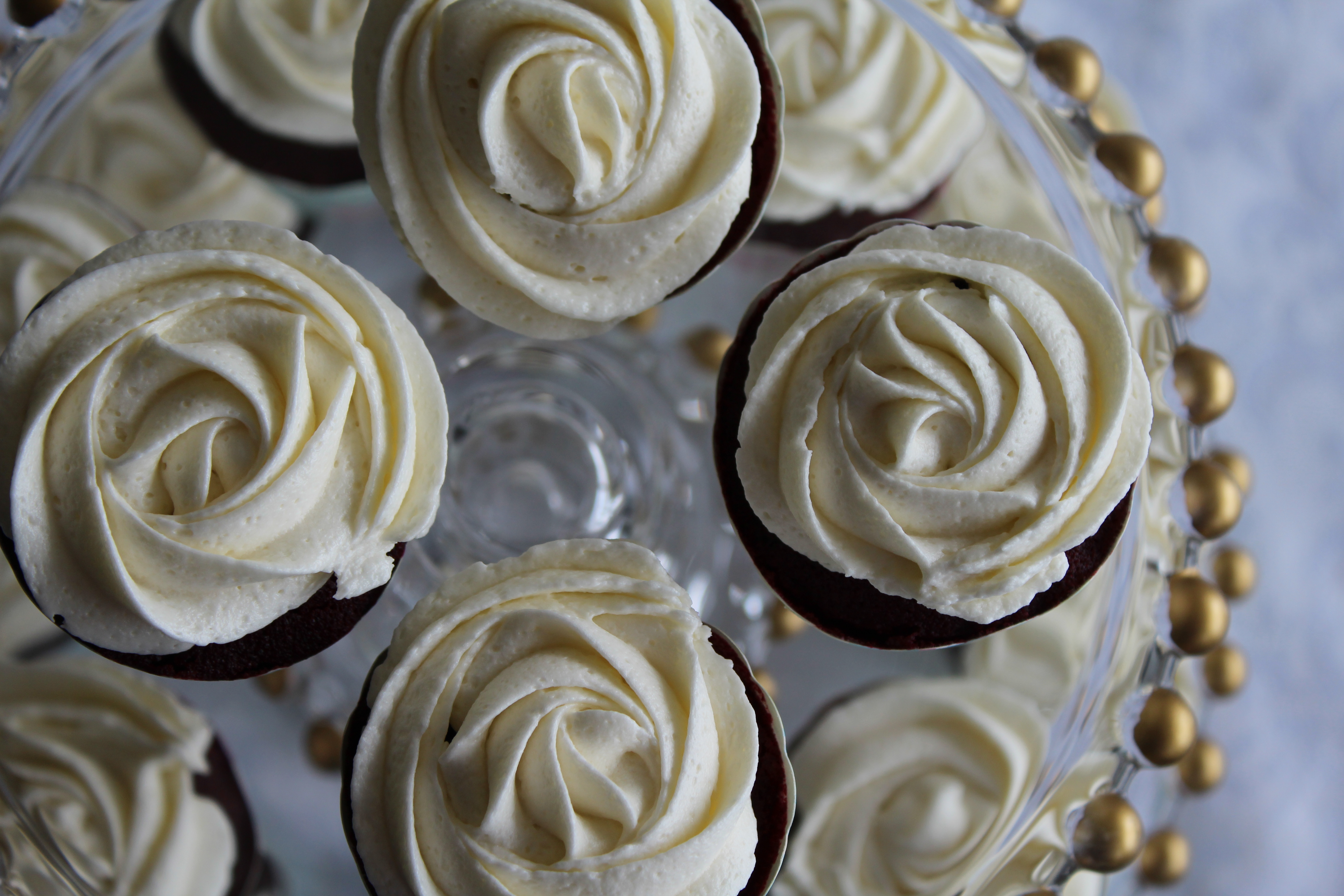 The Cupcake recipe was adapted from The Sono Baking Company Cookbook.