These Vegan Chocolate Cupcakes are amazingly moist, fluffy and ever so light in taste! And, simply because one can never have too much chocolate I've topped them with a dollop of dark chocolate glaze.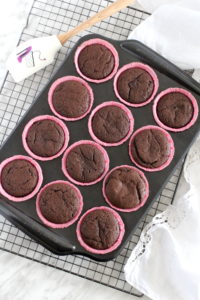 Every once in awhile my daughter brainstorms and decides to go on a 30 day vegan challenge which this year happened to coincide with her birthday. Don't get me wrong, personally I have nothing against veganism! Its simply that this fairly last minute announcement had me dashing all over town one Sunday afternoon trying to find a vegan cake and to no avail!
Most bakeries I had visited offered gluten free alternatives but alas no vegan cake or cupcakes!
Thankfully my resolve had not ended there and once at home I turned to the almighty Google in search of a not to complicated vegan chocolate cake.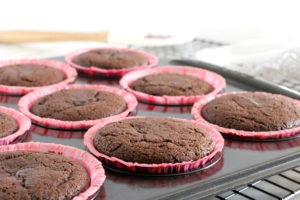 When I came across these Fail Proof Vegan Chocolate Cupcakes by Angela at Oh She Glows, I knew I had stumbled across the perfect birthday treat.
I made a few switch ups simply to compensate for ingredients that I didn't have on hand. I decided to keep my almond milk for my morning cup of coffee and substituted it with canned coconut milk instead. Also I replaced the grapeseed oil with canola oil.
Angela from "Oh She Glows" topped her vegan cupcakes with a salted buttercream made with vegan butter, which sounds absolutely delicious and I'll definitely be looking into vegan butter soon! In the meantime, this simple chocolate glaze poured over the vegan chocolate cupcakes is too irresistible to pass up!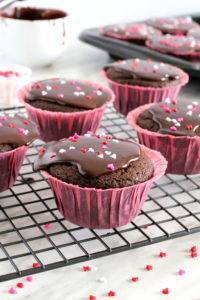 In fact they are so irresistible that I simply had to make them again for Valentine's Day and topped them with sprinkle hearts to mark the occasion!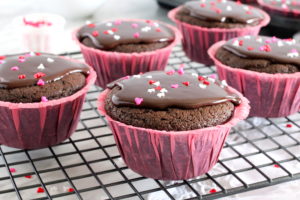 Weather you're vegan or not you"ll find these cupcakes so easy to put together, incredibly delicious and will disappear so quickly.
No one will ever guess they're vegan 🙂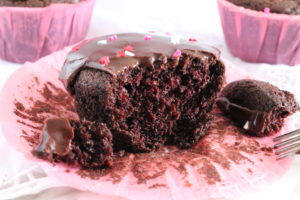 Unless you tell them of course 🙂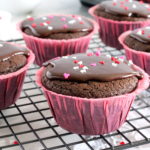 Print Recipe
Vegan Chocolate Cupcakes
These Vegan Chocolate Cupcakes are amazingly moist, light and topped with a delicious drizzle of silky chocolaty glaze.
Ingredients
FOR THE CUPCAKES

1

cup

canned coconut milk

well stirred then measured out

1

cup

pure cane sugar

I used Redpath sugar

1/3

cup

canola oil

3

teaspoons

apple cider vinegar

1

tablespoon

pure vanilla extract

1 1/2

cups

all purpose flour

1/3

cup

unsweetened baking cocoa powder

1

teaspoon

baking soda

3/4

teaspoon

fine sea salt

FOR THE CHOCOLATE GLAZE

1

cup

of icing sugar

2

tablespoons

unsweetened cocoa powder

1 1/2

teaspoons

of light corn syrup

2 to 3

tablespoons

of almond milk

depending on how thin you want the glaze

sprinkles

optional
Instructions
Preheat the oven to 350 degrees F.

Line a 12 cup, cupcake pan with cupcake liners.

In a large mixing bowl, beat together the coconut milk, sugar, oil, vinegar and vanilla until combined.

In another bowl, whisk together the the flour, cocoa powder, baking soda, and the salt just until there are no more clumps.

Slowly beat in the flour mixture in with the wet ingredients just until smooth and you no longer see any bits of flour.

Spoon the batter evenly into the 12 cupcake liners, filling just about two-thirds full.

Bake in the preheated oven for about 20 to 24 minutes. (Mine were ready in 22 mins.)

When ready the cupcakes should spring back easily when gently pressed down or when a toothpick inserted in the middle comes out clean.

Let the cupcakes cool completely before glazing.

FOR THE CHOCOLATE GLAZE

In a medium sized bowl, whisk together the icing sugar, cocoa powder, corn syrup and almond milk until smooth. (You can add extra almond milk depending on how thin you prefer the glaze).

Spoon a heaping teaspoon of chocolate glaze onto each cupcake.

Top with sprinkles of your choice.
Notes
Partially adapted from "Oh She Glows" website on her fail proof Vegan Chocolate Cupcakes with Salted Buttercream. (With a few switch-ups)