This delightfully moist and flavourful Peach Almond Cake recipe is perfectly gluten free. It's made with two types of flours. Almond flour and gluten free flour. The crowning beauty of this cake is the topping of sliced fresh peaches with crunchy toasted almonds.
It's so incredibly easy to make and is sure to delight those gluten intolerant friends or family members in your life. Simply because…they too need a little sweetness in their lives!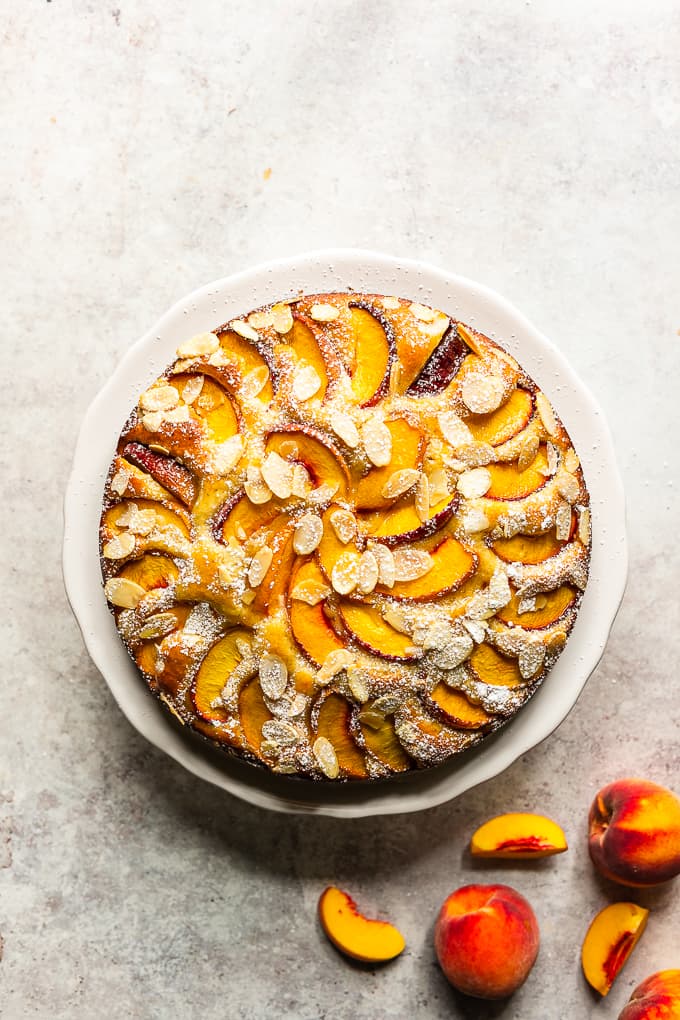 I always look forward to the late summer stone fruits, such as these freestone peaches from Ontario. I find them to be the most flavourful and tastiest ever!
They're readily available here in Montreal from mid August up until the end of September. These fresh peaches, with their characteristic fuzzy skin and soft flesh, are best enjoyed straight out of hand. But they're just as fantastic in baked goods.
And as my friends and family know me well, I never pass up an opportunity to bake with fresh fruits. Especially after finding myself with 12 litres of these sweet rosy peaches!
Are you ready to try a gluten free cake topped with fresh ripe peaches and sliced almonds?!
How To Make A Gluten Free Peach and Almond Cake
Step 1: You'll need about 4 to 5 medium peaches, depending on their size. Make sure to wash the peaches well and dry them thoroughly.
There is no need to peel the peaches! Simply slice them into 3/4 inch wedges then cover and set aside.
Step 2: In a medium size bowl, whisk together the gluten free flour and almond flour with the baking powder and salt.
Set aside while you mix the sugar with the eggs.
Step 3: In the bowl of a stand mixer, with the whisk attachment, beat together the granulated sugar and eggs for about 2 minutes.
The mixture will increase in volume and have a frothy appearance.
Step 4: Mix in the oil, lemon zest and both the vanilla and almond extracts till combined.
Step 5: Slowly mix in the reserved flour mixture until well incorporated and finally the milk.
Transfer the cake mixture into a greased and floured round cake pan.
You're now ready to top the cake with peaches and almonds!
How To Top This Peach Cake Recipe With Sliced Peaches
Place the peach slices side by side in a circular fashion, along the outer edges of the cake pan. Repeat with a second row while fanning them out as much as you can, in keeping with a circular pattern.
You may have just enough room, depending on the size of your peaches, to add one solo slice in the very centre of the cake.
Then sprinkle the top with the sliced almonds.

Bake the cake in a preheated oven for approximately 45 minutes.
Test for doneness by inserting a wooden skewer in the centre of the cake. If it comes out clean then it's ready. But don't pierce through the fruit as this can give you a false cue of needing more time in the oven.
Allow the cake to cool in the cake pan set over a baking rack for about 20 minutes.
Then release the cake from the pan and gently brush the top with warmed honey. Of course this is entirely optional but you'll love the pretty sheen it gives to the baked peaches.

Cake Dusting
Dusting a cake with powdered sugar is one of the absolute easiest and simplest way to add a little extra finishing touch to baked goods.
But when dusting with powdered sugar, it is best to do so just before serving. Especially after brushing a cake with warm honey or jams as I did with this cake, otherwise the sugar will quickly dissolve over the cake.
What Type Of Gluten Free Flour For Baking
I've tried quite a few different gluten free flour brands over the years and one that I'm truly enjoying is the Italian Caputo (Fioreglut) gluten free flour. (Not Sponsored)
It's a blend of gluten free wheat starch, dextrose, cornstarch, buckwheat flour, rice starch, psyllium seed fibre, thickener and Guar gum.
Now, this is not a sponsored post and I only mention it because I've come to enjoy baking with it whenever I need a gluten free treat.
But feel free to use your favourite. Or, maybe you create your own blend and so use that one.
Over all have fun experimenting and enjoy the process!

And if you're loving this late summer peach and almond cake, you may want to check out some other delicious fruity desserts that your whole family will love.
Happy Baking!
Other Baked Fruit Desserts You'll Love