This Potato and Rosemary Focaccia bread recipe is extremely light, airy and ever so fluffy. It rises beautifully and holds up well to the topping of thinly sliced layered potatoes. Both the dough and sliced red potatoes are brushed with an aromatic garlic and rosemary oil just before it hits the oven.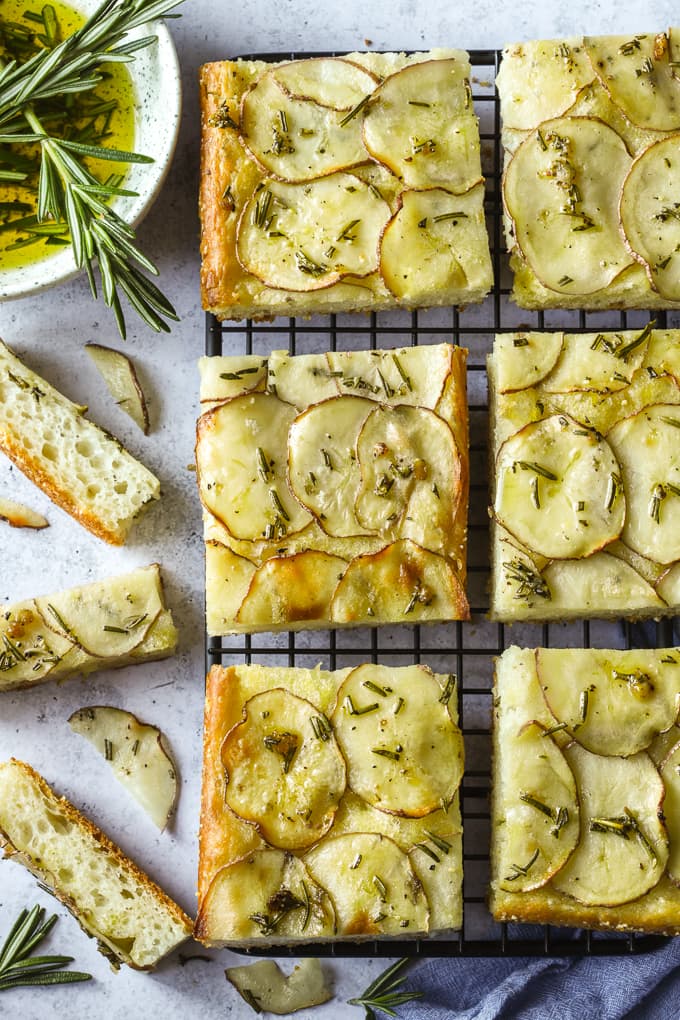 If putting mashed potatoes in your bread dough seems somewhat odd to you, then you might just be missing out on the most soft focaccia dough ever.
For those unfamiliar with focaccia, (pronounced foe-kah-cha), it's an Italian flatbread baked in a sheet pan and sometimes referred to as pizza bianca.
It is similar in style to pizza. But unlike pizza which is baked right after the first rise, focaccia goes through a second rise after the dough is punched down and stretched out.
Generally all it needs after dimpling the dough, is a generous drizzle of some good quality olive oil, coarse salt and rosemary.
However, today we're adding some paper thin slices of potatoes and a brushing of rosemary garlic oil. Both over the dimpled dough and sliced potatoes.
The thin baked potatoes covering the dough will take on a pretty crinkled appearance.
Let's get started with this easy to make Italian Potato and Rosemary Focaccia Bread recipe!
How To Make Potatoes and Rosemary Focaccia Bread
You'll first need to make some mashed potatoes and then simply set it aside while you activate your yeast.
Step One: In a large bowl combine together the sugar with the warm water (temperature should be between 100-110 F or 40 C).
Stir until the sugar is dissolved. Sprinkle in the yeast and let this stand until frothy for about 10 minutes.
Step Two: Once frothy, stir in 2 tablespoons of extra virgin olive oil.
Step Three: Stir the mashed potatoes into the yeast mixture. Use a rubber spatula or wooden spoon to break up large clumps of mashed potatoes.
Step Four: Stir in just enough of the flour until you have a slightly sticky dough. Transfer the dough to a floured work surface and dust your hands with flour. Knead the dough for about 8 minutes while adding in as much of the remaining flour as necessary to achieve a smooth and elastic dough.
Step Five: Transfer the dough to a greased bowl while turning to grease all over. Cover with cling wrap. Let the dough rise in a draft free area for about 1 hour or until doubled in size.
Step Six: Punch down the dough and stretch it out with greased hands onto your prepared baking sheet. Cover with cling wrap and let the dough rise for another hour.
Step Seven: Gently poke the dough with lightly greased fingertips. Brush half of the oil mixture over the top of the dough.
Step Eight: Place the sliced potatoes over the focaccia dough, in an overlapping pattern. Brush the top of the potatoes with the remaining rosemary oil.

Step Nine: Bake the potato focaccia in a preheated oven at 375 degrees F. for approximately 40 minutes. Once ready, the focaccia will have golden brown crusty edges.

What is Focaccia Served With?
This focaccia topped with potatoes is simply glorious all on its own and feeds a hungry crowd.
You can serve it for brunch and even a light lunch with a side salad. It's also equally wonderful served alongside a steaming bowl of soup.
Try nestling two slices together with mortadella and you'll have one delicious, satisfying sandwich.
You can also add your favourite leafy greens in between the slices. Arugula, with its peppery tangy flavour is one of my absolute favourite.
If you love a kick of intense tomato flavour, try adding a couple of dry tomato slices in your focaccia sandwich. It's delish!

Variations On Traditional Focaccia Bread
There are many variations on the ever popular Italian flat bread with a wide range of choice for toppings. And it needn't even be baked in a sheet pan.
You can also bake this Italian-style bread in cast iron skillets as seen in my Chickpea Red Onion Focaccia which is also a potato based dough. This iron skillet flat bread is topped with caramelized onions, some crunchy chickpeas and sweet golden raisins.
Aside from the savoury varieties, you'll also find focaccia dolce or rather Schiacciata con l'uva. A sweet bread traditionally made during the grape harvest in Tuscany.
The base of this flatbread is topped with grapes, sprinkled with sugar, rosemary and a drizzle of olive oil. And then repeated with a second layer. It's a pure delicacy!

Storing Leftover Potato Focaccia Bread
Focaccia is at it's best the same day straight from the oven with its both soft and crispy bite. Any leftovers can be wrapped and placed in a ziplock bag or aluminium foil and stored either in the fridge or freezer.
You can revive its freshness by reheating the slices in the oven or even a toaster oven. Or simply turn them into breadcrumbs the following day. But you'll first have to remove the potato toppings before crumbling the flatbread.
If you make this Potato and Rosemary Focaccia Bread recipe, remember to tag @marisasitaliankitchen on Instagram so I can see your creation!
Happy Cooking!