Orecchiette with Rapini and Sausage. A quick, easy and popular pasta dish topped with crunchy flavored bread crumbs for a lovely contrast and simply perfect for any day of the week.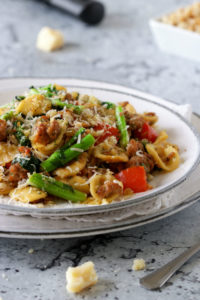 At times we want something different than spaghetti or even fettuccine and Italy certainly has its wide range of pastas with every region claiming pride to its own distinct noodle shape.
In Puglia "the heel of the boot" orecchiette otherwise known as "little ears" reign supreme.
Store shelves are lined with these distinctly domed shaped pastas with a cup-like interior making it ideal for scooping up chunky sauces and vegetables. Here, as you toss the orecchiette, the sausage and vegetables become trapped in the hollowed out part of the pasta and flavors every single bite with deliciousness.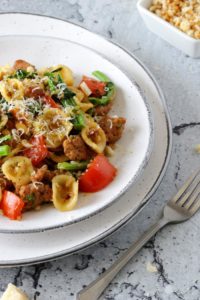 If you have never tried bread crumbs on pasta before do give it a try. It simply adds an extra layer of goodness and crunch.
Sometimes store bought breadcrumbs will just not do and this is one dish where fresh and flavorful is essential.
Making your own is supper easy and a great way to use up stale bread. Simply give it a whirl in the food processor or use a box grater. I always have some bread in the freezer which I grate while still frozen, it works wonderfully. 🙂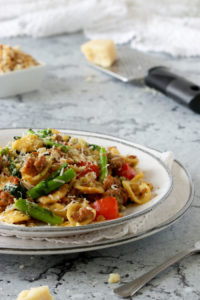 Rapini or broccoli rabe looks like thin broccoli but is related to the turnip. The taste is somewhat bitter but mellows out during cooking.
All the parts of this vegetable are edible. I simply cut out about 1 inch from the bottom of the stem and use it in my favorite dishes. 🙂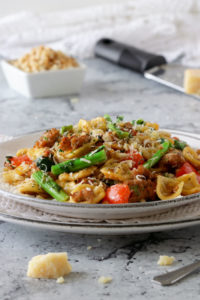 I hope you get to try this absolute family favorite dish!
I've updated this recipe from a previous older post with fresh new photos that do this flavorful pasta justice. Also, with a printable template for your convenience!
Buon Appetito!
If you make this recipe remember to tag @marisasitaliankitchen on Instagram so I can see your creation!

Print Recipe
Orecchiette with Rapini and Sausage
A quick and easy delicious pasta dish topped with freshly toasted bread crumbs that's perfect for any day of the week.
Ingredients
1/3

cup plus 1 tablespoon

extra virgin olive oil

1 1/2

cup

plain fresh bread crumbs

salt and pepper

to your taste

1

large bunch

of rapini

cut into 2 inch pieces

500

grams

Orecchiette pasta

1

pound

Italian sausage

mild or strong (casing removed)

3

large

cloves of garlic

minced

1

medium

onion

chopped

1

large

red bell pepper

cut into 1 inch pieces

pinch

of red chili flakes

1/2

cup

Parmegiano-Reggiano cheese

grated
Instructions
Heat the 1 tablespoon of extra virgin olive oil in a small frying pan over medium low heat.

Add in the breadcrumbs and season with the salt and pepper and toast the bread crumbs for about 6 to 8 minutes or until they turn a deep golden brown. Stir often so that they don't burn then set aside.

Bring a large pot of water to boil and salt generously.

Add the Orecchiette to the boiling water and stir well.

Cook according to package instructions while stirring occasionally.

Three minutes before the end of cooking time, add in the chopped rapini and stir gently.

While the pasta cooks heat the 1/3 cup of olive oil in a large frying pan over medium low heat.

Add in the sausage (with casing removed), minced garlic, onion, red pepper and chili flakes.

Cook while stirring and breaking up the sausage meat with a wooden spoon for about 7 to 10 minutes or until the sausage is nicely browned.

Taste and season with salt and pepper if needed.

When the orechiette is ready, drain the pasta with rapini, toss it with the cooked sausage mixture and stir well.

Turn off the heat and stir in the grated cheese.

Plate and serve the paste with a drizzle of extra virgin olive oil and extra cheese if desired.

Top with a generous sprinkle of toasted breadcrumbs .

Serve while still warm and enjoy!